Over one hundred years ago, William James dedicated an entire chapter in The Varieties of Religious Experience to "The Reality of the Unseen". When we typically imagine religion, we imagine that religion has to do with something perceivable, yet paradoxically something that we cannot see, taste, smell, or touch. James characterized the relationship of the individual psyche and belief in the supernatural realm as "…if there were in the human consciousness a sense of reality, a feeling of objective presence, a perception of what we may call 'something there'…" (1985, p. 55 [emphasis in original]).
While the impulse to believe may be there, one's relationship to this unseen realm is not easy to cultivate and maintain. Our evolved psychology was not 'built' with the intuition that, even though we have minds, there is an unseen – ultimate mind – that has access to our own and shares thoughts with us (Boyer, 2013). Such ideas require cultural scaffolding, and are not easily sustained in the absence of social systems. Although often ignored, "all our ethnography and history suggests that there is learning involved in the practice of religion…" (Luhrmann, 2013, p. 147). How does one learn to experience God as really real?
Podcast: Play in new window | Download | Embed
Subscribe: RSS
In her interview with Thomas Coleman, psychological-anthropologist Tanya Luhrmann discusses her multiyear ethnography of American evangelicals where she sought to understand how some of these individuals come to have close, personal, intimate relationships with God (Luhrmann, 2012). She begins by providing the background into her extensive research on the Vineyard Church movement, where she attended sermons, house groups, prayer groups, and many other opportunities to understand evangelicals, specifically, how God becomes real for them. Luhrmann details the rise of evangelicals in the 60's and 70's, and how anthropological work can be informed by evolutionary psychology. This serves as a framework to understand the unique training processes that teach an individual that their mind is not only open to their own thoughts, but God's as well. Luhrmann goes beyond a purely explanatory endeavor and is interested in understanding the processes that lead some to see God as "a person among people". One aspect of this learning process, she found, involves pretense and instructs the individual to treat God as an imaginary friend, but with one caveat – God (to them) is real and imaginary friends are not.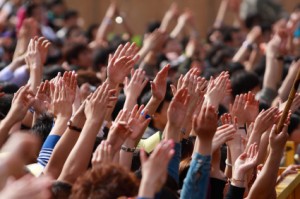 Furthermore, while imagining God, Luhrmann uncovered that the individual is often instructed to treat God as they would another person, like a close friend you tell your secrets to. This helps to cultivate an understanding and experience of God that is highly anthropomorphic and cognitively pleasing, rather than thinking of God as Aristotle's "unmoved mover", who would hardly be interested in your innermost thoughts. In closing, she details some of the prayer exercises that further help individuals to develop this personal sense of divine presence and answers an RSP listener's question about the possibility of gender differences in experiencing the divine.
You can visit Dr. Luhrmann's website to find out more about her work and research at: http://luhrmann.net/
You can also download this interview, and subscribe to receive our weekly podcast, on iTunes. If you enjoyed it, please take a moment to rate us. And remember, you can use our Amazon.co.uk, Amazon.ca, or Amazon.com links to support us at no additional cost when you have a purchase to make.
Citations