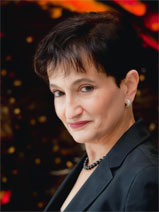 We've been talking about Religion for some time now but perhaps the one question we haven't begun to get to grips with is, what is religion? Recently we interviewed Tim Fitzgerald who already set us on the road to deconstructing the term religion. This week we speak to another member of the Critical Religions group, Naomi Goldenberg, who presents the first of our theories on what religion is. In this interview Professor Goldenberg takes us through the idea that religions might be vestigial states. She argues that religions are formed in distinction to governmental 'States' and represent the last vestiges of the previous order. At the same time this is a maneuver on the part of those States to delineate spheres of power. A vestigial state is both a once and future state, that which has gone and that which hopes to be. The idea of vestigial states throws into question our normal understanding of the term religion and Professor Goldenberg draws on such notable examples as the Islamic State, the Dalai Lama, Jewish history and even present day Wicca to illustrate the point. If you would like to know more about religions as vestigial states, Professor Goldenberg has also written on the topic on the Critical Religions website.
Podcast: Play in new window | Download
Subscribe: RSS
You can also download this interview, and subscribe to our weekly podcast, on iTunes. And if you enjoyed it, please take a moment to rate us.
Naomi Goldenberg is professor of Classics and Religious Studies at the University of Ottawa. Her specialisms include Psychoanalysis, Women and Religion, and Cultural Studies. Her publications include Resurrecting the Body (Crossroad Publishing, 1993), The End of God (University of Ottawa Press, 1981), and Changing the Gods (Beacon Press, 1979).