If statistics are to be believed, close to 100% of people in the UK know their astrological sun-sign. But what is astrology, exactly? Is it merely a "survival" from the medieval worldview, and what is its relationship to modernity and scientific thought? Most pertinently, does it have something profound to tell us about the nature of popular belief, or vernacular religion? Nicholas Campion tells David why it does in this fascinating interview.
Podcast: Play in new window | Download | Embed
Subscribe: RSS
You can also download this interview, and subscribe to our weekly podcast, on iTunes. And if you enjoyed it, please take a moment to rate us.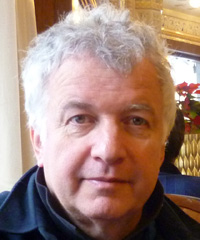 Nicholas Campion is Senior Lecturer in Archaeology and Anthropology, and Director of the Sophia Centre for the Study of Cosmology in Culture. His research interests include the nature of belief, the history and contemporary culture of astrology and astronomy, magic, pagan and New Age beliefs and practices, millenarian and apocalyptic ideas, and the sociology of new religious movements. This calls for a multi-disciplinary approach and, before joining Lampeter University in 2007, he was, in turn, Senior Lecturer in the Study of Religions and Senior Lecturer in History at Bath Spa University. He is a member of the international executive committee of the conferences on the Inspiration of Astronomical Phenomena (INSAP), is editor of Culture and Cosmos, a Journal of the History of Astrology and Cultural Astronomy and is in the editorial boards of Correlation, the Journal of Research in Astrology and Archaeoastronomy, the Journal of Astronomy in Culture. His most recent publications include Astrology and Cosmology in the World's Religions (New York University Press, 2012), Astrology and Popular Religion: Prophecy, Cosmology and the New Age Movement (Ashgate 2012), and the two-volume History of Western Astrology (Continuum 2009).