James R. Lewis was kind enough to have a chat with us at the 2012 EASR conference in Stockholm despite having a sore throat due to a cold. Lewis has been involved in research on new religious movements (NRMs) since the early late 1980s and has both written and edited extensively on the subject. In this episode of the Religious Studies Project, Lewis shares some of his views on the study of NRMs. It seems, claims Lewis, that our current generalizations about who joins such movements is based on outdated statistics. It seems no longer to be the case that it is primarily young people who join NMRs, rather joiners' age has increased during recent decades. This demonstrates why we need more and better quantitative data. James and Knut also talk a bit about the situation in Norway when it comes to research on NRMs.
Podcast: Play in new window | Download | Embed
Subscribe: RSS
You can also download this interview, and subscribe to receive our weekly podcast, on iTunes. And if you enjoyed it, please take a moment to rate us.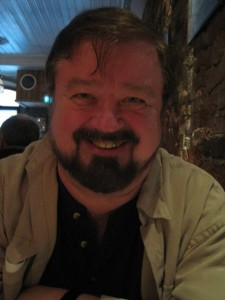 James R. Lewis is a associate professor of religious studies at the University of Tromsø. Among Lewis' latest titles are the monographs Children of Jesus and Mary: The Order of Christ Sophia (2009) and the forthcoming Embracing the Darkness: Modern Satanism (with Asbjørn Dyrendal & Jesper A. Petersen) and Routledge Introduction to New Religious Movements. Among his edited collections are Violence and New Religious Movements (2011) and Handbook of Religious and the Authority of Science (2010, with Olav Hammer). Lewis is also editor of Brill's Handbooks on Contemporary Religion series. He co-founded the International Society for the Study of New Religions. The full publication list can be found here.
Names, books and other things mentioned in the podcast: