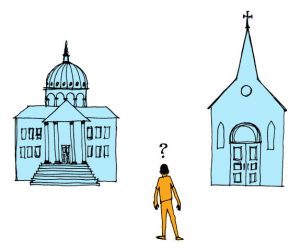 Politics and social institutions are inseparable. Whether we take a look at small-scale or complex societies, we can find that politics is involved with economics, kinship with hierarchy, and of course, religion with the state. The relationship between the last two has been shaped by numerous processes throughout human history; but, if we place our attention in the history of the western world, we can identify a turning point, one that started with the first waves of enlightened thought (eighteenth century), continuing with the posterior massive drop-out of catholic religiosity, and culminating with the total separation of religion and the state. In this podcast, Sidney Castillo interviews professor Marco Huaco Palomino as he addresses the nuances of secularity in several Latin American countries.
Podcast: Play in new window | Download | Embed
Subscribe: RSS
You can download this interview, and subscribe to receive our weekly podcast, on iTunes. If you enjoyed it, please take a moment to rate us. And remember, you can use our Amazon.co.uk, Amazon.com, or Amazon.ca links to support us at no additional cost when buying academic texts, Richard Dawkins memorabilia, and more.