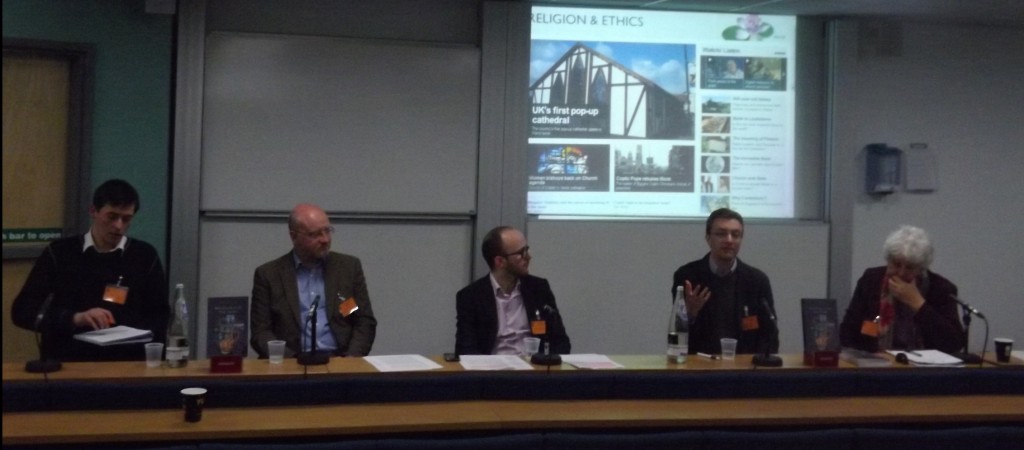 It goes without saying that 'religion' is a topic that frequently finds itself in the media spotlight. Whether we are talking about the recent Boston Marathon bombings, the funeral of Margaret Thatcher, the Arab Spring, or the recent critique of the UK government's welfare policy levelled by four major British churches, the ways in which the media negotiates, constructs and engages with this complex category has an enormous impact upon public opinion and understanding, and is increasingly relevant to academics, religious practitioners, journalists and the wider public. It was with this in mind that the Religious Studies Project, in collaboration with the Journal of Religion, Media and Digital Culture, presented a panel session at the British Sociological Association's Sociology of Religion Study Group Conference in Durham on 10 April 2013. This panel session brought together Eileen Barker, Tim Hutchings, Christopher Landau and David Wilson, who each have a unique position on this topic by virtue of their positions working with or for the media, to discuss and reflect on a recent edited volume by Jolyon Mitchell and Owen Gower – aptly titled Religion and the News. This podcast presents the edited audio recording of this panel session, and marks a new development for the Religious Studies Project which shall hopefully be employed at future conferences.
Podcast: Play in new window | Download | Embed
Subscribe: RSS
You can also download this panel discussion, and subscribe to receive our weekly podcast, on iTunes. And if you enjoyed it, please take a moment to rate us, or use our Amazon.co.uk or Amazon.com link to support us when buying your important books etc. As a result of this podcast, David Wilson also published a review of the book in the Journal of Religion, Media & Digital Culture.
Religion in the News is an edited volume, published in October 2012 by Ashgate, and edited by Jolyon Mitchell and Owen Gower. Jolyon Mitchell is the Director of the Centre for Theology and Public Issues at the University of Edinburgh, where he is also senior lecturer in Communications, Theology & Ethics, and convenor of the Theology & Ethics subject area. Owen Gower is a Senior Fellow at Cumberland Lodge, an educational charity specializing in cross-sector co-operation and matters affecting the development of society. The book brings together academics, practitioners, and media professionals in a collection of 19 chapters exploring everything form the news coverage of the "Occupy" protests at St Paul's Cathedral in London, to the representation of Sikhs in the mainstream media, and from the problematic notion of journalistic neutrality, to the problematic definition of religion.
Reflective of this diverse range of perspectives in the book, we brought together four academics who each have a unique position on the contents of the book by virtue of their positions working with or for the media. Their biographies are presented below, in the order in which they speak.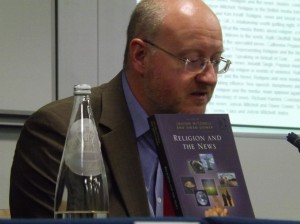 David Gordon Wilson wears many hats. He served as a solicitor, then partner, then managing partner  in Scotland, the United Arab Emirates, Oman, and Egypt, before returning to university to embark on a Religious Studies degree. His PhD at the University of Edinburgh focused upon spiritualist mediumship as a contemporary form of shamanism, and his monograph has recently been published with Bloomsbury, titled Redefining Shamanisms: Spiritualist Mediums and Other Traditional Shamans as Apprenticeship Outcomes. Wearing one of his other hats, David is a practising spiritualist medium and healer, and among his many connected roles, he is currently the President of the Scottish Association of Spiritual Healers.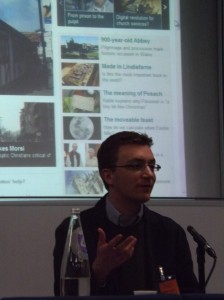 Christopher Landau studied Theology at Cambridge University before gaining a BBC News traineeship in 2002. He spent eight years at the BBC, working as a radio reporter and television news producer, both in general news journalism and as a specialist covering religion. He was a reporter for Sunday, and then World at One and PM on Radio 4 before being appointed World Service religious affairs correspondent in 2008. In 2010 he left the BBC to begin doctoral studies at Oxford University combined with training for ordination in the Church of England. He is involved with a project to establish a Religion Media Centre, based on the model of the Science Media Centre.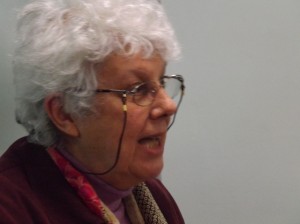 Eileen Barker is Professor Emeritus of Sociology with Special Reference to the Study of Religion at the London School of Economics,University of London. Her main research interests are 'cults', 'sects' and new religious movements, and changes in the religious situation in post-communist countries. She has over 350 publications (translated into 27 different languages), which include the award-winning The Making of a Moonie: Brainwashing or Choice? and New Religious Movements: A Practical Introduction. In the late 1980s, with the support of the British Government and mainstream Churches, she founded INFORM, an educational charity based at the LSE which aims to provide information about minority religions that is as accurate, objective and up-to-date as possible. She is a frequent advisor to governments, other official bodies and law-enforcement agencies throughout the world, has made numerous appearances on television and radio, and has been invited to give guest lectures in over 50 countries.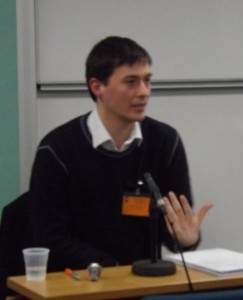 Tim Hutchings is a sociologist of religion, media and culture, and currently Research Fellow at the Open University. His research interests include digital Christianity, death and media, and the digital humanities. He received his PhD ("Creating Church Online") from Durham University in 2010 and recently completed a 15-month fellowship at HUMlab digital humanities research laboratory, Umea University, Sweden. His current research focuses on the future of the Bible as a digital text. He is also the editor of the Journal of Religion, Media & Digital Culture.