Although it is more than 150 years since Darwin first published On the Origin of Species (1859), it is only in recent decades that the evolutionary paradigm has become properly elaborated. But despite the wide range of developments across archaeology and the physical sciences, evolutionary treatments of religion have remained few and far between, with most prominent ones coming from the hyper-partisan scholars of the New Atheist movement. But that situation has begun to change. Although works such as Roy Rappaport's Ritual and Religion in the Making of Humanity (1999) began to lay the ground for a more nuanced treatment, the publication of Robert Bellah's groundbreaking new work, Religion in Human Evolution: From the Paleolithic to the Axial Age (2011), signals a new era in the study of long-term religious and cultural history in which scientific, social-scientific and historical approaches can be properly brought into conversation.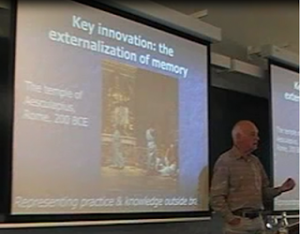 One of the key figures behind Bellah's work is evolutionary psychologist Merlin Donald, who spoke with Jack Tsonis at the 2013 AAR meeting in Baltimore about his paper "Ritual, Religion, and the Drama of Daily Life: The continued dominance of mimetic representation".  In addition to an overview of Donald's work and a discussion about ritual in the basic sense of "culturally patterned sequences of expression", Jack also asks Professor Donald about the way that Bellah has used his ideas, which reveals a subtle but important difference in emphasis. This interview will fascinate anybody interested in the evolution of human culture, and helps to scramble the common notion that there is a clear distinction between "religious" and "non-religious" behaviour.
Podcast: Play in new window | Download | Embed
Subscribe: RSS
You can also download this interview, and subscribe to receive our weekly podcast, on iTunes. If you enjoyed it, please take a moment to rate us. And remember, you can use our Amazon.co.uk, Amazon.ca, or Amazon.com links to support us at no additional cost when you have a purchase to make.