"First came the temple, then the city" –Klaus Schmidt
The above quotation from archaeologist Klaus Schmidt (Norenzayan, 2013) provides a succinct way of phrasing a provocative thesis that has been proposed in the sciences. That is to say, and from this point of view, that religion was not merely a result of the transformation from a hunter-gather lifestyle to a more sedentary, agricultural, domicile based life – it was the very catalyst. Or, as Norenzayan puts it, "religion transformed cooperation and conflict".
Archaeological sites such as Gobekli Tepe in southeastern Turkey, predating Stonehenge by 6,000 years, tell scientists a lot about the priorities of humans with the retreat of the last Ice Age – the Gods demanded worship. This claim, which puts 'religion' first in the development of 'society', is the result of interpretations of data such as Gobekli Tepe that suggest that Homo sapiens were interested in building places of worship before they were interested in building permanent homes and domesticating livestock (see Schmidt, 2000).
Scottish Philosopher David Hume espoused a view that situated religion not in the realm of the supernatural, but in the natural, arising from the inclinations and dispositions of the human mind. Sociologist Emile Durkheim conceptualized religion's primary function as a social glue that binds individuals together through the establishment of do's and don't's which acted as credible and authoritative sources which enabled the flourishing and maintenance of society. In his book Big Gods, Norenzayan combines both of these prior views with evidential support from various scientific disciplines.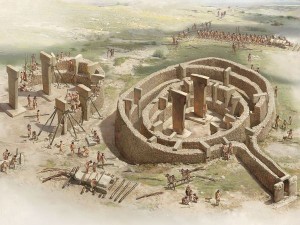 Thomas Coleman's interview with Dr. Ara Norenzayan begins by posing an interesting question. How do we explain the transition from small, tight-knit communities (the norm from a historical perspective) to the large-scale societies we know today? In answering this question Norenzayan puts the idea of Big Gods front and center, Big Gods being those that are omniscient, omnipresent, omnipotent and act as moralizing agents. Norenzayan then covers what he labels as "The Eight Principles of Big Gods" (Norenzayan, 2013), and closes by presenting an interesting analogy, placing many of the modern secular institutions we have today (e.g. police departments and governments) in the role previously occupied solely by religion.
References:
Norenzayan, A. 2013. Big gods. Princeton: Princeton University Press.