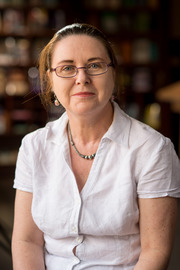 In the second of our podcasts since our summer 'break' we are delighted to welcome back Professor Carole Cusack of the University of Sydney, who has previously appeared on the RSP speaking on Invented Religions, and offering advice in our roundtable discussions on building an academic career, and academic publishing. In this interview with Chris, recorded in July in Edinburgh, Carole provides a broad introduction and overview of the study of religion and cultural production, making particular reference to her recent publication, Alex Norman, and featuring chapters from many of our contributors, including our own David Robertson.
In the introduction to their volume, Cusack and Norman write:
It is a truth generally acknowledged that religions have been the earliest and perhaps the chief progenitors of cultural products in human societies. Mesopotamian urban centres developed from large temple complexes, Greek drama emerged from religious festivals dedicated to deities including Dionysos and Athena, and in more recent times Christianity has inspired musical masterpieces including the 'St Matthew Passion' by the Lutheran Johann Sebastian Bach (1686-1750), the motets of the Catholic William Byrd (1540-1023), and the striking paintings of the Counter-Reformation Spaniards Ribera, Zurbaran, and Murillo in the seventeenth century (Stoichita 1995). Nor can we forget the cinematic renderings of biblical story in such works as William Wyler's epic Ben Hur (1959) starring Charlton Heston, Pier Paolo Pasolini's (1922-1975) Il Vangelo Secondo Matteo (1964), or Mel Gibson's The Passion of the Christ (2004). The Indian religious tradition contributes the magnificent Hindu and Buddhist temples of Angkor (Cambodia), and the exquisite Chola bronze statues, and the many extraordinary renditions of the India epics the Ramayana and Mahabharata onto the small and large screens. Likewise, Islam too has generated the sophisticated Timurid illustrated manuscripts of Firdausi's Shahnama, the paintings of the various Rajput kingdoms, and from Sufi traditions the devotional qawwali music. Architecturally, perhaps the most obvious cultural products of Islam for those in the West has been the Islamic architecture of Spain such as the Alhambra and the Great Mosque or Cordoba, both now sitting as beautiful cultural legacies (Lapunzina 2005). Many more examples could be adduced, including forms of dance, systems of education, theories of government, special diets, and modes of costume and fashion.
Clearly there is no shortage of data for scholars wishing to delve into this broad topic. But what do we actually mean by 'cultural product'? How can we claim that 'religion' is producing these things in any meaningful way? What can we ascertain about a 'religion' from its cultural products? And what makes this approach different from that of Material Religion? This broad-ranging interview tackles such questions, and more, via examples as diverse as religious celebrity, Rudolf Steiner's Goetheanum, and Sacred Trees and finishes by addressing whether or not the 'secular' university – and, in turn, Religious Studies – can be seen as a cultural product of a particular form of Christianity.
Podcast: Play in new window | Download | Embed
Subscribe: RSS
You can also download this interview, and subscribe to receive our weekly podcast, on iTunes. If you enjoyed it, please take a moment to rate us. And remember, you can use our Amazon.co.uk or Amazon.com links to support us at no additional cost when buying your important books etc.