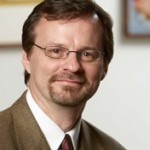 The study of religion and materiality is an important and fast-growing sub-discipline in the contemporary Religious Studies scene. According to the editors of the premier journal in this area, the aptly named 'Material Religion', scholars in this area
explore how religion happens in material culture – images, devotional and liturgical objects, architecture and sacred space, works of arts and mass-produced artifacts. No less important than these material forms are the many different practices that put them to work. Ritual, communication, ceremony, instruction, meditation, propaganda, pilgrimage, display, magic, liturgy and interpretation constitute many of the practices whereby religious material culture constructs the worlds of belief.
In this interview with Chris, Professor David Morgan takes the listener on an exciting tour of what this field has to offer, providing his own definition of material religion, and discussing empirical case studies and theoretical insights relating to religion in popular consumer culture, the sacred gaze, space and place, the internet, and more.
Podcast: Play in new window | Download
Subscribe: RSS
You can also download this interview, and subscribe to receive our weekly podcast, on iTunes. And please, take moment to rate us.
David Morgan is Professor of Religion with a secondary appointment in the Department of Art, Art History, and Visual Studies at Duke. He received his Ph.D. at the University of Chicago in 1990. He has published several books and dozens of essays on the history of religious visual culture, on art history and critical theory, and on religion and media. His most recent book is The Embodied Eye: Religious Visual Culture and the Social Life of Feeling (California, 2012). Recent works include: The Lure of Images: A History of Religion and Visual Media in America (Routledge, 2007) and two volumes that Morgan edited and contributed to: Religion and Material Culture: The Matter of Belief (Routledge, 2010) and Key Words in Religion, Media, and Culture (Routledge, 2008). Earlier works include Visual Piety (University of California Press, 1998), Protestants and Pictures (Oxford, 1999), and The Sacred Gaze (California, 2005). Morgan is co-founder and co-editor of the international scholarly journal, Material Religion, and co-editor of a book series at Routledge entitled "Religion, Media, and Culture."
This interview was recorded at the Religion and Society Programme's 'Sacred Practices of Everyday Life' Conference in Edinburgh in May 2012, and we are very grateful to all involved for facilitating this discussion. It also forms part of a short series of podcasts on Material/Embodied religion, continuing next week with Marta Tzrebiatowska on "Why are Women more Religious than Men?".