In April's episode of Discourse!, Chris Cotter, Chris Silver and Savannah Finver place the current global situation relating to coronavirus front and centre in their discussion. Come for serious commentary but stay for some levity in the form of cats and dogs. Topics of discussion concern the adaption of certain practices for online spaces, the regulation of the 'religious' by the 'secular', state hardship funding for 'religious' institutions in the US, funeral practices, the excellent recent 'You're all Muslim" tweet, and comments on the NHS 'as religion' in the UK.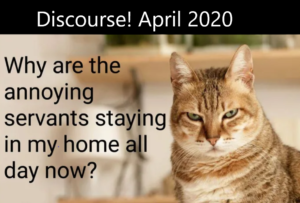 Links for items discussed in this episode:
• https://religionmediacentre.org.uk/news-comment/the-nhs-our-national-religion-2/
• https://abcnews.go.com/Health/ongoing-religious-services-spark-debate-faith-verses-safety/
• https://religionmediacentre.org.uk/news-comment/congregations-rise-as-worship-moves-to-the-internet/
• https://www.npr.org/sections/coronavirus-live-updates/2020/04/06/828462517/another-break-from-the-past-government-will-help-churches-pay-pastor-salaries?
On religion-related pet ownership:
• https://onlinelibrary.wiley.com/doi/abs/10.1111/jssr.12637 [Academic]
• https://religionnews.com/2020/01/07/why-your-faith-may-predict-whether-you-love-cats-or-dogs/
• https://www.sltrib.com/religion/2020/01/07/commentary-atheists/
• http://urbanchristiannews.com/2020/01/study-shows-that-atheists-prefer-cats-while-christians-love-dogs/
• https://www.dailymail.co.uk/news/article-7855331/Churchgoers-likely-cats-atheists-study-finds.html