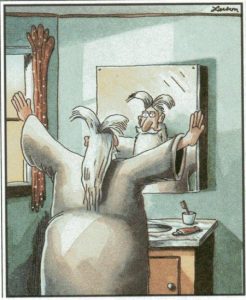 Beyond the irony of the Church of the Flying Spaghetti Monster, the Tony-Award winning musical, the Book of Mormon, or the use of a funny meme or two in the classroom, religion and humour are perhaps not two concepts one often considers together. However, the interplay between religion and humour comes in many forms; comedy films, stand-up comedy, musicals, satire, and kitsch products are just a few platforms in which religion and humor come together. In this RSP interview from our friends in Australia, Dr Elisha McIntyre discusses her research into religion and humour, particularly looking at comedic work The Church of Jesus Christ of Latter Day Saints as well as a broad range of evangelical comedians. McIntyre discusses the use of religious comedy as a point of entertainment as well as an identity solidifier, evangelical tool, and preaching format within Christianity.
Podcast: Play in new window | Download | Embed
Subscribe: RSS
You can download this interview, and subscribe to receive our weekly podcast, on iTunes. If you enjoyed it, please take a moment to rate us . And remember, you can use our Amazon.co.uk, Amazon.com, or Amazon.ca links to support us at no additional cost when buying academic texts, whoopee cushions, hand buzzers, and other comedic classics.