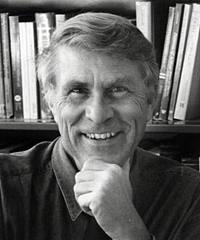 Over the course of the last few decades religious violence has become an increasingly salient topic of public discourse and particularly in its global manifestations. In the social sciences these discourses focus primarily on explanations of violent acts that are driven by the socio-political contexts enveloping them. Mark Juergensmeyer argues that such explanations only tell part of the story, however, since some actions are motivated by a religious vision, like the vision of "cosmic war." Talking to Per in this podcast Juergensmeyer explains how a "sociotheological approach" is particularly well suited to the task of understanding religious violence by engaging the worldviews of violent actors directly and taking their theological concerns as seriously as their political ideologies.
Podcast: Play in new window | Download | Embed
Subscribe: RSS
You can also download this interview, and subscribe to receive our weekly podcast, on iTunes. If you enjoyed it, please take a moment to rate us, 'Like' us on Facebook, and/or follow us on Twitter. And if you want to support the RSP, you can click through to Amazon.co.uk through our affiliates link, and we will earn referral fees from any transactions during your visit.
Mark Juergensmeyer is a former president of the American Academy of Religion and the current director of the Orfalea Center for Global and International Studies at the University of California, Santa Barbera where he also teaches sociology and religious studies. He is a prolific writer and speaker whose work deals with South Asian religion and politics, religious violence and global religion among other topics. Recent books include Terror in the Mind of God: The Global Rise of Religious Violence, Global Rebellion: Religious Challenges to the Secular State, and the just released The Oxford Handbook of Religion and Violence, which contains a chapter outlining, "A Sociotheological Approach to the Study of Religious Violence."