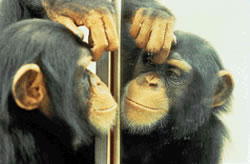 "Humans can see the world around them, imagine how it might be different, and translate those imaginings into reality…or at least try to. Humans believe. Meaning, imagination, and hope are as central to the human story as are bones, genes, and ecologies. Neither selfish aggression nor peaceful altruism dominates human behavior as a whole. We are a species distinguished by our extraordinary capacity for creative cooperation, our ability to imagine possibilities and to make them material, and our powerful aptitudes for belief, hope, and cruelty." So begins the abstract for Agustín Fuentes' 2018 Gifford Lecture series at the University of Edinburgh on the topic "Why We Believe: evolution, making meaning, and the development of human natures."
In this wide-ranging interview, Chris and Professor Fuentes discuss the themes of the lecture series, the intersections of research on human evolution, ethnoprimatology, and human nature, with the study of religion more generally, the Planet of the Apes films, and more. Along the way, important distinctions are made between specific "beliefs", "belief systems" and the human "capacity to believe", and we ask some important questions about the future.
All six lectures in the series were filmed, and are available by clicking here.