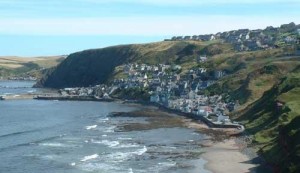 In this episode of the Religious Studies Project, David Robertson talks to Joseph Webster (lecturer in Anthropology at Queen's University, Belfast) about his fieldwork in Gardenstoun (usually called Gamrie), a small fishing village on the Aberdeenshire coast in the North-East of Scotland. Despite a population of only 700, the village has six churches, four of which are branches of the Plymouth Brethren, an evangelical conservative Christian denomination which originated in Ireland in the 1820s.
The discussion begins by considering how Joe went about doing his fieldwork, and how to go about doing an anthropology "at home"; within our own culture, rather than that of some exotic Other. They consider how work like this is important in undermining many of the assumptions that the study of religion is based upon. For example, inasmuch as we tend to think of millennialism in contemporary Britain, it would tend to be in some exclusionary "cult"; yet here is an example among apparently ordinary working Christians. It becomes clear that anthropology, when applied to "ourselves", still has the power to make "the strange familiar, and the familiar strange" (Muesse, 2011).
Podcast: Play in new window | Download | Embed
Subscribe: RSS
You can also download this interview, and subscribe to receive our weekly podcast, on iTunes. If you enjoyed it, please take a moment to rate us. And remember, you can use our Amazon.co.uk, Amazon.com or Amazon.ca links to support us at no additional cost when buying books, cooking utensils, waistcoats, stuffed animals, and more.