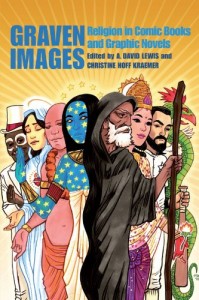 What better way to end our series on Religion and Cultural Production than with a podcast combining two of my favourite topics – religion and comic books (and we will have none of your middle-class renaming "graphic novels" round RSP HQ)! Today, RSP assistant editor Per Smith talks to A. David Lewis and attempts to delineate an emergent and very rich sub-discipline.
While some comic books tell traditional (or invented) religious stories, others touch upon religious themes more indirectly. In discussing the many ways that this relationship can unfold David touches upon broader issues of interest to religion scholars like the place of imagery within religious traditions. Prohibitions against certain types of religious images can, for instance, pose challenges to comic book artists desiring to tell certain kinds of religious stories. He also delves into the superhero archetype, and discusses how the comic book genre is particularly suited to tell stories of a mythological character.
And what does any of this have to do with Scientology?
Podcast: Play in new window | Download | Embed
Subscribe: RSS
You can also download this interview, and subscribe to receive our weekly podcast, on iTunes. If you enjoyed it, please take a moment to rate us. And remember, you can use our Amazon.co.uk or Amazon.com links to support us at no additional cost when buying any of the excellent comics mentioned in this podcast.
This podcast concludes our series on religion and cultural production, featuring interviews with Michel Dejardins on Religion and Food, François Gauthier on Religion, Neoliberalism and Consumer Culture, Pauline Hope Cheong on Religious Authority and Social Media, and Carole Cusack on Religion and Cultural Production.