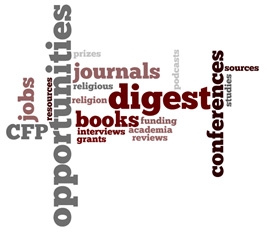 Welcome to the first edition of the RSP Opportunities Digest for 2014. if you haven't yet had the opportunity to check out our Christmas Special, you can do so here. We'll be back to our normal operational capacity with our first 2014 podcast on 13 January, with Russell McCutcheon speaking on sui generis religion.
As ever, please remember that we are not responsible for any content contained herein unless it is directly related to the RSP. If you have any content for future digests, please contact us via the various options on our 'contact' page. If you are enquiring about any of the opportunities listed below, please contact the organizers directly.
To skip to specific content within this digest, please use the table of contents to the right of your screen.
Changes to the RSP Team
With every arbitrary calendrical cycle comes changes, and the RSP is no exception to this 'rule'. It is our sad duty to inform you that Per Smith and Louise Connelly had to step down from the RSP editorial team at the end of December for their own personal and professional reasons. The RSP are infinitely grateful to Per and Louise for everything that they have done for us up until now. Per has been involved with the RSP for around a year and a half, and his enthusiasm for interviewing and bringing the RSP to the other side of the Atlantic has been invaluable. Louise has been a core member of the editorial team since the RSP began, and we do not know where we would be without her sterling work behind the scenes with the social media, opportunities digests, posters and flyers and endless marketing and web advice. We know that both will keep in touch and remain friends of the RSP as we move into our third year and beyond. Thank You.
These changes to the team prompted an effort to restructure and, as such, we have now welcomed another three members to our editorial team – Tommy Coleman, of the University of Tennessee at Chatanooga, shall be co-managing our Social Media (along with existing editor Chris Silver), Kevin Whitesides, of the University of California at Santa Barbara, shall be managing our weekly features, and Daniel Favand, of the University of Edinburgh, shall be taking charge of audio editing. We are delighted to welcome all of these new members to the RSP Team. If you are interested in finding our more about our current editorial structure and team members, see here. If you would like to find out more about the more than 150 people who have directly contributed to the RSP, see here. And if you are interested in joining our team, see below for details of one further position we are currently trying to fill.
RSP Recruiting an Assistant Editor
As part of our restructuring process, we are currently looking to add a new assistant editor to our team. This individual – or, potentially, these individuals – will be responsible for producing and promoting these very opportunities digests. The 'Opps Digest' is one of the essential services that we provide through the RSP and requires a little bit of work on a weekly basis. Essentially, we have an email account – oppsdigest@religiousstudiesproject.com – which can be signed up to a variety of relevant mailing lists. In addition, others from within the team and from outside occasionally send through relevant job adverts, conference announcements, CfPs etc. to this address. The Opps Digest Editor simply needs to collate relevant material from these emails once a week, and place them into a post for the website, whilst also actively sourcing new sources of information. Louise and Chris, who have previously filled this role, will be able to liaise with the successful applicant\s on how they have done this up until now, but there is plenty of room for innovation.
The successful applicant should:
Be involved – whether as a student (of any level) or a professional academic – within the academic study of religion (broadly conceived)
Have a basic familiarity with WordPess\other blogging packages, in addition to general computing and social media skills.
Be a reliable and independent worker. It is essential that these digests are produced to a schedule every week, although the scheduled day can be negotiated. Other members of the team can cover the occasional week, but this must be arranged well in advance.
Be able to commit around one hour per week for the majority of the year to this role.
At this stage, and as will all positions on the RSP editorial team, this role will be for an initial period of one year – 2014 – after which there will be the opportunity to change roles/extend commitment as appropriate. Given our current financial situation, we are unable to offer any financial incentive to the successful applicant/s. However, we hope that the chance to be involved in what is arguably the primary hub for Religious Studies online, and the opportunities which accompany this, will be incentive enough.
If you are interested in this position, please send an academic CV and a brief note of interest detailing your suitability for the role to David and Chris at  editors@religiousstudiesproject.com by 31 January 2014.
New Book
THE INVENTION OF GOD IN INDIGENOUS SOCIETIES, by James L. Cox
Indigenous societies around the world have been historically disparaged by European explorers, colonial officials and Christian missionaries. Nowhere was this more evident than in early descriptions of indigenous religions as savage, primitive, superstitious and fetishistic.
Liberal intellectuals, both indigenous and colonial, reacted to this by claiming that, before indigenous peoples ever encountered Europeans, they all believed in a Supreme Being. The Invention of God in Indigenous Societies argues that, by alleging that God can be located at the core of pre-Christian cultures, this claim effectively invents a tradition which only makes sense theologically if God has never left himself without a witness.
Examining a range of indigenous religions from North America, Africa and Australasia – the Shona of Zimbabwe, the "Rainbow Spirit Theology" in Australia, the Yupiit of Alaska, and the Māori of New Zealand – the book argues that the interests of indigenous societies are best served by carefully describing their religious beliefs and practices using historical and phenomenological methods – just as would be done in the study of any world religion.
Calls for Papers
Panel: Religious Life and Medical Traditions
ASA 2014 "Anthropology and Enlightenment" (Call for Papers Closes Jan. 5th)
Religious practices, and the cosmologies they draw upon, shape many people's understanding of the relationships of the body, the mind, and the soul. These understandings form a critical foundation from which social, cultural, and ethical perspectives of health and practices of healing emerge. Historical and contemporary perspectives of the development of Western medical traditions and clinical institutions has provided a framework that favours Western scientific discourse. Through this discourse, alternative medical traditions and practices have become largely marginalised. Furthermore, in many communities where concepts of health and healing practice draw strongly upon religious beliefs and alternative understandings of the natural world, the efficacy of Western medical traditions and institutional privilege has been challenged or reinterpreted.
How do religious perspectives, and respective cosmologies, address or influence practices of health and healing within the contours of various, and at times disparate, medical traditions? This panel invites papers that seek to explore this question through historical and contemporary contexts that address various understandings and notions of efficacy, and the diagnosis and treatment of physical and/or mental illnesses.
Contact: Don Duprez (donduprez@gmail.com)
http://www.nomadit.co.uk/asa/asa2014/panels.php5?PanelID=2745
6th Conference of the Mediterranean Worlds – Symbols and Models of the Mediterranean
University of Calabria, Department of Humanities, September 9-11, 2014
<http://medworlds6.altervista.org/call-papers/>
The Mediterranean Sea is a milieu in which it is possible to observe,
through an interdisciplinary lens, the undertaking of elements
defining an idea which conflicts with its immediate sensitive aspect;
an idea that arises from life situations and the imaginary world of
every man. Nevertheless, it remains a context in which is possible to
observe the presence and the constant use of historical symbols,
patterns and models of those people inhabiting its shores, as embedded
in both the artistic and material production, as well as in the
literary one.
The Mediterranean Sea could be investigated as a real geographical and
historical referee, that has generated, and continues to generate
symbols; but it can be also interpreted as the metaphor and allegory
of the 'encounters and clashes' between near and distant people. There
are symbols and models by which is possible to perceive and understand
convergences and contacts, and disclose common identities, even when
considering specific differences of the people.
The theme of this interdisciplinary conference will focus on these issues:
The symbols (signs, gestures, objects, animals, persons) capable of bringing to mind meanings deeply interconnected with the development of each of Mediterranean society.
The importance of tangible and intangible models serving as examples to reproduce and imitate the evidence that have marked and conditioned the life of the Mediterranean people from a political, religious, economic, and social viewpoints.
We welcome the submission of 250-word abstracts for twenty-minute
papers that broadly address the above themes, and that may address,
but not be limited by, the following topics:
Symbols and models disclosing common identities
Symbolical landmarks
Symbols of the State and Political Power as institutional models
Religious symbols
Settlements patterns and historical-economic models
Natural elements (living beings typical of the Mediterranean area bearing a symbolic value)
Literary production as often recording the centrality of the Mediterranean as a complex and contradictory allegory
Redefining Mediterranean boundaries as precarious and mobile limits, but also as bridges between lands and shores
The metaphor of the Mediterranean and the dialectic between the hegemonic power of the centers and the potential destabilizing peripheries.
Abstract Submissions:
Abstracts should be no more than 250 words and should include at least
3 descriptive keywords, the presenter's name, email address,
organization, and mailing address. The languages of the conference
will be English and Italian.
Please send your abstract submissions to:
m.salerno@unical.it; luca.zavagno@gmail.com
Deadline:
Abstract must be submitted by 1 March 2014
Notification of acceptance will be communicated by 1 April 2014
"LE FUNÉRAIRE. Mémoire, protocoles, monuments"
PROLONGATION DE LA DATE LIMITE DE SOUMISSION
JUSQU'AU 10 JANVIER 2014
11e colloque annuel de la MAE organisé par Grégory Delaplace (LESC) et Frédérique Valentin (ArScAn) du 18 au 20 juin 2014 Université Paris Ouest Nanterre La Défense
http://www.mae.u-paris10.fr/appel-a-communications-colloque-de-la-mae-2014/
Jobs
Lecturer, Religious Studies
Mahidol University – <http://www.h-net.org/jobs/job_display.php?id=48282>
Post-Doc-Position in History, Theology, Jewish Studies or Religious Studies
Ludwig-Maximilians-Universitat Munchen – <http://www.h-net.org/jobs/job_display.php?id=48277>
New Members Wanted to Join the NSRN Blog Editorial Team
In September the NSRN launched its online blog Nonreligion and Secularity (blog.nsrn.net) which aims to provide an informative resource for scholars and professionals working in the field of nonreligion and secularity research, and offer a space for the dissemination of research-related information to a wider audience.
We are currently looking to expand and are seeking enthusiastic people to join the editorial team.
As well as helping to build upon the initial success of the blog, new team members will have the opportunity to play a dynamic role in the blog's ongoing development and its vision for the future.
Depending on experience, successful applicants will undertake some, or all, or the following responsibilities:
Conducting editorial reviews of blog submissions
Soliciting commissions from potential blog authors
Responding to submissions of outlined proposals for articles
Copyediting and publishing posts to the blog
Monitoring comments and responses to published blog articles
Dealing with general blog enquiries
Promoting the blog via social media and other sources
Working with the other team members on ways to enhance and improve the blog website and increase exposure and traffic
Engaging in virtual team meetings, via email or Skype, to discuss ongoing blog developments.
We welcome applications from people in all stages of their academic career, including post-graduate students and early career researchers. Research experience within the field of nonreligion and secularity, or previous experience of blogging, is useful but not essential; we are also keen to hear from applicants working in other related research areas who feel they can offer a valuable external perspective on topics of N&S research.
The positions are unpaid, but they offer applicants an opportunity to increase their editorial experience and the chance to engage with researchers and authors at the forefront of nonreligion and secularity research, as well as being a beneficial addition to their CV.
If you would be interested in joining the blog team please send a short cover note and CV by email to blog editor Lorna Mumford (lorna.mumford.10@ucl.ac.uk).
Deadline for applications: Friday 17th January 2014
Support the RSP through Amazon
You can help to financially support the RSP simply by shopping on Amazon – and at no additional cost to you!. f you click through to Amazon.co.uk, Amazon.com or Amazon.ca through these links, and buy ANY product during your visit, the RSP will earn referral fees. There will be no additional cost. Why not add a shortcut to your bookmarks bar and use these links every time you shop?
Please help us keep the RSP free, open and accessible by spreading the word and using this simple, cost-effective way of supporting us.