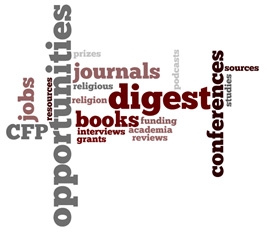 Welcome to the ninth RSP Opportunities Digest for 2014. As ever, please remember that we are not responsible for any content contained herein unless it is directly related to the RSP. If you have any content for future digests, please contact us via the various options on our 'contact' page. If you are enquiring about any of the opportunities listed below, please contact the organizers directly.
To skip to specific content within this digest, please use the table of contents to the right of your screen. This digest has been significantly pared down to basic details and web links. We hope this meets with your approval.
We are pleased to welcome Jane Skjoldli aboard as the new editor for the digest, so expect some changes in the coming weeks.
Those supplying calls for papers etc. must provide a link to external information, or a pdf containing the relevant information, otherwise we will not be able to include these in the digest.
Conferences and Events
British Association for Islamic Studies
The inaugural conference for the British Association for Islamic Studies will be held on Thursday 10th and Friday 11th April 2014 at the John McIntyre Conference Centre, University of Edinburgh.
http://www.brais.ac.uk/annual-conference/ 
2nd Max Arthur Macauliffe Conference
"Emerging Trends and Developments in Sikh and Punjabi Studies"
Western Gateway Building Lecture Theatre 1.07, UCC, Cork, Ireland, Saturday 22 March 10.00-18.00.
Programme, abstracts & registration (free) at http://www.ucc.ie/en/religion/research/macauliffe2014/
All welcome, for all or part of the conference.
Religion in Urban Spaces
09.-11. April 2014, Göttingen
http://www.uni-goettingen.de/de/426457.html
Religion: Views from Japan
Nous sommes très heureux de vous inviter à la conférence que donnera le prof. Jason A. Josephson (Williams College), auteur de The Invention of Religion in Japan, Chicago, 2012, organisée conjointement par l'Unité de japonais et l'Unité d'histoire des religions antiques de l'Université de Genève, sur le thème: RELIGION: VIEWS FROM JAPAN.
Le jeudi 20 mars 2014, 9-11h, Uni-Bastions, salle B105.
La conférence sera suivie d'une discussion. Toute personne interessée est la bienvenue.
New ESSWE Network
New ESSWE network for Central- and Eastern Europe
Eastern and Central Europe has been an area of growth for ESSWE in recent years. Now a new regional network is joining the fold and representing ESSWE more firmly on the ground in the region: the Central and Eastern European Network for the Academic Study of Western Esotericism (CEENASWE) will be launched officially this summer.
Find a call for papers for their launch event here.
Editorial Vacancies
Secularism and Nonreligion
The open access, peer-reviewed journal Secularism and Nonreligion is now recruiting for the following two vacancies:
Assistant editor, involving management of article submissions and other editorial duties.
Book reviews editor, involving co-management of book review submissions and other editorial duties.
We welcome applications from people in all stages of their academic career, including post-graduate students and early career researchers. Research experience within the field of nonreligion and secularity, or previous editorial experience is useful but not essential; we are also keen to hear from applicants working in other related research areas who feel they can offer a valuable external perspective on topics of S&N research.
Secularism and Nonreligion is an interdisciplinary journal published with the aim of advancing research on various aspects of 'the secular.' The journal is interested in contributions from primarily social scientific disciplines, including: psychology, sociology, political science, women's studies, economics, geography, demography, anthropology, public health, and religious studies. Contributions from history, neuroscience, computer science, biology, philosophy, and medicine will also be considered. Articles published in the journal focus on the secular at one of three levels: the micro or individual level, the meso or institutional level, or the macro or national and international levels. Articles explore all aspects of what it means to be secular at any of the above levels, what the lives of nonreligious individuals are like, and the interactions between secularity and other aspects of the world. Articles also explore the ideology and philosophy of the secular or secularism.
Further information about the journal can be found at http://www.secularismandnonreligion.org/about.
To apply for these positions, please send a short cover note and CV to lois.lee@ucl.ac.uk by 21 March 2014. If you would like to be considered for either position, please state this in your covering note.
Both positions are unpaid.
Free Journal Articles
Folklore
Virtual Special Issue – Folklore and Paganism
http://explore.tandfonline.com/page/ah/folklore-and-paganism-vsi
Virtual Special Issue – Folklore, Religion and Contemporary Spirituality
http://www.tandf.co.uk/journals/explore/rfol-religion-spirituality.pdf