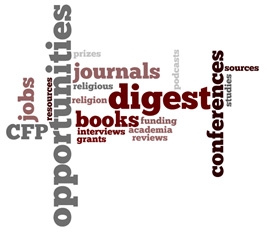 Welcome to the fourth RSP Opportunities Digest for 2014. As ever, please remember that we are not responsible for any content contained herein unless it is directly related to the RSP. If you have any content for future digests, please contact us via the various options on our 'contact' page. If you are enquiring about any of the opportunities listed below, please contact the organizers directly.
To skip to specific content within this digest, please use the table of contents to the right of your screen.
RSP Recruiting Assistant Editor
As part of our restructuring process, we are currently looking to add a new assistant editor to our team. This individual – or, potentially, these individuals – will be responsible for producing and promoting these very opportunities digests. The 'Opps Digest' is one of the essential services that we provide through the RSP and requires a little bit of work on a weekly basis. Essentially, we have an email account – oppsdigest@religiousstudiesproject.com – which can be signed up to a variety of relevant mailing lists. In addition, others from within the team and from outside occasionally send through relevant job adverts, conference announcements, CfPs etc. to this address. The Opps Digest Editor simply needs to collate relevant material from these emails once a week, and place them into a post for the website, whilst also actively sourcing new sources of information. Louise and Chris, who have previously filled this role, will be able to liaise with the successful applicant\s on how they have done this up until now, but there is plenty of room for innovation.
The successful applicant should:
Be involved – whether as a student (of any level) or a professional academic – within the academic study of religion (broadly conceived)
Have a basic familiarity with WordPess\other blogging packages, in addition to general computing and social media skills.
Be a reliable and independent worker. It is essential that these digests are produced to a schedule every week, although the scheduled day can be negotiated. Other members of the team can cover the occasional week, but this must be arranged well in advance.
Be able to commit around one hour per week for the majority of the year to this role.
At this stage, and as will all positions on the RSP editorial team, this role will be for an initial period of one year – 2014 – after which there will be the opportunity to change roles/extend commitment as appropriate. Given our current financial situation, we are unable to offer any financial incentive to the successful applicant/s. However, we hope that the chance to be involved in what is arguably the primary hub for Religious Studies online, and the opportunities which accompany this, will be incentive enough.
If you are interested in this position, please send an academic CV and a brief note of interest detailing your suitability for the role to David and Chris at  editors@religiousstudiesproject.com by 31 January 2014.
BASR annual conference, 2014
It is only fair that the RSP gives prominent acknowledgement to the annual conference of our primary sponsor, the British Association for the Study of Religions.
3-5 Sept 2014
Hosted at The Open University, UK
"Religion, art and performance" and "the cutting edge"
BASR's 2014 conference has two themes: "religion, art and performance" and "the cutting edge". Both can be interpreted broadly. Panels and papers are invited.
Religion, art and performance
Religion is at least represented in artistic and dramatic ways. It has been argued that theatre began in religious rituals, that visual arts began as demonstrations of religious knowledges, and that literature arose from religious myth-telling. Perhaps pre-modern arts of all kinds were fundamentally religious. Contemporary religion has interesting relationships with art and performance: from the use of ritual-like acts on stage to the staging of religious rites to impact a wide public; from the portrayal of religious themes in art to the emerging emphasis on "religion as act" or "religioning" in recent scholarly theorising. Perhaps religion is a performative art. Is it still valid to distinguish ritual from drama on the grounds that the former involves only participants while the latter invites audiences? What difference does the display of religious acts or things in museums, galleries, theatres, heritage and tourist venues make? Ideas and questions like these (and there are many more) seem likely to enhance the value of the study of religions to interdisciplinary scholarship. Perhaps the study of religion could be improved by dialogue with scholars of art or performance, and/or vice versa. The BASR 2014 conference provides an opportunity to explore these and other questions and debates. Therefore, we invite panels and papers about religion, art and performance (all defined broadly).
The cutting edge
Many BASR members also belong to scholarly associations for the study of specific religions or for the advancement of specific approaches to religion(s) (e.g. anthropology, philosophy, sociology and more). We invite panels on the cutting edge of debates that focus on specific religions or apply specific approaches. In doing so we hope various forms of cross-fertilisation will enrich the field of studies of religion.
All correspondence about the conference (other than the bursaries) should be directed to arts-basr@open.ac.uk
Calls for Papers
Religion and American Culture, American Studies Association
Location: California
Date: 2014-01-02
Description: The Religion and American Culture Caucus of the
American Studies Association promotes engagement with
scholarship on American religion by organizing and supporting
submissions to the Annual Meeting of the American Studies
Association, which will next meet November 6-9, 2014, in Los
Angeles. RACC in …
Contact: rbarrettfox@astate.edu
Announcement ID: 209476
http://www.h-net.org/announce/show.cgi?ID=209476
Nineteenth Joint Postgraduate Conference on Religion and Theology
'Spiritual Exercises'
Date: 2014-03-07
Description: 7-8 March 2014, Bristol 19th Joint Postgraduate
Conference on Religion and Theology SPIRITUAL EXERCISES Keynote
speaker: Professor Rupert Gethin We invite submissions of
abstracts from postgraduate students and early career academics
for the 19th Postgraduate Conference on Religious Studies and
The …
Contact: pg.rt.conf@gmail.com
URL: www.bristol.ac.uk/arts/gradschool/conferences/thrs/
Announcement ID: 209442
http://www.h-net.org/announce/show.cgi?ID=209442
A Postgraduate Conference
CENTRE FOR PSYCHOANALYSIS
MIDDLESEX UNIVERSITY
LONDON
Saturday, 14 June, 2014
We invite postgraduate students and research fellows to submit proposals for papers on psychoanalysis or psychoanalytically informed research. Papers may be from any academic discipline, including psychology, sociology, cultural studies, psychosocial studies, history, literature, art, religious studies or philosophy. We also welcome proposals on clinical or theoretical topics from students on psychoanalytic trainings.
This one-day conference is designed to give postgraduate students from all disciplines who are interested in psychoanalysis an opportunity to present and discuss their research in an informal and intellectually stimulating setting.
Abstracts of 300 words (maximum) should include a title, the name of your university or training organisation and a telephone number. Papers should be no more than 20 minutes long. A further 10 minutes will be allowed for discussion. Sessions of 1½ hours will have space for three papers. There will be concurrent panels to accommodate as many papers as possible. The day will end with a plenary.
The conference takes place at the Hendon Campus of Middlesex University (30 minutes from central London) between 9:30 and 5:30 on Saturday, 14 June, 2014. Tea, coffee and a light lunch will be provided. The conference fee is £40 for presenters and attendees.
The deadline for submission of abstracts is Friday, 23 May, 2014. Early submission and registration is recommended. Abstracts and queries should be sent to: David Henderson, d.henderson@mdx.ac.uk
Registration:
http://www.onlinestore.mdx.ac.uk/browse/extra_info.asp?compid=1&modid=5&deptid=11&catid=30&prodid=312
Centre for Psychoanalysis:
http://www.mdx.ac.uk/research/health_education/psychology/psychoanalysis/index.as
Panel: Female Leadership in Islam
Female Leadership in Islam – New Perspectives and Discourses on Receptions in Past and Present
World Congress for Middle Eastern Studies (WOCMES), Ankara, 18-22 August 2014
Proposals are invited for 20-minute papers for the panel on 'Female Leadership in Islam – New Perspectives and Discourses on Receptions in Past and Present' to be presented at the World Congress for Middle Eastern Studies(WOCMES), University of Ankara, 18-22 August 2014.
The panel which is organized and chaired by Doris Decker (Frankfurt) and Elif Medeni (Vienna) aims to launch new perspectives and discourses on female leadership in Islam and widen the horizon concerning this discourse. Therefore, the panel welcomes abstracts which deal with one of the following objectives:
Firstly, the panel intends to discuss perspectives on female leadership in Islamic sources such as the Qur'an, Ahadith, Ibn Sad or Al Waqidi. Secondly, the panel intends to include new theoretical reflections on Islamic female leadership in various regional settings from majority and minority Muslim contexts. Finally, the panel functions as a platform where different research approaches (e.g. historical-critical), theological perspectives (e.g. fatwas) and practical customs concerning Islamic female leadership are examined and debated.
We encourage to submit abstracts (300 words) together with a short biography to Doris Decker (dr.doris.decker@googlemail.com) and Elif Medeni (elif.medeni@univie.ac.at).
Deadline: 26th January 2014.
Details about the conference available at: http://wocmes2014.org/
Early Modern Women, Religion, and the Body
22-23 July 2014, Loughborough University, UK
Plenary speakers: Professor Mary Fissell (Johns Hopkins) and Dr Katharine Hodgkin (University of East London)
Also celebrating 25 years since the publication of Her Own Life: Autobiographical Writings by Seventeenth-Century Englishwomen (Routledge) with a plenary session by Dr Elspeth Graham (Liverpool John Moores), Dr Hilary Hinds (Lancaster), Professor Elaine Hobby (Loughborough), and Professor Helen Wilcox (Bangor)
With public lecture by Alison Weir (evening of 22 July, Martin Hall Theatre): '"The Prince expected in due season": The Queen's First Duty'
This two-day conference will explore the response of early modern texts to the relationship between religion and female bodily health. Scholars have long observed that understandings of the flesh and the spirit were inextricably intertwined in the early modern period, and that women's writings or writings about women often explored this complex relationship. For instance, how did early modern women understand pain, illness, and health in a religious framework, and was this different to the understanding of those around them? Did women believe that their bodies were sinful? And were male and female religious experiences different because they took place in different bodies?
We invite proposals that address the relationship between religion and health, and the spirit and flesh, with a focus on female experience in any genre in print or manuscript. Genres might include medical, literary, religious, autobiographical, instructive, and rhetorical writings.
Topics might include, but are not limited to
• Methods of recording or maintaining bodily and spiritual health
• The function of religion/faith in physiological changes (e.g. pregnancy/childbirth/nursing/menstruation)
• Illness, providence, and interpretation
• Suffering as part of religious experience and conversion
• Spiritual melancholy, madness, demonic possession, or witchcraft
• The physical effects of prophesising/preaching
• Chastity and religious life
• Spiritual and physical births/reproductive tropes
• Ensoulment and pregnancy
• The miraculous or martyred female body
• The body and sin
• Uses of the Bible in medical treatises
We invite proposals for 20-minute papers, complete panels, or roundtable discussions. Suggestions for discussions on pedagogical approaches to teaching the above topics are also welcome.
Please send abstracts of 300 words for 20-minute papers, or longer proposals for panels or roundtables, to Rachel Adcock, Sara Read, and Anna Ziomek at emwomen@lboro.ac.uk by 31st January 2014.
Religion in floating territories
Date: 2014-02-27
Description: Papers are invited for an international conference
jointly organized by the Eurel network of sociologists and
legal scholars of religion, and the Department Of Law on
Religion, John Paul II Catholic University of Lublin. Eurel is
both an important information resource created by leading
sociologists …
Contact: anne-laure.zwilling@misha.cnrs.fr
URL: eurel.sciencesconf.org/resource/page/id/14
Announcement ID: 209619
http://www.h-net.org/announce/show.cgi?ID=209619
Experience and Authority: Catholicism, Esotericism, and Heresy
An Interdisciplinary Conference at the University of California, Santa Barbara
Thursday May 22 and Friday May 23, 2014
Hosted by the Department of Religious Studies with support from the Cordano Endowment in Catholic Studies
Experience and authority encompass a fertile tension that individuals and emergent movements have had to negotiate within the Catholic tradition broadly conceived. This conference will explore those tensions with a particular interest in the claims that people have made for their experience, the conditions under which people come to view their experience as authoritative, and the way they negotiate those claims in relation to the authority claimed by institutional authorities primarily but not exclusively in the modern era. Scholars from fields such as history, religious studies, philosophy, cultural studies, anthropology, sociology, literature, theology, art history and the sciences are invited to submit proposals for full panels and individual papers. Creative and interdisciplinary approaches to these topics, explorations of them in a variety of contexts, and visual and multi-media presentations are encouraged.
We are pleased to have Robert Ellwood, professor emeritus of world religions at the University of Southern California, as this year's keynote speaker.
Suggested topics include but are not limited to the following:
• Visionary and Mystical Experiences: Marian apparitions, the appearance and intersession of saints
• The Experience of LGBT Catholics
• Irregular Ordinations and Orders of Succession: Sedevacantism and Rival Papal Claimants, The Liberal Catholic Church, Wandering Bishops
• Syncretic Catholicism
• Catholicism, Spiritualism, and the Occult
• Reform Movements: Roman Catholic Womenpriests (RCWP), Radical-Traditionalist Catholics, The Society of Saint Pius X
• Apocryphal Texts, Alternate Histories, and Lost Traditions
• Folk Practices and Personal Devotions
• Private and Public Revelation
We welcome proposals from established scholars, graduate students, and independent researchers.
Please send proposals of approximately 300 words and a brief bio of 2-3 lines by March 15 to: experienceandauthority@gmail.com
Notifications will be made by April 1.
Emerging Trends and Developments in Sikh and Punjabi Studies
2nd Max Arthur Macauliffe Conference,
University College Cork, Ireland
Saturday 22 March, 2014
PLEASE NOTE EARLY DEADLINE FOR ABSTRACTS Monday 10th FEBRUARY 2014
Following on from last year's successful 'Representing Sikhism' conference held to mark the centenary of Max Arthur Macauliffe's death, this year's Macauliffe conference at UCC aims to highlight the most recent and emerging trends and developments in Sikh & Punjabi Studies, seeking contributions in particular from early-career academics, postdocs and advanced PhD students, but also from any scholar whose work promises to break new ground in Sikh & Punjabi studies.
Thanks to the continuing generosity of the Sikh community in Ireland, we intend to offer up to EIGHT TRAVEL AND ACCOMMODATION GRANTS of max. €300 / GBP£250 to facilitate attendance at the conference. Grants will be awarded to up to eight scholars whose papers have been accepted by the organising committee. Please indicate on the registration and abstract submission form at https://docs.google.com/spreadsheet/embeddedform?formkey=dElBeVFHeXlEWFJUOS1JWmVxTmU5TkE6MA whether you wish to be considered for a grant. Further details will be provided to the successful applicants.
The annual Macauliffe Conference in Sikh and Punjabi studies is hosted by UCC's Study of Religions Department, which fosters the critical, analytical and non-confessional academic study of religions (http://www.ucc.ie/en/religion/). Academic papers relating to religion in any area of Sikh and Punjabi studies are invited, including reports of work in progress.
Abstracts (max 150 words) should be submitted only via the on-line registration system. All abstracts received by 23.59hrs GMT on Monday 10th February 2014 will be considered. Those submitting abstracts by this date will be notified by 14 February 2014 whether their abstract has been accepted.
Registration: If you wish to attend the conference and are not offering a paper, please also register here https://docs.google.com/spreadsheet/embeddedform?formkey=dElBeVFHeXlEWFJUOS1JWmVxTmU5TkE6MA once you have made your travel arrangements, to help us plan catering.
There is no charge for registration, nor for attending the conference which, as last year, will be open to the public. However, contributions large or small to the Macauliffe Fund to promote the development of Sikh and Punjabi Studies in Macauliffe's homeland of Ireland are most welcome – please see http://www.ucc.ie/en/alumni/cuf/opportunities/ or contact Prof Brian Bocking b.bocking[at]ucc.ie .
See the conference website for further details as they become available. The conference will run from mid-morning until evening on Saturday 22 March at University College Cork.
Abstracts deadline: 23.59hrs GMT Monday 10th February 2014
Note: The decision of the organising committee on both abstract acceptance and award of travel grants is final and no correspondence will be entered into.
Moderation and its Discontents: religion, rights and social justice
Organiser: Dr Alexander Smith
Department of Sociology, University of Warwick
Monday, 23 June – Wednesday, 25 June 2014
Keynote speakers
Professor Bob Antonio (Sociology, University of Kansas)
Professor Danielle Allen (Institute for Advanced Study, Princeton)
Professor John Holmwood (Sociology, University of Nottingham)
Dr Rowan Williams (ex-Archbishop of Canterbury)
Workshop
With the rise of neoliberal globalisation in the early 21st Century, the world is undergoing complex and rapid economic and political transformations. The apparent arrival of a 'post-secular' moment in the West, in which religion has re-entered the public square in multicultural liberal democracies like Britain and further unsettled debates about rights, secularism and 'truth', further signals a world 'in flux'. The threat of both 'home-grown' terrorism and racist violence, as witnessed last year with the murder of Drummer Lee Rigby in Woolwich and Pavlo Lapshyn's attempted bombings of mosques in the West Midlands, intensifies again these anxieties and uncertainties. This has prompted some now to argue for a project of moderation to mitigate the effects of crisis and indeterminacy associated with market-based policies and the so-called 'culture wars' they have provoked. Indeed, moderation has been fiercely argued in relation to combating Islamic extremism and finding an enduring peace in the Middle East. It has also been the subject of US debate in relation to issues of electoral polarisation and Church-State separation.
But what does 'moderation' actually mean? And what might a reasoned project of moderation look like – intellectually, politically and in practice? This interdisciplinary workshop builds on the arguments of Alex Smith and John Holmwood in their edited volume Sociologies of Moderation: problems of democracy, expertise and the media (2013, Wiley Blackwell) to suggest that moderation is better understood as a disciplined engagement with divided publics rather than a doctrine devoid of intellectual commitment or moral courage. Papers are therefore invited from scholars working in any field of the arts, humanities and social sciences on issues relating to the conference theme. Working with an expanded definition of moderation, contributions on the following topics would be particularly welcome:
Democracy, multiculturalism and interfaith dialogue

Citizenship, human rights and social justice

Education, expertise and the media

Publics versus markets

Pragmatism and social theory

Religion, secularism and science
Please send abstracts to Dr Alexander Smith at alexander.smith@warwick.ac.uk no later than 17.00 on Friday, 7 February 2014. Those selected to give papers will be informed by the end of February. Abstracts should be no longer than 250 words and should be attached as a Word document with your institutional affiliation and position.
The workshop is being generously supported by funding from Warwick University's Research Development Fund, the Global Research Priority 'Connecting Cultures' and the Department of Sociology. Reasonable travel and accommodation expenses within the UK will be reimbursed to those selected to present papers. A condition of being selected will be that the conference organiser reserves the first right of rejection for publication of the paper. For further details on publication plans, please contact Dr Smith.
Panel on Religion and Religious Education
We (Elisabeth Arweck, Kerstin von Brömssen and Geir Skeie) intend to submit a proposal for a symposium at ECER (European Conference on Education Research) 2014 in Porto on Religion and Religious Education: Past, Present and Future in Europe, whether confessional or non-confessional education, whether in primary, secondary or further and higher education.
As Religious Education has so far not been a theme in its own right at ECER conferences, we would like to create some space for issues around this subject; given the importance of the subject, it seems appropriate to raise its profile.
The suggested working title of the symposium—RELIGION and RELIGIOUS EDUCATION: PAST, PRESENT AND FUTURE IN EUROPE—is in line with the conference theme. We are also thinking of the possibility to develop papers of good quality from the symposium into a book or a special issue in an international journal.
Please send proposals, including title, short abstract (300 words max.) and a brief biographical statement, and affiliation, no later than the 27 of January to both:
Elisabeth Arweck (elisabeth.arweck@warwick.ac.uk) and Kerstin von Brömssen (kerstin.vonbromssen@lir.gu.se)
Any proposals related to Religious Education are welcome; relevant topics are, for example, the following:
Religious Education in an historical perspective—confessional or non-confessional
Religious Education and educational and/or societal debates at national and/or supra-national (e.g. European) level
Religious Education from the perspective of students, teachers and/or parents
Religious Education and issues of curriculum and curriculum reform
Religious Education and content constructions
Religious Education and assessment
Religious literacy
Religious Education and intersections of gender, ethnicity, class and nationality
Religious Education and classroom discourses
Religious Education and policy
The ECER conference takes place in Porto, Portugal, 2–5 September 2014. See www.eera-ecer.de/ecer2014 for further information.
Fifth International Conference on Religion & Spirituality in Society
University of California at Berkeley
Berkeley, USA
16-17 April 2015
The conference is now accepting proposals for paper presentations, workshops, posters or colloquia. We also encourage faculty and research students to submit joint proposals for paper presentations or colloquia. Submissions should address issues of religion, theology, and spirituality through one of the following themes:
Religious Foundations

Religious Community and Socialization

Religious Commonalities and Differences

The Politics of Religion
Presenters have the option to submit completed papers to theInternational Journal of Religion and Spirituality in Society. If you are unable to attend the conference in person, community memberships are available and include the option to submit a video presentation, and/or submission to the one of the journals for peer review and possible publication, as well as subscriber access to the International Journal of Religion and Spirituality in Society.
Proposals are reviewed in phases. The current deadline to submit a proposal (a title and short abstract) is 6 February 2014.  For more information on submitting your proposal and registering for the conference, please visit our website.
Proposals are also currently accepted for our 2014 conference in Costa Rica. To submit, please visit our website.
Seeking researcher for web team
The Euro-Islam website is currently recruiting a student/researcher     working on Muslims in France for its website research team. Language capabilities in French is required.
Each week the researcher will collect news stories covering current     events impacting Muslims or Islam in France, provide a short English outline for each story, and submit them to the webmaster for publishing. The researcher may also be called upon to update the profile on Islam in France .
Weekly responsibilities require approximately 3-4 hours.
While the Euro-Islam website unfortunately cannot offer compensation, the student researcher will benefit from weekly research opportunities, networking/collaboration opportunities through Harvard's Islam in the West Program, and access to a large audience of scholars, politicians, and media professionals via the web's most reliable source on Muslims in the West.
Please refer interested students to Dr. Jocelyne Cesari, jcesari@fas.harvard.edu
SSSR Student Travel Awards
This year The Society for the Scientific Study of Religion is encouraging international students to participate and to consider submitting applications for travel funding to its annual conference, to be held in Indianapolis, Indiana on October 31 – November 2, 2014.
Travel assistance to help defray the costs of attending the annual meetings is available for graduate students. Formal application using the form supplied is required for consideration (Application). Applicants are asked include an abstract of their paper and to provide their contact information, name of their academic advisor, academic program status (MA, ABD, on the job market, etc.), if they have attended the SSSR meetings before, their SSSR program status (presenting, co-author but not presenting, etc.), and any additional sources of funding such as departmental travel assistance or some similar funding.
Application Form:
www.sssrweb.org/pdf/Student_Travel_Award_Application_2012.doc
Applicants should download the form, fill out all the required information and submit electronically by March 31, 2014. This is the same as the deadline for submitting a paper abstract or session proposal. SSSR has instituted a policy of mandatory preregistration and prepayment for 2014 with a deadline of May 31. Therefore, award winners will be notified by April 30 (same day as notification of paper or session acceptance) so they can plan accordingly.
Please send applications to:
Gabriel Acevedo, Chair, Student Travel Awards Committee, Gabriel.Acevedo@usta.edu
Applications received after the deadline will not necessarily receive consideration. Awardees will be notified by email by April 30, and the award checks will be distributed IN PERSON at the SSSR meeting.
Jobs
Professorship of New Testament
(Protestant Theological University, Groningen, The Netherlands)
Interested members are informed of the vacancy of a full Professorship in New Testament studies at the Protestant Theological University (PThU, Groningen campus, to be fulfilled from 1 September 2014. The University is affiliated with the Protestant Church in The Netherlands (see here) and has locations in Groningen and in Amsterdam. In Groningen the PThU offers a three-year Master course (with variants in Parish Ministry and Spiritual Care), which gives access to the ordination in the Protestant Church in the Netherlands, as well as a one-year international, ecumenical Master course; on the BA level the PThU contributes to the three-year BA course of Groningen University. The professor of New Testament is responsible for lecturing in the field of New Testament literature, on the master?s as well as on the bachelor's level, with a focus on exegesis of the New Testament and Biblical theology. In Groningen the Protestant Theological university cooperates with the Faculty of Theology and Religious Studies of Groningen University. Groningen is an attractive university city in the northern part of The Netherlands with a significant international population. There are several English speaking churches and an international school. Groningen is connected to Schiphol Airport by a direct intercity line.
Deadline applications: February 5th, 2014
Interviews: Groningen, Wednesday February 26th.
Full details at http://www.pthu.nl/over_pthu/Vacatures/
Senior Lecturer in New Testament Studies
(Durham University)
Durham University, Department of Theology and Religion is seeking to appoint a Senior Lecturer in New Testament (with, as desirable, an expertise in Second Temple Judaism), to replace Dr Lutz Doering who is moving to a chair in Münster. Candidates are expected to have a relevant doctoral degree, a track record of outstanding research and publication, and experience of teaching.
The closing date for applications is Feb 16th2014, with interviews planned for 21st March; the job start date is 1 Sep 2014. Full details of job description and person specification are available via https://www.dur.ac.uk/jobs/ where instructions on the application procedure may be found. For questions, contact alec.ryrie@durham.ac.uk
London School of Economics and Political Science
The Mellon Fellowship Programme at LSE in Cities and the Humanities
The Hajj: Collected Essays
The Hajj: Collected Essays is a research output sponsored by the UK Arts and Humanities Research Council (AHRC) and arises from an international conference hosted at the museum during the acclaimed 2012 Hajj: Journey to the Heart of Islam exhibition.
Exhibition curator, Dr Venetia Porter, has co-edited the volume, together with Dr Liana Saif. A table of contents is pasted in below and essays cover I) Religion, Early History and Politics; II) Archaeological Perspectives; III) Travellers' Tales and Colonial Histories; IV) The Material and Contemporary Culture of Hajj.
Venetia Porter and Liana Saif (eds.)
The Hajj: Collected Essays
London 2013 (British Museum, Research Publications 193)
ISBN: 9780861591930
http://www.britishmuseumshoponline.org/invt/cmc0861591930/?ref=searchzone
Beasts, Monsters, and the Fantastic in the Religious Imagination
An Interdisciplinary Graduate Student Conference
Hosted by the Department of Religious Studies at Brown University
February 28-March 1, 2014
With a keynote address delivered by John Lardas Modern, Franklin &
Marshall College
Keynote Address
6:30-7:30pm
Dinner Reception
7:30pm
Saturday, March 1, 2014
Breakfast
8am-9am
I. Morning Session: Doing Things with Demons
9am-10:45am
"When a Bad Being Does Good Things: The Demon as the Unsung Hero of
the Mahabharata"
Vishal Sharma (Department for the Study of Religion, University of Toronto)
"The Hellhound of the Qur'an: Investigations of a Dog at the Gate of
the Underworld"
George Archer (Theology, Georgetown)
"Dangerous Demons and Savvy Sages: The non-human Other and rabbinic
identity in Late Antiquity"
Sara Ronis (Religious Studies, Yale University)
"Mourning and the Malevolent: An Analysis of the Lament of Raksas
Women in Valmiki's Ramayana"
Grace MacCormick (M.A., Department for the Study of Religion,
University of Toronto)
"Domesticating the Jinn: Sayyid Ahmad Kan's Exegesis of the Quran"
Mian Muhammad Nauman Faizi (Ph.D., Scripture, Interpretation and
Practice Program, Department of Religious Studies, University of
Virginia)
Break
10:45am-11am
II.  Late Morning Session: The Politics of Composite Creatures
11am-12:15pm
"The Sea Monster Ketos as Jonah's 'Great Fish' in Early Christian Art"
Mark D. Ellison (Ph.D., Early Christianity, Department of Religion,
Vanderbilt University)
"Demonizing Dissent in Medieval Japan: Tengu and Religious Rhetoric in
the Konjaku Monogatari"
Benjamin D. Cox, (Ph.D., Religious Studies, University of Texas at Austin)
"Counterintuitive Mischwesen: A Cognitive Approach to the Iconography
of Hybrid Creatures in the Ancient Near East"
Brett Maiden (Religion, Emory University)
Lunch Break
12:15pm-2pm
III.  Afternoon Session: The Unnatural in Narrative and Art
2pm-3:30pm
"Tolkien's Fairy-Stories and Desmond's Metaxu: On Secondary Belief and
the Primary Ethos"
Michelle J. Falcetano (Department of Philosophy, Villanova University)
"'And I knew there was a dead man in my room': Haunting and Modernity
in Industrial Pittsburgh"
Andrew McKee (Department of Religion, Florida State University)
"The Disenchanted Gothic: Mary Shelley's Frankenstein as Religious
Declension Narrative"
Don Jolly (M.A., Religion, New York University)
"Monstrous Religious Authority in the films of Paul Thomas Anderson"
Dana Logan (Ph.D., Religious Studies, University of Indiana-Bloomington)
Break
3:30pm-3:45pm
IV. Late Afternoon Session: Bodies and Boundaries
3:45pm-5:15pm
"Barbarians Upon the Horizon: Ethnoreligious Difference in the
Colonial Imagination"
Angel J. Gallardo (Ph.D., Relgion & Culture, Religious Studies,
Southern Methodist University)
"Embodying Disordered Economy: A Study in Byzantine Theology"
Jessica Wong (Religion, Duke University)
"The Supernatural, Disability, and the Hermeneutics of Childbearing:
Reading Martha Beck's Expecting Adam"
Andrew Walker-Cornetta (M.A., Religious Studies, New York University)
"Reconsidering the Kapalika: Multiple Interpretations and Diversity in
Hinduism Made Accessible by the Intriguingly Grisly"
Seth Ligo (Ph.D., Religion, Duke University)
Break
5:15pm-5:30pm
Closing Remarks
5:30-6pm
Dinner Reception
6pm
*Please note that this schedule is preliminary, and will be updated as
additional information becomes available.
Scholarships
10 Scholarships at Humboldt
The Humboldt Universität zu Berlin (Germany) is seeking applications for 9 partial and 1 full scholarship in the 3-year inter- and transdisciplinary structured doctoral programme "Religion – Knowledge – Discourse", starting on April 1, 2014.
For detailed information on the programme, please visit us at:
http://zope.theologie.hu-berlin.de/phd-rkd
Jameel Scholarships, Cardiff University, 2013-14
The Islam-UK Centre at Cardiff University is pleased to invite applications for the Cardiff University Jameel Scholarships for 2013-14.
The Islam-UK Centre works towards the promotion of better understanding of Islam and the life of Muslims in Britain, through high quality teaching and research. Its activities address issues which are central to the situation of Muslims in contemporary Britain. The Centre provides unique training and research opportunities for those seeking onward employment in a range of academic and non-academic careers.
The following fully funded scholarships are available from September 2013:
Cardiff University Jameel PhD Scholarships – 1 scholarship (starting 2013/14 academic year)
We are seeking exceptional UK resident applicants with a first class, or upper second class honours degree or Masters degree. Research proposals in the following areas are particularly welcome: Education, Religious Leadership, British Muslim Arts and Heritage and Inter-Generational and Family Relations. Other research themes will be considered but must demonstrate exceptional academic merit, potential and relevance to Muslims or Islam in the UK.
Cardiff University Jameel MA Scholarships – 4 scholarships available for the MA in Islam in Contemporary Britain (September 2013 start)
We are seeking exceptional UK resident applicants with a first or upper second class honours degree in a relevant subject, and demonstrated enthusiasm for working with or for Muslim communities in Britain.
Funding Package
Each successful Cardiff University Jameel Scholar has full UK/EU tuition fees paid and receives a generous stipend equivalent to an AHRC stipend plus access to a travel & conference allowance. Full-time PhD awards will provide funding for three years; full-time MA awards will provide funding for one year.
How to Apply
Full application instructions are available online at www.cardiff.ac.uk/jameelscholarships
Closing date for MA Scholarship applications: 22 January 2013
Closing date for PhD Scholarship applications: 15 March 2013
For all enquiries, please contact us by email to jameelscholarships@cardiff.ac.uk
2014 Olympia Summer Academy in Politics and International Studies
Featuring seven cycles of studies on:
A) Conflict & Political Violence
B) Terrorism & Counterterrorism
C) Religion & Politics
D) Development Economics & Inclusive Business
E) Maritime Security
F) History & Philosophy of IR, and
G) Political Risk Analysis
The Olympia Summer Academy will take place from July 12 to 23, 2014, at the International Olympic Academy in Ancient Olympia, Greece.
As was the case in the past, we are looking forward to putting together a highly competitive and talented class of promising scholars from around the world and foster a world-class scholarly network of cooperation while experiencing the unique setting of legendary Olympia.
We'd, thus, be grateful if you were to share this information as widely as possible, especially with students who might be interested in applying. Early applications, which are strongly encouraged, and applications for financial aid are due by March 31, 2014.
For all information in regards to the program and the application process, please visit: www.olympiasummeracademy.org