In partnership with the details of the other four lectures – by Grace Davie, Humeira Iqtidar, Jonathan Lanman and Monika Wohlrab-Sahr – and details of the relationship between the Religious Studies Project and the NSRN.
This podcast presents one of the keynote lectures from the NSRN's biennial conference, delivered by Callum Brown at Goldsmiths, University of London, in July 2012, entitled The People of No Religion.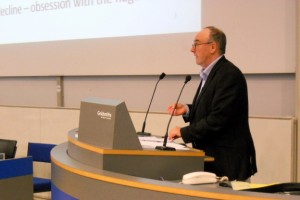 Callum Brown is Professor of Religious and Cultural History at the University of Dundee. He is a social and cultural historian with special research interests in religion and secularisation in the post 1750 period – especially in the 20th and 21st centuries – mostly in Scotland and Britain, but also Canada, USA and Ireland. He is perhaps best known for his book Historical Approaches to (Losing) Religion.