In partnership with the details of the other four lectures – by Grace Davie, Humeira Iqtidar, Callum Brown and Monika Wohlrab-Sahr – and details of the relationship between the Religious Studies Project and the NSRN.
This podcast presents the NSRN's first annual lecture, delivered by Jonathan Lanman at St Mary's University College, Twickenham in April 2011, entitled Atheism Explained: The Evolutionary Origins of Atheistic Thought.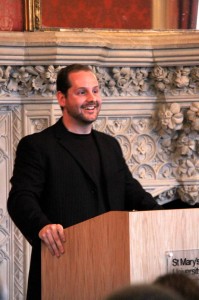 Dr Jonathan Lanman is a Lecturer in Cognition and Culture, and Anthropology at Queen's University, Belfast. He previously taught as a Departmental and College Lecturer at the University of Oxford from 2009-2011 (when he delivered this lecture, amongst other things). He is interested in applying the theories and tools of both social and cognitive anthropology to issues in the study of religion, atheism, morality, and intergroup relations. His DPhil research yielded both a descriptive and explanatory account of atheism in the contemporary West, which he is writing up as a monograph. At present, he is collaborating with anthropologists and psychologists on an ESRC Large Grant, entitled Ritual, Community, and Conflict, to ascertain the effects of ritual on in-group cohesion and out-group hostility across a range of contexts. Recent publications include "On the non-evolution of atheism and the importance of definitions and data"  in the Journal Religion, Brain, and Behavior (2012), and "The Importance of Religious Displays for Belief Acquisition and Secularization" in the Journal of Contemporary Religion (2012). You can also read a report on this lecture on the NSRN's website by their deputy web editor, and frequent RSP contributor, Katie Aston.