In his new book, Islam and the Devotional Object: Seeing Religion in Egypt and Syria (Cambridge 2020), Richard J. McGregor invites us to think of the way that objects communicate as emerging out of resistance. That is to say that objects do not glide through history on tracks well-greased by doctrine and practice, or ritual and law. Rather, they take complex routes that meander, shift, and double-back as they advance through time. These movements resist simple narratives and methods. So McGregor's invitation to follow the objects (instead of the theologies or the political regimes that inform them) and note how they resist discursive reduction, allows the ways objects communicate in multiple, shifting registers to come into focus. By leaning into the points of resistance, without falling prey to the urge to narrativize and thereby smooth out rough edges and oil the sticky places of the resistant object, the particularities of an object's aesthetic communications emerge. In McGregor's conversation with Candace Mixon, the potential for this inherently interdisciplinary exploratory mode unfolds in several tantalizing ways.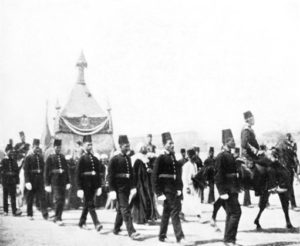 First, McGregor's evocation of 'resistance' as the productive tension by which objects refuse to conform to the authorizing regimes that seek to define, interpret, and control them, brings to mind Sara Ahmed's idea of the sticky quality of affects as they adhere to objects. "Objects become sticky, saturated with affects, as sites of personal and social tension." (Ahmed 126) To follow an object means to account for these sticky places and to see how and when objects arrive at what Ahmed calls "conversion points." In the case of the mahmal that not only means understanding changing political authority and relations, but also shifting legal-theological ideas about the status of such objects, and further to observe how the object "scatters," as McGregor puts it, from its role in the kiswa procession between Cairo and Mecca, into multiple manifestations in processions related to saints' shrines. As he digs into how a seven-hundred-year-old tradition like the mahmal and its procession could shift from a heavily guarded and patronized tradition, to an unstable and debated one, and finally to a scattered object that no longer transacts between the two cities, McGregor reveals both the contingency and the stickiness of objects. If we consider the effort required to create or change the affects that stick to the mahmal, this opens up additional lines of inquiry, such as the uneven access to the power necessary to change the affective attachments to objects. Further, considering the conversion points, as McGregor does, brings the intersection of multiple necessary analytics into sharp focus.
            It is perhaps not surprising, then, to find a procession from a Sufi tomb in Bengalaru, India with a palanquin, standard bearers, camels, and a replica of the Ka'ba. [image 1] To mark the 'urs (death day observations) of another Sufi saint of Baghdad, the famous 'Abd al Qadir al Jilani (d. 1166), a julus (procession) goes out from the tomb shrine of a local Sufi, Hazrat Tawakkal Mastan Shah. In this southern Indian megacity the assembly includes faqirs carrying standards, a palanquin replica of the tomb shrine, several camels (carrying children), an enormous ship bearing a slogan invoking 'Abd al Qadir al Jilani ("ya ghous al madad") along with a model of his tomb, a giant fish, and an enormous replica of the Ka'ba with the pilgrim's refrain ("labayk allahuma labayk – I am here, my God, I am here") written on its kiswa. This too may represent an instance of scattering, but which also demands attention to its own register of aesthetic communication. The urge to draw a straight line between processional aesthetics is certainly strong, but also requires attention to the points of resistance. The resonance helps to uncover the repertoire of objects and materials that authorize the practice, link the saint in India to a saint in Baghdad and to the Ka'ba, and territorialize the shadow of the saint in whose protection the neighborhood lies. But these are also objects whose local affective attachments are simultaneous and contradictory – producing stickiness and resistance. A largely non-Muslim and non-Arabic script reading audience likely encounter these objects differently and in multiple ways. For some this is an opportunity to witness sacred objects that transmit blessing power (barakat) through the aura they project over the spaces they traverse. For others, these objects are manifestly foreign and the Ka'ba image itself speaks to an unfamiliar power and allegiance that heightens a growing alienation between Muslim and non-Muslim Indians. Status among the faqirs, the shrine custodians, and the local Muslim population speaks to variable access to and understanding of the tradition. Though young girls ride the camels, no other female participants were present in the procession itself in the year I was present (2009). All these, and other, elements signify the importance of following objects as a means of illuminating a rich and complex world which cannot, as McGregor points out "be reduced to language… [or] to a narrative." Instead, as he says in this conversation "the objects will resist discursive reduction, but that doesn't mean that they're not communicating."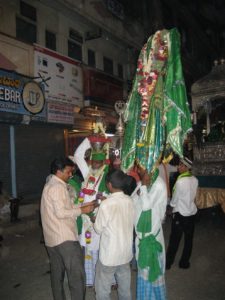 Second, if we stay with one of the objects McGregor focuses on, the mahmal, as an example of an affective and aesthetic object, we must consider a number of questions – which mahmal? The one sent from Egypt by Sultan Ghawri in the early 16th century or King Fu'ad I in the early 20th? Competing mahmal's from Mamluk Syria or Baghdad? Or the mahmals associated with Sa'diyya Sufi shrines and rituals? Is one a template and the others iterative? What are the formal properties of the calligraphic bands, the medallions declaring their patrons, the finials of the corner posts and peaks? Who could have read them or were they meant for such discursive legibility? How are these palanquins produced, maintained, or disposed of? What affective responses did they enable and what continuities and disjunctures existed over time? And perhaps the most vexing question for material religious studies these days – what kind of agency (if any) does the mahmal possess? On the last question, religionists and new materialists find a great deal in common. Powerful objects – objects that do things through their own agency – are both ubiquitous and often debated in many traditions and times.
This leads to a final point that emerges in Mixon's conversation when she asks what McGregor thinks that Islamic theories of materiality might bring to the field of religious studies more broadly. McGregor rightly reminds us that scholars of religion are often rooted in particular areas (Islamic Studies, Middle East Studies, etc.) but also are also seeking connection across fields as humanists that ask us to think more comparatively and more ethically. This is a question that has also preoccupied me of late – one result of which is a forthcoming edited volume Islam through Objects (Bloomsbury 2021) to which McGregor contributes an essay. Both in this conversation and in the chapters of that volume, various responses emerge to the question of how Islamic Studies can help to advance the study of religion and visual and material culture. Close attention to the subtleties of Islamic thought, the particularities of Islamic aesthetics, and the histories of Islamic cultures are necessary to engage – whether critically or in resonance with – the study of material religion. Without grounding in a particular field, as Mixon and McGregor point out, the comparative inquiry that characterizes the study of religion would be superficial. Attuning ourselves through objects opens up these productive fields of inquiry.