by Robert Arrowood, University of Tennessee at Chattanooga.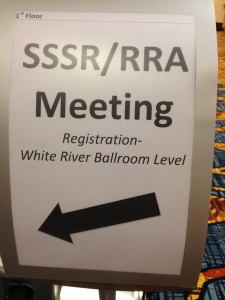 On October 31 – November 2, the Marriot Hotel of downtown Indianapolis, Indiana hosted the 2014 annual meeting of the Society for the Scientific Study of Religion (SSSR) in conjuncture with the Religious Research Association (RRA). The major theme for SSSR was "Building Bridges" and beautifully illustrated on the program cover by Kenan Sevinc. From my understanding, this was the first year that the program was in colour. This theme had several interpretations in which it meant building bridges within the study of religion, cross discipline research, and across countries, just to name a few. The major theme for RRA was Revisiting Gender and Religion. The program chair for this conference was Dr. Ralph W. Hood Jr. from The University of Tennessee at Chattanooga.
The first day of the conference began with several sessions during the morning. The overall topics were quite broad ranging from "Research Perspective on the Church of England," "Biological and Evolutionary Aspects of Religion," and "Navigating 'Norms' in Society," among many others. One such presentation from "Navigating 'Norms' in Society" was by Cory Anderson from Ohio State University who spoke of the Amish-Mennonite culture of Central America. Anderson spoke of his time living with different Amish-Mennonite communities in Central America and the conversation of non-born Amish-Mennonites into the faith. Interestingly, this religion is growing in popularity in this area. Presentations such as these continued until 11:30 in which a lunch was served in honor of all new members to the society and to present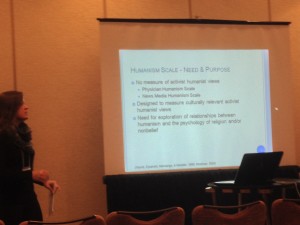 award to many of the presenters. Further, several business items were discussed during this lunch. Of interest, the conference boasted a record number of individual paper acceptances (over 430), 70 organized sessions, and more than 600 people from different backgrounds in attendance. Additionally, 36 different countries were represented through various paper presentations. Although the program chair and committee were concerned that attendance would be sparse due to holding the conference on Halloween, it is clear from these number that this was not the case.
Following the lunch, sessions began again with diverse topics such as "Young People, Religion and Diversity," Language, Theology, and Space," and "Advances in Prayer Research." Of special interest was the panel titled "Secularism & Nonreligion Journal – panel on Atheism and Secularism," convened by Barry Kosmin. Several researchers presented including John Shook from the University of Buffalo, Ryan Cragun from the University of Tampa, Christopher Silver from the University of Tennessee, and Thomas J. Coleman III from The University of Tennessee at Chattanooga. This panel boasted one of the highest attendances in the conference with standing room only in the back. Specifically, "The Six Types of Nonbelief," by Silver, presented a new taxonomy system for identifying different types of atheism and secularism.
Following the completion of the last presentations for the day, Oxford University Press hosted a new book reception followed by an address by the president of RRA, Joy Charlton from Swarthmore College entitled "Revisiting Gender and Religion," in concurrence with the RRA theme. The day concluded with three receptions for Graduate Students held at TGI Fridays and a special reception hosted by outgoing SSSR president Jim Richardson honoring those that attended from outside of the USA. A general reception was also held for anyone in attendance to attend.
Saturday began with several paper sessions in the morning with topics ranging from "Church Renewal and Evangelization," "Sex and Religion," and "Religion in China" to mention a few. Jun Lu from Purdue University presented on the Chinese governments leading propaganda news source's inclusion of Christianity in many of its articles. Interestingly, many of these articles were in favour of the religion.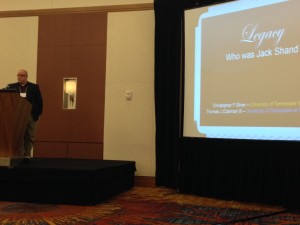 Following the many morning presentation, a special plenary lecture was held honouring Dr. Jack Shand titled "Legacy: Who was Jack Shand?" The program chair, Dr. Hood, personally requested this presentation be prepared and presented. Dr. Shand was a member of the Society and upon his death donated a generous gift to SSSR. This presentation was based on an examination of the unprocessed archives of Dr. Shand providing a nice glimpse into his history and his legacy. Following a break for lunch, the conference continued with more panels such as "Religious and Social Identity," "Research on Pentecostalism," and "Exploring Catholicism." One very interesting (and quite unique) presentation by Joshua Ambrosuis was on religion's impact on space exploration. Ambrosuis suggested that many religions that are opposed to space travel may experience a decline if space colonization does occur in the future due to not making themselves available to those that do colonize space. The day concluded witha presidential address by James Richardson from the University of Nevada entitled, "Managing Religion and the 'Judicialization' of Religious Freedom" followed by a reception for anyone in attendance. Following the reception, a special plenary was held providing the debut of Andrew Johnson's documentary entitled, "If I Give My Soul: Pentecostalism in Rio's Prisons."
The final day of the conference had a slightly smaller attendance due to many scholars having to catch plane flights early that morning or even the previous evening. Sunday's schedule was the same as the previous days with the exception that only morning presentations were given. These presentations ranged from several topics including "God, the Father: Influences of God Attachment and Image," "Religion, From the East to the West," and "Young People, Religion and Diversity." Of special interest was the author meets critic session, "Psychological Perspectives on Religion and Religiosity" by Dr. Benjamin Beit-Hallahmi. This was one of the more popular sessions purely based on the number in attendance, especially considering the decrease in those there and it being one of the last sessions. This session, of which I had the honour to convene, allowed three other scholars to comment and critique Dr. Beit-Hallahmi's book. These "critics" included Dr. Michael Nielsen from Southern Georgia University, Coleman (mentioned previously), and Dr. David Wulff from Wheaton College. Dr. Beit-Hallahmi was allowed to address and comment on each criticism or question posed by the three "critics." The panel ended with a large picture session with Dr. Beit-Hallahmi, the critics, audience members, and I.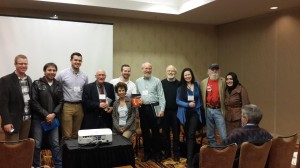 Overall, the conference included several diverse presentations and was able to boast several record breaking achievements. Many disciplines were represented with scholars representing History, Sociology, Psychology, Political Science, different religious affiliations and church denominations, and many others. To my dismay as a psychologist, psychology was somewhat less represented in comparison to many of the other disciplines. Considering the overall theme of Building Bridges and cross collaborative research, I hope to see this discipline increase in attendance in upcoming conferences. The next annual meeting of SSSR and RRA will be held October 23 – 25th, 2015 in Newport Beach California. A call for papers has already been issued.