We are not responsible for any content contained herein, but have simply copied and pasted from a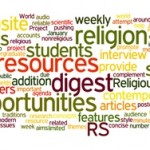 variety of sources. If you have any content for future digests, please contact us via the various options on our 'contact' page.
In this issue:
Books

Journals

Call for papers

Conferences

Jobs

Postdocs
---
BOOKS
---
JBE Online Books is pleased to announce the publication of 'Tibetan Buddhism – the eBook', by Geoffrey Samuel. ISBN: 978-0-9801633-8-4 Price $29.95
This book has been designed to provide an entry-point to the wider literature on Tibetan Buddhism for readers who wish to take their studies further, and provides a comprehensive introduction to Tibetan Buddhism (including the Tibetan Bon religion). Lavishly illustrated and with extensive embedded links to selected online resources, the book would makean excellent primary textbook for all levels of introductory undergraduate courses on Tibetan Buddhism. Further particulars including a comprehensive list of contents can be found at http://www.jbeonlinebooks.org/eBooks/tibetanBuddhism/.
---
JOURNALS
---
Sociology of Religion, advance access http://socrel.oxfordjournals.org/content/early/recent?papetoc
Culture and Religion, vol 14, no. 2 http://www.tandfonline.com/toc/rcar20/14/2#.UbGESJw090o
Journal of the International Association of Buddhist Studies (ISSN 0193-600X )
https://archiv.ub.uni-heidelberg.de/ojs/index.php/jiabs/index
Theology and Science, vol 11, no. 2 http://www.tandfonline.com/toc/rtas20/11/2#.UbGF0Zw090o
---
CALLS FOR PAPERS
---
CFP: Introduction to Holocaust Studies through the Records of the International Tracing Service Collection at the Wiener  Library – DEADLINE EXTENDED
Date: 2013-06-12
Description: DEADLINE EXTENDED TO 12 JUNE The Wiener Library for the Study of the Holocaust & Genocide and the United States Holocaust Memorial Museums Center for Advanced Holocaust Studies CALL FOR NOMINATIONS Seminar for Advanced Undergraduate, Masters-level and First-year PhD Students: Introduction to Holocau …
Contact: cschmidt [at] wienerlibrary.co.uk
URL: www.wienerlibrary.co.uk/International-Tracing-Service
Announcement ID: 204293
http://www.h-net.org/announce/show.cgi?ID=204293
---
CFP: Religion, Politics and Secualirism (Essays in Honour of Asghar Ali Engineer)
Date: 2013-07-15
Description: RELIGION, POLITICS AND SECULARISM (Essays in Honour of Asghar Ali Engineer) (with ISBN No). Themes of focus may include but are not restricted to: a) India and secularism: Issues, challenges and theoretical stances b) Postsecular perspectives c) Secularism in art and literature d) Critique on the in …
Contact: prayerani[at] gmail.com
Announcement ID: 204116
http://www.h-net.org/announce/show.cgi?ID=204116
---
CFP: Reconstruction: Studies in Contemporary Culture (Open Issues)
Description: Open Issues Contact: Reconstruction Submissions Editor We are continually accepting submissions for upcoming Open Issues, and can promise a prompt reply. Submissions may be created from a variety of perspectives, including, but not limited to: geography, ethnography, cultural studies, folklore, arch …
Announcement ID: 204217
http://www.h-net.org/announce/show.cgi?ID=204217
---
CFP: The Society for the Study of Indian and Tibetan Buddhist philosophy is inviting paper proposals for a panel on the topic "Comparative Philosophy and Buddhism: Approaches and Methods" at the Annual Meeting of the American Philosophical Association (APA) Eastern Division in Baltimore, MD (December 27-30,2013). Please send title, abstract (200 words), personal information (name, email, and institutional affiliation) to Philippe Turenne (philippe.turenne [at] ryi.org) by June 12, 2013.
---
CFP: Gender in NeoPagan and Native Faith Movements in Central and Eastern Europe
7-9 March 2014
 Krakow, Poland
 This will be the fifth conference in the Krakow "Neopagan and Native Faith Movements in Poland and CEE" series. In 2014 we are very pleased to welcome the CPASE (Contemporary Pagan and Alternative Spirituality in Europe) academic network and the Department for the Study of Religions at Masaryk University in Brno (Czech Republic) as partners.
 Conference theme: In 2014 we would like to focus on questions of gender in the Native Faith and Neopagan traditions of Central and Eastern Europe. Gender has been widely discussed in the context of Anglophone Contemporary Paganism (especially Wicca and Pagan Witchcraft), but relatively little has yet been written about the questions of gender in this local context. Topics could include male-only or female-only rites, gender-related initiations and rites of passage, normative paradigms of gender relations within Native Faith, family roles, sexuality, marriage, the acceptance or rejection of LGBT perspectives, women as leaders in their communities, etc.
(Other topics will be considered, although we will give preference to those that contribute to the suggested conference theme.)
Conference language: English
Deadline for abstracts: 4 November 2013
Contact: Scott Simpson scott.simpson[at]uj.edu.pl
---
CFP: on September 26–28, 2013, the Centre for Typological and Semiotic Folklore Studies at the Russian State University for the Humanities
(Moscow) will hold an international conference "Mythological models and ritual behaviour in the Soviet and post-Soviet sphere".
The Soviet ideology whose aim was to construct a new world was explicitly based on a rationalistic, materialistic paradigm and denounced anything mythological and super-rational. At the same time, however, it actively used traditional images and religious metaphors in its quest for creating a new Soviet person, and even people opposed to the Soviet system not infrequently shaped their protest using the very same mythological models and dichotomies. In other words, the loyalty to the system as well as the opposition towards it was marked by means of a complex and heterogeneous system of mythological texts, prohibitions, and prescriptions. As a consequence of this, some of the patterns formed during the Soviet era continue to be potent in the post-Soviet period. At the same time we see the emergence of new mythological complexes and practices based to a large extent on the opposition towards the values of the Soviet era.
The main aim of the conference is to trace these processes in their diachrony and analyse their manifestations and interrelations at particular points of time. Presentations investigating the following topics are the most welcome.
•       taboos and euphemisms;
•       transformations of traditional mythological beliefs;
•       mechanisms used in the creation of the anti-Soviet ideology;
•       the emergence of the new ritualistic culture;
•       new magical beliefs and practices;
•       legendary biographies of political leaders and national heroes;
•       impostors and hoaxers of the Soviet era;
•       the scientific progress as the basis of the new mythology;
•       the anthropology of money in the Soviet and post-Soviet periods;
•       falsification of historical documents as a means of constructing a mythology.
The deadline for abstract submissions is July 1, 2013. An abstract (not exceeding 300 words) including the description of the material to be analysed in the presentation and the formulation of the problem, as well as the information about the author (name, degree, affiliation, e- mail, and phone number), should be sent to sovietmyth@gmail.com. The decision on the inclusion of the presentation in the conference programme will be made by July 20.
The conference will be divided into several sessions. Each of them will commence with a lection by an invited keynote speaker on the problem relevant for the section's main topic. Sections will include from three to five participants. All presentations will be followed by a short review made by a specially invited scholar. Each section will end with questions and general discussion.
The papers presented at the conference should be accompanied by a PowerPoint presentation and, if possible, by distribution of handouts. The working languages of the conference are Russian and English.
Please bear it in mind that the conference proceedings will be published in advance. Consequently, all the participants whose talk will be included in the programme should submit the full text of their paper not exceeding 2000 words before September 1, 2013. The style sheet will be provided in due time.
Unfortunately, we are unable to cover any transportation and accommodation costs.
The organising committee: Mikhail Alekseevsky (SRCRF), Alexandra Arkhipova (CTSFS RSUH), Jacob Fruchtmann (Forschungstelle Osteuropa, Bremen), Olga Khristoforova (CTSFS RSUH), Sergey Neklyudov (CTSFS RSUH), Anna Sokolova (Institute for Ethnology and Anthropology RAS).
---
CONFERENCES/ EVENTS
---
Jews, Indians, Cannibals: Alterities in Medieval and Early Modern Literature (NEMLA 2014, 4/3-6/2014)
Location: Pennsylvania
Date: 2014-04-03
Description: Jews, Indians, Cannibals: Alterities in Medieval and Early Modern Literature Northeast Modern Language Association (NeMLA), Harrisburg, PA, 4/3-6/2014 In recent decades, the representation of Jews, Indians, and Cannibals has become a familiar topic in medieval and early modern cultural studies. But  …
Contact: lavinsky [at] yu.edu
URL: nemla.org/convention/2014/
Announcement ID: 204284
http://www.h-net.org/announce/show.cgi?ID=204284
---
9th Annual International Conference on Philosophy, 26-29 May 2014, Athens, Greece
Date: 2014-05-26
Description: The aim of the conference is to bring together scholars and students of philosophy. Areas of interest include (but are not confined to): History of Philosophy Ancient
Philosophy European Philosophy African Philosophy American Philosophy Asian Philosophy Political Philosophy Moral Philosophy Aestheti …
URL: www.atiner.gr/philosophy.htm
Announcement ID: 204261
http://www.h-net.org/announce/show.cgi?ID=204261
---
Buddhism and Human Flourishing
a one-day workshop at the Department of Theology and Religious Studies, University of Chester, as part of the AHRC Connected Communities Philosophy and Religious Practices Network. This network aims to reconnect philosophers of religion with religious practitioners and so to make the work of philosophers of religion more relevant to other contemporary research on religion.
25th June 2013 (10.30-15.30)
An opportunity to explore the vibrant contribution currently being made by Buddhism to a range of fields and disciplines across the well-being agenda. This day conference is for the non-specialist in Buddhism and introduces some basic Buddhist concepts and philosophies before exploring the ways in which Buddhist ideas have been adopted and adapted within a variety of contexts angled towards individual, community or global flourishing, as well as public policy debates.
SPEAKERS include
Professor
Peter Harvey
Caroline Brazier
Ratnaguna
Dr Mary Welford
Dr Paramabandhu Groves
Gina Clayton
Jamie Cresswell
Cost: Waged : £25.00, Unwaged: £10.00
Book online http://shopfront.chester.ac.uk/ and click on 'event booking'
Enquiries to Carly McEvoy c.mcevoy[at] chester.ac.
---
Registration is now open for the Second Sight and Prophecy Conference taking place at the University of Aberdeen , 14-16 June 2013 This interdisciplinary conference welcomes participants from a range of academic disciplines including history, folklore, anthropology, divinity and sociology whose research interests cover a wide range of topics exploring varying methods used by different cultures (both now and in the past) to look into the future and the rationale for so doing. The future has always held a fascination for humankind especially in times of tribulation and this is worthy of academic discussion in light of the changes affecting so many of us in our current global context. The role in culture of seers and prophets, by whatever name they are known, and the use of rituals, drugs and sacred sites will be examined.
We are delighted to welcome Michael Hunter, Emeritus Professor of History at Birkbeck, University of London as our keynote speaker.  His paper, 'Boyle's legacy: Second Sight in English and Scottish Thought in the Long Eighteenth Century' is based on his recent research. It follows the success of his  seminal work, The Occult Laboratory; Magic, Science and Second Sight in Late 17th-Century Scotland (2001) and will set the tone for the conference.
An exhibition by artist Nicola Moss supports this conference. It is already available to view in the James MacKay Hall on a drop-in basis. Further details are available at the following link http://www.abdn.ac.uk/museums/exhibitions/2392/ This will be supplemented by a photographic display of the University's own collection of seventeenth-century Sibyls.
Full details of the conference can be found at the following link.
http://www.abdn.ac.uk/elphinstone/events/secondSight/index.shtml
There you will find easy-to-follow links to the full conference programme, a full list of abstracts and biographies of the contributors and links to pre and post conference entertainments.
Registration can be made through the above link or directly through the Online Store
http://www.store.abdn.ac.uk/browse/extra_info.asp?compid=1&catid=14&modid=2&prodid=151&deptid=50&prodvarid=0
Places are limited so please book early if you would like to attend.
If you require any further information please contact me.
I look forward to welcoming you to the conference Best wishes Alex Sutherland Dr Alex Sutherland Conference Convenor School of Divinity, History and Philosophy History Department Crombie Annexe Meston Walk Aberdeen AB24 3FX
Tel: 01224 273051 Email: a.m.sutherland[at]abdn.ac.uk
---
University of Nottingham
The Soul Conference
Oxford, 28 June – 1 July 2013
http://us4.campaign-archive2.com/?u=004d8ae68423618f261743e2e&id=24b3b50f0f&e=76c3f08aa2
---
JOBS
---
Lectureship in Classical Archaeology
School of History, Classics and Archaeology
University of Edinburgh
Temporary Lectureship in Classical Archaeology (22 months)
School of History, Classics and Archeaology
University of Edinburgh
Temporary Lectureship in Classical Archaeology (10 months)
School of History, Classics and Archaeology
University of Edinburgh
---
The Tony Blair Faith Foundation is developing the first in a series of online distance learning professional development courses to help explore the place of religion in the modern world entitled An Introduction to Faith & Globalisationand is seeking well-informed and inspiring presenters to make a set of short introductory films on a series of related topics. We would be very grateful for your advice and help in identifying suitable contributors.
We would like to approach these subjects in the following manner – Instead of delivering a traditional one hour lecture, we would like presenters to do 3 to 4 shorter presentations – very much in the style and manner of a TED talk (though we will be happy for notes to be used!).
Total time for all these will not exceed 80 minutes (though individual timings for the shorter elements are negotiable).
PowerPoint or other presentations, as well as images, short digital movies or sound files may be used to illustrate points (and should be provided so that they can be edited into the final product).
A suggested list of basic and accessible readings that will enrich knowledge and deepen understanding (articles and chapters – not books! Participants on this course will have limited time – somewhere in the region of 5-8 hours to study each aspect). Filming will take place at the end of July and early August. For presenters in the UK, these presentations will be filmed in London.
The Foundation will pay the sum of £500 per full topic covered, or £150 for individual themes – to include the preparation and filming of the talk (including the advance submission of a script), and the provision of the list of additional resources. For presenters in the UK, the cost of standard off-peak day return travel to London for filming will be covered by the Foundation.
If you are able to suggest participants, are interested in taking part in this exciting project yourself, or if you would like further details please contact Ian Jamison (ian.jamison [at] tonyblairfaithfoundation.org) or Tom Thorp (tom.thorp [at] tonyblairfaithfoundation.org)  at the Tony Blair Faith Foundation.
---
POST-DOC
---
The Interdisciplinary Center for Intercultural and Indigenous Studies (ICIIS – FONDAP (see: http://goo.gl/9nn3) invites applications for one postdoctoral research position.
We are looking for a candidate to work as part of a joint appointment between our Center and the "Social networking and social science research project", based at the Department of Anthropology, UCL and lead by Professor Daniel Miller. See
http://www.ucl.ac.uk/social-networking/projects/social-networking-social-science
We are looking for a high level candidate with proficiency in English and Spanish, and with experience in ethnographic fieldwork on a relevant topic. Research experience in intercultural contexts or with indigenous groups is also desirable but not a must. The selected candidate will carry ethnographic fieldwork on the use and consequences of social network sites and other new media in a small town located in an interethnic area in Chile.
The successful candidate must have a PhD in Anthropology at the time of appointment (awarded within the last 5 years) and demonstrate a promising record of publications of their research. Salary is US$ 30,000 per year approximately. The position is for two years, but renewal for the second year will be subject to the fulfillment of objectives. The intention is to begin fieldwork as soon as possible (September 2013 at most).
Please send curriculum vitae, motivation letter, a summary of a research proposal that links with this wider study (two pages), and two letters of support to mmurray[at]uc.cl or by post to Dr. Marjorie Murray, Instituto de Sociología, Pontificia Universidad Católica de Chile, Campus San Joaquín, Vicuña Mackenna 4860, Macul, Casilla 306, Correo 22, Santiago, Chile.
Applications are open until July 5, 2013.