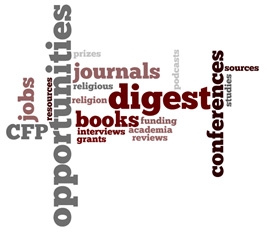 Welcome to the fifth RSP Opportunities Digest for 2014. As ever, please remember that we are not responsible for any content contained herein unless it is directly related to the RSP. If you have any content for future digests, please contact us via the various options on our 'contact' page. If you are enquiring about any of the opportunities listed below, please contact the organizers directly.
To skip to specific content within this digest, please use the table of contents to the right of your screen. This digest has been significantly pared down to basic details and web links. We hope this meets with your approval.
Calls for Papers
Denton Conference on 'Implicit Religion' and 'Spirituality'
May 2014. See attached pdf for details.
The Uses of Witchcraft in Modern Germany
German Studies Association Conference, Kansas City, MO, 18-21
September 2014
http://www.h-net.org/announce/show.cgi?ID=209887
Igbo Conference 2014, May 2-3, SOAS, University of London
http://www.soas.ac.uk/cas/events/conferences/igbo-conference/
AAR Regional Meetings
NEW ENGLAND and CANADIAN MARITIMES REGIONAL MEETING of the AMERICAN ACADEMY of RELIGION
Massachusetts, New England and Canadian Maritimes region of the AAR (NEMAAR), April 26, 2014.
http://www.h-net.org/announce/show.cgi?ID=209878
2014 Eastern International Regional Meeting
Syracuse University
Syracuse, New York
May 2–3, 2014
Evil Incarnate: Manifestations of Villains and Villainy
11-13 July 2014 Case Western Reserve University, Cleveland, OH
http://www.case.edu/artsci/engl/evilincarnate
Religious History Association Conference
Brisbane, Australia 8-10 July 2014
http://sapmea.asn.au/conventions/aha2014/
Society for the Scientific Study of Religion
October 31-November 2, 2014
JW Marriott, Indianapolis, Indiana
http://www.sssrweb.org/news.cfm?newsid=208
Interdisciplinary Conference on Religion in Everyday lives
Vienna, Austria, 28-29 March 2014.
http://socialsciencesandhumanities.com/upcoming-conferences-call-for-papers/index.html
Entangled Worlds: Science, Religion, and Materiality
Drew Theological School, New Jersey, 28-30 March 2014
http://depts.drew.edu/tsfac/colloquium/13/about.html
Lecture – 
Neutrality and Religious Freedom
Daniel Weinstock, McGill University
UCL Department of Political Science, Thursday, 6 February 2014 from 17:00 to 19:00 (GMT)
http://www.eventbrite.co.uk/e/neutrality-and-religious-freedom-tickets-10368571677?aff=eorg
Jobs
Fo Guang University
Assistant Professor (or higher), Chinese Buddhism
http://www.h-net.org/jobs/job_display.php?id=48364
Call for Submissions – Nomos Journal
1st Quarter 2014
http://www.nomosjournal.org/about
Research Fellowships
(Trans-)formation of religious traditions in the context of intra- and interreligious contact
Käte Hamburger Kolleg, Ruhr University Bochum, Germany.
http://www.khk.ceres.rub.de/en/news/all/en-20140128-cfa-tradition-fellowships/