We are not responsible for any content contained herein, but have simply copied and pasted from a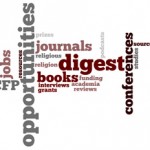 variety of sources. If you have any content for future digests, please contact us via the various options on our 'contact' page.
In this issue:
Journals
Call for reviewers
Call for Papers
Summer Programme
Conferences
Jobs
And don't forget, you can always get involved with the Religious Studies Project by writing one of our features essays or resources pages. Contact the editors for more information.
---
JOURNALS
---
Culture and Religion, issue 13, no. 4
http://www.tandfonline.com/toc/rcar20/current
Journal of Religion, Media and Digital Culture (JRMDC)
Material Religion vol 8, no. 4
http://www.ingentaconnect.com/content/berg/mar;jsessionid=1mw29oejvldk5.victoria
---
CALL FOR REVIEWERS
---
The Journal of Buddhist Ethics has just released its 2013 call for reviews.  Any scholars interested in reviewing one of the following texts should contact the Book Review Editor:
Henry Schliff – henry.schliff [AT] colorado.edu
South & Southeast Asia
• Blackburn, Ann. Locations of Buddhism: Colonialism and Modernity in Sri Lanka (Chicago, 2010)
• Geary, David, et al., Cross-disciplinary Perspectives on a Contested Buddhist Site (Routledge, 2012)
• Jerryson, Michael. Buddhist Fury: Religion and Violence in Southern Thailand (Oxford, 2011)
• McDaniel, Justin Thomas. The Lovelorn Ghost & the Magical Monk: Practicing Buddhism in Modern Thailand (Columbia, 2011)
• Ohnuma, Reiko. Ties that Bind: Maternal Imagery and Discourse in Indian Buddhism (Oxford, 2012)
• Sugunasiri, Suwanda. Arahant Mahinda-redactor of the Buddhapujava in Sinhala Buddhism (Toronto, Nalanda Publishing, 2012)
• Verardi, Giovanni. Hardships and Downfall of Buddhism in India (Manohar / Institute of Southeast Asian Studies, 2011)
Tibet/Himalayas
• Cuevas, Bryan. Travels in the Netherworld: Buddhist Popular Narratives of Death and the Afterlife in Tibet (SUNY, 2011)
• Lozang Jamspal. The Range of the Bodhisattva, a Mahāyāna Sutra: Ārya-bodhisattva-gocara.
Introduction and Translation (Columbia, 2011)
• Meinert, Carmen and Hans-Bernd Zöllner (eds.). Buddhist Approaches to
Human Rights: Dissonances and Resonances. (transcript Verlag, 2010)
• Wedemeyer, Christian K. Making Sense of Tantric Buddhism: History, Semiology, and Transgression in Indian Traditions (Columbia, 2012)
China
• Clower, Jason. The Unlikely Buddhologist: Tiantai Buddhism in Mou Zongsan's New Confucianism (Leiden: Brill, 2010)
• DuBois, Thomas David. Religion and the Making of Modern East Asia(Cambridge, 2011)
• Perry, Benjamin. The Religion of Falun Gong (Chicago, 2012)
• Rambelli, Fabio and Eric Reinders. Buddhism and Iconoclasm in East Asia: A History (Continuum, 2012)
• Yu, Jimmy. Sanctity and Self-Inflicted Violence in Chinese Religions,
1500-1700 (Oxford University Press, 2012)
Japan/Korea
• Bein, Steve. Purifying Zen: Watsuji Tetsurō's Shamon Dōgen (Hawai'i, 2011)
• Heine, Steven. Sacred High City, Scared Low City (Oxford, 2011)
• Miyamoto, Yuki. Beyond the Mushroom Cloud: Commemoration, Religion, and Responsibility after Hiroshima (Fordham, 2012)
• Mun Chanju. Purification Buddhist Movement, 1954-1970: The Struggle to Restore Celibacy in the Jogye
Order of Korean Buddhism (Blue Pine, 2011)
• Shields, James Mark. Critical Buddhism: Engaging with Modern Japanese
Buddhist Thought (Ashgate, 2011)
Global/Western Buddhism
• Ama Michihiro. Immigrants to the Pure Land: The Modernization,
Acculturation, and Globalization of Shin Buddhism, 1898-1941 (Hawai'i
Press, 2011)
• Hu Hsiao-Lan, This-Worldly Nibbana: A Buddhist-Feminist Social Ethic for
Peacemaking in the Global Community (SUNY, 2011)
• Rathore, Aakash Singh, and Ajay Verma. The Buddha and His Dhamma: A
Critical Edition (Oxford, 2011)
• Hackett, Paul. Theos Bernard, the White Lama: Tibet, Yoga, and American
Religious Life (Columbia, 2012)
---
CALLS FOR PAPERS
---
CFP: Paul Ricoeur and the Future of the Humanities |
International Conference | June 27-29, 2013 | University of Groningen, the Netherlands
Description: Scholars interested in presenting a paper are invited to submit a proposal that fits the conference theme (word limit: 400 words). Proposals from all the areas of the humanities historiography,
literary studies, theology, cultural studies, etc. are welcome, as long as they address relevant philosophical….
Contact: info [at] ricoeur.com
URL: ricoeur.com/the-future-of-the-humanities/
Announcement ID: 199791
http://www.h-net.org/announce/show.cgi?ID=199791
---
SUMMER PROGRAMME
---
Jewish Studies at the Leo Baeck Summer University
Date: 2013-01-30
Description: We are happy to announce that the application period for the Leo Baeck Summer University 2013 has begun.The Leo Baeck Summer University is an English-language six-week summer school in Jewish studies at the Humboldt University, Berlin, under the auspices of the new Zentrum fr Jdische Studien Berlin- …
Contact: info [at] lbsu.de
URL: www.lbsu.de
Announcement ID: 199697
http://www.h-net.org/announce/show.cgi?ID=199697
---
CONFERENCES
---
International Workshop "Machiavelli, Islam and the East"
Date: 2013-02-20
Description: Scuola Normale Superiore of Pisa (Italy) is inviting scholars to submit 25-minutes papers for a one-day international workshop titled "Machiavelli, Islam and the East", which will take place on 6 May 2013. While Niccol Machiavelli is universally recognized as one of the founders of the Western polit …
Contact: g.marcocci [at] sns.it
Announcement ID: 199731
http://www.h-net.org/announce/show.cgi?ID=199731
---
JOBS
---
Case Western Reserve University – Director, Baker Nord Center for the Humanities
http://www.h-net.org/jobs/job_display.php?id=46134
McGill University – Postdoctoral Fellowships in Studies in Early Modern Europe
http://www.h-net.org/jobs/job_display.php?id=46126
Monash University – Lecturer (History of Religion)
http://www.h-net.org/jobs/job_display.php?id=46109
Rose-Hulman Institute of Technology – Tenure-Track Position in East Asian Studies