We are not responsible for any content contained herein, but have simply copied and pasted from a variety of sources. If you have any content for future digests, please contact us via the various options on our 'contact' page.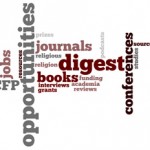 In this issue:
Resources
Journals
Call for papers
Conferences
Jobs
Funding
---
RESOURCES
---
Announcement –  the commencement of a new three-year research project funded by the Arts and Humanities Research Council (UK) that is to be jointly held by Cardiff University and the University of Edinburgh. It is entitled:
The Story of Story in Early South Asia: Character and Genre across Hindu, Buddhist and Jain Narrative Traditions
It involves Dr. Naomi Appleton and Dr. James Hegarty and will focus on sources in Sanskrit, Pali and, to a lesser extent, the Jain Prakrits. Its aim is to explore what shared literary characters, lineages and genres can tell us about the religious history of early South Asia. It will culminate in a jointly-authored book, and we also plan to convene one or more conference panels on the theme to encourage a wider scholarly conversation on the subject.
We have created a project blog in order to share some of our sources and thoughts as the project progresses. We greatly value dialogue with other scholars interested in this area, so please do subscribe to the blog and offer comments.
The blog may be found at http://storyofstoryinsouthasia.wordpress.com/.
Twitter details are given on the blog.
---
JOURNALS
---
'Paranthropology: Journal of Anthropological Approaches to the Paranormal' is now available to download from a variety of different sources, click the links below:
http://paranthropologyjournal.weebly.com/free-pdf.html
http://www.scribd.com/doc/120804094/Paranthropology-Vol-4-No-1
https://www.box.com/s/0uwo8n8leijnnsfyw4mr
This issue features:
'"Life is Not About Chasing the Wind": Investigating the Connection Between Bodily Experience, Beliefs and Transcendence Amongst Christian Surfers' – Emma Ford
'Epistemological, Methodological and Ethical Aspects of Conducting Interviews About Anomalous Experiences' – Leonardo Breno Martins
'A Visit to Point Pleasant: Home of the Mothman' – Simon J. Sherwood
'Steve Abrams: Psychedelic Trickster' – David Luke
'Turning to the Affective in Direct Experiences: An Interdisciplinary, Investigative Quest' – Christopher Laursen
'Fireflies and Shooting Stars: Visual Narratives of Daimonic Intelligence' – Angela Voss
'A Study of Several Reported Cases of Crisis Apparitions During the American Civil War' – Simon Alexander Hardison
'Herbal Lore in Central and Eastern European Shamanic Traditions' – Henry Dosedla
'Out of the Body and Into the Lab: Defining Dr. Alex Tanous'
Abilities' – Callum E. Cooper
'Recognition for Paranthropology and ARC' – Fiona Bowie
---
CALLS FOR PAPERS
---
CFP: Risk and Rapture: Apocalyptic Imagination in Late Modernity Centre for Faiths and Public Policy, University of Chester Wednesday 11th September 2013 Keynote Speaker: Professor Scott Lash (Goldsmiths College, University of
London)
Apocalypse captivates the human imagination. Once synonymous with end of the world scenarios and confined largely to the religious, the term is part of vernacular language in the West and is used to describe a myriad of events from the fiscal difficulties of the Eurozone to nuclear war, from environmental disaster to the dangers of digital technology.
The advancement of science and technology has assisted in expediting anxiety with regard to apocalyptic catastrophe because such progress has produced unforeseen hazards and risks. Critical theories of risk have been developed that harness and organise responses to scientific developments in an attempt to provide solutions to possible catastrophe.
It is suggested that in order to prevent global catastrophe, modern society must be reflexive. Moreover, the advent of such hazards has served as a recruiting sergeant for fundamentalist religious groups who have clear and explicit eschatologies. Rather than viewing possible risks and hazards as by-products of late modernitysigns of the times, they are re-interpreted as signs of the end times. Consequently, one strand that runs through the above is the political implications of apocalyptic ideology and theories of risk. Whether this is the focus some Christian dispensationalist groups put on the role of the state of Israel in the Middle East, or the so-called catastrophic acceleration of global-warming, decisions based on interpretations of these inevitably have political ramifications.
The purpose of this inter-disciplinary conference is to investigate and evaluate some of the variety of apocalyptic discourse that exists in contemporary popular western culture along with critical theories of risk. Papers are invited that explore both the secular and religio-political dimensions of apocalyptic language in contemporary society and include, but not restricted to, the following themes:
Secular interpretations of apocalypse;
Religio-political apocalyptic discourse;
Critical theories that seek solutions to contemporary notions of risk;
Correlations between critical theories of risk and apocalyptic ideology;
The growth of fundamentalisms as a reaction to risk culture(s).
Proposals for short papers are invited on any aspects or themes related to the above. Papers will be 20 minutes in length with an additional 10 minutes discussion. Applications to submit a paper should include:
Proposers name and affiliation;
Title of the paper;
250-word abstract;
Details of any audio-visual equipment you will need to deliver your paper.
Short paper proposals should be submitted to Riskraptureconf [at] chester.ac.uk by no later than 4pm on Friday 6th April 2013.
Conference costs: 50 (25 unwaged and students) inclusive of lunch and refreshments.
Conference registration will open in due course.
---
CFP: for an edited volume Making Sacrifices: Visions of Sacrifice in Contemporary Culture to be published by New Academic Press in 2013. (
www.newacademicpress.at<http://www.newacademicpress.at>)
Send abstracts for papers in English or German to salzburg.symposium [at] gordon.edu by March 1st, 2013.
As Italian premier Mario Monti recently did, politicians are increasingly calling on citizens to make sacrifices for the future of their countries. Such public invocations of sacrifice place politicians and their constituents=  in a state of tension not least because of the difficult and often contradictory connotations of sacrifice. Sacrifice, a concept of religious provenance deeply embedded in contemporary culture, can mean to offer for destruction and to make amends, to hurt and to heal, make whole, or sacred. The many meanings and even oppositions at the heart of sacrifice make it a dangerous and much-fraught concept, as well as a fruitful and powerful one in numerous spheres of contemporary culture.
Papers may approach the concept of sacrifice in contemporary European and American culture (or from the perspective of the origins of these contemporary cultures) from any number of angles. Among others, submissions may consider any of the following questions: In what ways does sacrifice form a key = theme in European and/or American literature, art, and thought? How have concepts of sacrifice taken shape in those historical and contemporary situations where sacrifice has become a particularly important, urgent, or contested matter? How have the meanings of sacrifice shifted (and how may they ye= t shift) as a result of circulating between different spheres of activity? (For example, what meaning is gained, lost, or otherwise changed when a religious notion of sacrifice is transposed into philosophical conceptuality, = a political principle, or a key idea of fiscal reform? As for the inverse, = what do avowedly religious understandings of sacrifice owe to ancient and modern legal, political, and philosophical invocations of sacrifice?)  Finally, how has sacrifice been envisioned within various Christian, Jewish, and  Muslim traditions and how might the notions of sacrifice belonging to these traditions be profitably compared?
The editors invite abstracts for papers that consider sacrifice as a theme important to contemporary European and/or American culture. This volume is an inter-disciplinary effort and we welcome abstracts from scholars working in the fields of literature, philosophy, history, sociology, political science, religious studies, and theology, among others.
Please send abstracts for papers in English or German to salzburg.symposium[at]gordon.edu by March 1st, 2013. If your abstract is accepted, the deadline for submitting completed papers (5000=
-7000 words) for consideration will be May 1st, 2013. Decisions on abstracts submitted on or before March 1st, 2013 will be made by March 10, 2013 at = which point authors whose abstracts have been accepted will be given the formatting guidelines.
---
CFP: MATERIALIZING THE SPIRIT: SPACES, OBJECTS AND ART IN THE CULTURES OF WOMEN RELIGIOUS
ANNUAL CONFERENCE
5-7 September 2013
Institute of Historical Research, Senate House LONDON
The History of Women Religious of Britain and Ireland Annual Conference will be hosted  by the Institute of Historical Research, University of London, on 5-7 September 2013.
Paper proposals are now invited. Presentations should be 20 minutes in duration, and should address some element of the conference theme, with reference to British and/or Irish contexts.
The devotional and vocational activities of women religious sculpted the physical space of religious houses in unique ways. Patterns of use were etched into the fabric of buildings, guiding structural design and interior decoration. But buildings also shaped practice: whether the formal monastic sites of early or revived enclosed orders or the reused secular buildings of active congregations, women both adapted and adapted to their material surroundings.
A growing body of literature has addressed itself to convent art, exploring nuns as patrons, consumers and manufacturers of material and visual culture. These practices span the history of women's religious life – from the early Middle Ages to the present day – and suggest a hidden but dynamic tradition of artistic enterprise. This conference explores the creative output of women religious including but not limited to textiles and the decorative arts, illuminated manuscripts and printed books, women's patronage of painting and architecture, the commercial production of ecclesiastical textiles in the nineteenth-century, production of liturgical and devotional art in recent periods, and the development of unique convent and institutional spaces by and for women religious.
Key aims of the conference will be to highlight the scholarly value of these under-researched and little known spaces and collections and also to raise awareness and discuss the threats that they face as communities decline, buildings close, artifacts and archives are dispersed.
This conference will take a broad and diverse view on what constitutes 'material culture', emphasizing the conception, production, and meanings of the many material outputs of convents and monasteries. Papers are welcomed from a diverse range of disciplines: scholars from social and religious history, art and architecture, theology, anthropology, psychology and beyond are invited to offer fresh and innovative perspectives in order to illuminate ways in which women religious in Britain and Ireland created and were formed by material histories for over a thousand years.
Please send 200-word proposals for 20-minute papers to kate.jordan.09 [at] ucl.ac.uk and ayla.lepine [at] gmail.com by no later than 1 February 2013.
---
CFP: The Religion Graduate Organization at the Religion Department of Syracuse University seeks submissions for its graduate student conference:
The Monstrous, the Marginalized, and Transgressive Forms of "Humanity", April 5th and 6th 2013
Monsters, angels, demons, vampires and cyborgs challenge conventional notions of humanity. The lived experience of many humans also pushes against these norms. Through the investigation of trangressive being(s), this conference will explore what it means to be "human."
We welcome panel and individual paper proposals on topics relating to the boundaries of humanness including, but not limited to discussions of Avatars, Angels, Demons, Cyborgs, Superheroes, Vampires, and Post-human Bodies. We also welcome papers which address Abilities/disabilities, Madness, Genius and Mental Illness, Animality, Hybridity, Race, Gender, Religion and Sexuality.
Please submit paper proposals of 350 words or less to Wendy DeBoer (wdeboer@syr.edu) by Feburary 1st 2013. Please also include name, institutional affiliation and program of study with your proposal. Acceptances will be communicated by February 15th 2013.
via: http://relcfp.tumblr.com/post/35650770456
---
CFP: The Production and Consumption of the Pilgrimage Tourism Experience
Religious Tourism and Pilgrimage
Malta, 26-28 June 2013
Abstract submission
Because attendance is generously supported by the local sponsors, numbers are limited. It is envisaged that there will be in the region of 20-25 papers presented with the main emphasis for acceptance being based on adherence to the main theme:
The Production and Consumption of the Pilgrimage Tourism Experience
Abstracts of no more than 300 words should be submitted electronically to the committee by 31 January 2013. Please send your abstract to Razaq Raj at R.Raj [at] leedsmet.ac.uk.
Important dates
| | | |
| --- | --- | --- |
| Abstract submission | : | January 31st, 2013 |
| Notification of acceptance | : | February 28th, 2013 |
| Full paper submission | : | April 4th, 2013 |
| Expert meeting | : | June 26-28th, 2013 |
CFP: Witchcraft, Magic and Popular Religion – XI Gustav Vasa seminar
Date: 2013-06-11
Description: The Eleventh annual Gustav Vasa seminar focuses on the themes of popular religion, witchcraft and magic. We invite papers to discuss these themes in multidisciplinary perspectives, e.g. from the
fields of history, anthropology, religious science and archaeology. Contact: jari.eilola [at] jyu.fi
University of Jyväskylä, Finland
11.-12.6.2013
http://www.gustavvasaseminar2013.blogspot.fi/
CALL FOR PAPERS
In different cultures, in the past as well as in the present, there are beliefs that the supernatural influences people's lives in different ways. In early modern Europe, God was believed to be a strict father who
punished sinners and guided the believers, but also his adversary, the devil, was understood as an active actor in the mundane world. It was also thought that there were times when and places where the borderline
between this and the other world was narrow, but different rite experts – and in some cases also ordinary people – could use trance techniques to make a journey to the other world. There were also, for instance,
some fragile turning points during an individual's life-span which were ritually protected.
The Eleventh annual Gustav Vasa seminar focuses on the themes of popular religion, witchcraft and magic. We invite papers to discuss these themes in multidisciplinary perspectives, e.g. from the fields of history,
anthropology, religious science and archaeology. The focus of the seminar is on worldviews and belief systems and their internal logic, which influenced the way people understood the world and the supernatural. The aim is to look at these issues through intersectional studies in order to create a diverse picture of popular religion, witchcraft and magic.
In the seminar, the multidisciplinary approach is created not only by single papers that examine the subject from a cross-disciplinary perspective but also by papers representing different fields that can be useful to each other and bring new light on themes of popular religion, witchcraft and magic. For example, the theories and concepts of anthropology have been successfully utilized in the historical study of
the early modern era.
The papers may deal with the themes of the seminar in the context of different time periods, from ancient times to the present. All proposals on the themes of the seminar are welcome. Papers may focus on, for
example, the following themes:
Methodological questions in multidisciplinary approaches, for example:
How to utilize modern folklore material and results of folkloristic research in the study of earlier conceptions on the supernatural?
How to utilize theories and concepts of different disciplines in the study of popular religion, witchcraft and magic?
Rituals; Sacred times and places

The role of gender in the study of popular religion, witchcraft and magic

The relationship and conflicts between popular and "official" religion

Experience and emotions related to popular religion, witchcraft and magic
Intending participants should register for the seminar by 31/1/2013 by sending a one-page (max.) abstract of their proposed presentation to hela-harjoittelija@campus.jyu.fi. Applicants will be informed about acceptance of their submitted topic and the programme of the seminar by the end of February.  The maximum permitted duration of presentations is 20 minutes, but participants may if they wish also submit longer texts. The working language of the seminar is English.
For further information, please contact Jari Eilola (jari.eilola [at] jyu.fi), Department of History and Ethnology, PL 35, FIN 40014 University of Jyväskylä, Finland.
---
CFP: Canadian Catholic Historical Association Annual Conference
Location: British Columbia
Date: 2013-01-31
Description: Final Deadline, Call for Papers for the Canadian Catholic Historical Association Annual Conference. The 80th annual meeting of the Canadian Catholic Historical Association
will be held at the University of Victoria, 3-4 June 2013 in conjunction with the Annual Congress of the Canadian Federation
Contact: gemacdonald [at] upei.ca
URL: cchahistory.ca/
Announcement ID: 200354
 http://www.h-net.org/announce/show.cgi?ID=200354
---
CONFERENCES
---
Islamic UK Public Lectures 2013
All talks will be held in Lecture Theatre 0.36, John Percival Building (formerly the 'Humanities Building'), Colum Drive, Cardiff, CF10 3EU. Talks are FREE but booking is advised.
Register your details by emailing: events-islamcentre [at] cardiff.ac.uk adding 'Public Lecture Series' in the subject line.
Full details: http://www.cardiff.ac.uk/share/research/centres/csi/index.html
---
The Fourth International Conference on Religious Texts and Translation
Date: 2014-03-01
Description: The Fourth International Conference on Religious Texts and TranslationOn the theme"Problematics of Translating Quranic Stories: Stylistic, Structural and Semantic Aspects" Marrakech 05-06 March, 2014 The Almighty says: We narrate to you the best of narratives in revealing this Qur'an to you, even th …
Contact: h.darir [at] uca.ma
Announcement ID: 200555
 http://www.h-net.org/announce/show.cgi?ID=200555
---
Fifth International Dharmakīrti Conference in Heidelberg from
25-29 August, 2014.
The conference is aimed to showcase current research on all aspects of Buddhist epistemology and logic in India, China or Tibet from a historical, philological and/or philosophical perspective. Papers may also address aspects of the relationship of Buddhist pramāṇa to other currents of thought within Buddhism or in the respectively pertinent broader intellectual environment.
The conference is scheduled for the week immediately after the IABS conference in Vienna (August 18-23), to facilitate participation in both conferences for scholars from overseas.
To receive further circulars for the Dharmakīrti conference in the future, please subscribe to the conference mailing-list at this website:
https://listserv.uni-heidelberg.de/cgi-bin/wa?A0=IDHC5HEIDELBERG
(Click "subscribe" on the right-hand side.)
Participants of the last conference who already received the first circular are already subscribed to the list. An online registration system for the conference will be made available by 31 July 2013.
---
MESP 2013 Festival Website: www.mesp.org.uk
The 2013 Middle East Festival Brochure can be downloaded from this link:
http://www.eicsp.org/downloads-org/category/219-mesp-2013-brochures-poster-flyers
MESP 2013 Main Events
Saturday 23 February – Sunday 17 March 2013
---
JOBS
---
Ludwig-Maxilimians-Universitat Munchen – Post-Doc-Position in
History, Theology, Jewish Studies or Religious Studies
http://www.h-net.org/jobs/job_display.php?id=46216
University of Sydney – LECTURER IN EAST ASIAN BUDDHISM
http://www.h-net.org/jobs/job_display.php?id=46239
Washington University in St. Louis – East Asian Religions
post-doctoral fellow
http://www.h-net.org/jobs/job_display.php?id=46236
---
LECTURER IN EAST ASIAN BUDDHISM
FACULTY OF ARTS AND SOCIAL SCIENCES, SCHOOL OF LANGUAGES AND CULTURE
REFERENCE NO. 2052/1212
• Join a comprehensive and diverse School of Languages and Cultures • Be part of an innovative Buddhist Studies program • Competitive remuneration package on offer The University of Sydney is Australia's first university and has an outstanding global reputation for academic and research excellence. It employs over 7500 permanent staff supporting over 49,000 students.
The Faculty of Arts and Social Sciences has a proud history and a tradition of intellectual rigour. It offers one of the most comprehensive and diverse ranges of humanities and social science studies in the Asia Pacific region.
It has a vibrant research and teaching environment.
The School of Languages and Cultures in the Faculty offers the widest range of undergraduate and postgraduate language studies in Australia. It is a centre for Asian, Middle Eastern, and European studies. Its academics are committed to excellence in teaching and to research in languages and their social and cultural contexts.
The Buddhist Studies program is an independent program that sits within the School and draws its staff from several different departments. This is an innovative program covering the full spectrum of Buddhist thought, culture, and practice, as well as language studies. From 2013 the program will offer an undergraduate major in Buddhist Studies, with courses giving students a rich and coherent understanding of Buddhism, covering areas including textual analysis, history, cultural and political context, thought, praxis, contemporary Buddhist manifestations, and artistic expressions. The program has one of the largest postgraduate research programs in SLC.
The program was recently expanded through the addition of an East Asian Buddhism teaching and research curricula, developed in response to widespread growing interest in Buddhism from an East Asian focus, particularly Chinese Buddhism.
We are seeking to appoint a Lecturer in East Asian Buddhism with a specialisation in Chinese Buddhism to drive the teaching and research excellence of the program as it expands to become one of the leading institutions providing the most comprehensive Buddhist Studies program.
In this role you will:
• teach both junior and senior undergraduate units • supervise postgraduate research students in the field • undertake administration and curriculum development • pursue an active research program.
To succeed in this position you will need:
• to be PhD qualified in Buddhist Studies with a specialisation in Chinese Buddhism, though other areas of East Asian Buddhism are welcome • the ability to teach into language and non-language programs, that is, Classical and/or Buddhist Chinese and Chinese Buddhist thought and practice • experience in, and commitment to, teaching using Chinese language materials (and ideally, Sanskrit, Pali and Tibetan materials) • experience in taking responsibility for and coordinating units of study in Chinese and Buddhist studies and a willingness to engage in group/collaborative teaching • a proven research and publication record in the field of Chinese Buddhism • the capacity to teach and supervise students from various cultural backgrounds • the ability and willingness to contribute to School and Faculty administrative activities.
All applications must be submitted via the University of Sydney careers website. Visit sydney.edu.au/positions and search by the reference number for more information and to apply.
CLOSING DATE: 3 March 2013 (11:30pm Sydney time) The University is an Equal Opportunity employer committed to equity, diversity and social inclusion. Applications from equity target groups and women are encouraged.
---
Lecturer in Biblical StudiesCliff College
Closing date: 8 March 2013
Cliff College offers undergraduate and postgraduate theology degrees, focused on evangelism in contemporary culture, mission, Christian life and ministry, emerging church, leadership and renewal, Biblical theology, children's and youth ministry and mentoring. Our academic courses are validated by the University of Manchester and our student body is both diverse and international.
The College is advertising an academic position with an anticipated September
2013 start. With this position there is the possibility of the successful applicant taking up a senior academic role in the life of the College.
Lecturer in Biblical Studies
To be part of a team teaching across all Cliff College programmes.
Ability to teach New Testament, Old Testament, Biblical languages.
Ability to contribute in other areas relevant to Cliff College. To recruit and supervise research students.
To develop new courses. You will contribute to the Faculty and the wider life of the College.
You will have a relevant PhD qualification and have experience of teaching in Higher Education. You can be lay or ordained. For a ministerial appointment (in the Methodist Church or another denomination in communion with the Methodist Church), the Methodist stipend and allowances will apply. A lay appointment will be in the region of £32,500 pa (2012-13 rate).
The Next Steps. To find out more about the College go to www.cliffcollege.ac.uk. For an application form, job description and person specification please contact Stephen Skuce on academicdean [at] cliffcollege.ac.uk or 01246 584215.
Applications must be received by 8 March 2013 and interviews planned to take place at the College on 21 March 2013.
Cliff College, Calver, Hope Valley, Derbyshire S32 3XG
---
Call for Graduate Students: Research Possibilities at the University of Ottawa
Hello Religion and Diversity Project graduate students.  Please forward the announcement below to colleagues at your universities.
The Religion and Diversity Project, a SSHRC funded Major Collaborative Research Initiative, is seeking new PhD level students who are interested in completing thesis research related to the goals of the project (see project proposal at www.religionanddiversity.ca/about) in the Department of Religious Studies at the University of Ottawa. Students will be supervised by either Dr. Lori Beaman (Project Director) and/or Dr. Peter Beyer (Project Co-investigator).
This research funding is contingent on successful application and acceptance to the Department of Religious Studies graduate program and the offer of an admissions scholarship as well as demonstrated research capacity. The research award granted through the Religion and Diversity Project will be determined based on the number of successful applications but will range from $3,000-$7,500 per year and will be contingent on completion of assigned research tasks. The funding and expectations will be outlined specifically with the successful student (s).
As one of the few large scale research initiatives housed in a Canadian institution for the study of religion, the Religion and Diversity Project in the Department of Religious Studies offers a unique graduate research experience. Students involved in the project are afforded a broad array of opportunities, such as graduate student workshops, participation at team meetings, workshops and conferences, access to a large research network, and research opportunities with the team.
The Department of Religious Studies focuses on religions in Canada and on religions in a comparative cultural context, particularly religions in the Roman Empire and in the contemporary period. The department offers specialization in Canadian Studies. Because the study of religions reaches well beyond programs and courses, the Department seeks many other avenues to facilitate the exchange of ideas. This includes regular lecture series (Critical Thinkers in Religion, Law and Social Theory and Building Bridges Lunch and Learn Lecture Series) and Professional Development Workshops for graduate students. The Religious Studies Graduate Students' Association hosts a variety of social and scholarly events throughout the year. The Department also publishes the Ottawa Journal of Religion, a peer-reviewed journal showcasing some of our graduate students' best work.
Proposals should be 2-3 pages in length, and should include a project description that specifically addresses the ways in which it will work within the broader mandate of the Religion and Diversity Project. It should also include theoretical and methodological approaches and elaborate on previous research experience. We are presently especially interested in projects related to religious nones, religion and health, comparative policy studies, and the spatial and geographic aspects of religious diversity.
Send proposals to Dr. Heather Shipley, Project Manager, at hshipley [at] uottawa.ca no later than March 1, 2013.
---
FUNDING
---
Funding Call: Leverhulme Early Career Fellowship
The Trust will contribute 50% of each Fellow's total salary costs up to a maximum of £23,000 per annum and the balance is to be paid by the host institution. Given the prestige of the awards each Fellow may request annual research expenses of up to £6,000 to further his or her research activities.
http://www.leverhulme.ac.uk/funding/ECF/ECF.cfm
---
Full academic scholarships for applicants to PhD or MA in Civilization Studies programs at the Alliance of Civilizations Institute in Istanbul.
Benefits:
— Successful applicants will automatically be given positions as Research Assistants and/or Teaching Assistants and be exempted from tuition and health insurance fees.
— Students meeting the highest standard of academic excellence and language competency will be given a monthly stipend of 2,000.00 TRY (the highest financial support to be given to a foreign student nationwide) while subsequent students based on admission rankings will receive monthly stipends ranging from 1,000.00 to 1,500.00 TRY to cover their living expenditures.
— Foreign applicants who cannot provide Turkish proficiency will be given a full financial support for a one-year program of Turkish language proficiency course which is usually held at TÖMER in Istanbul.
— There are also grants available for students who would like to take a summer language (Arabic) program in a selected Arab country.
Application Requirements:
Outstanding GPA score in an undergraduate program.

GRE, GMAT, ALES or other test measuring your suitability for graduate/research programs

Documentation of English language proficiency such as certificates from TOEFL, IELTS, etc.

Copies of relevant diplomas and transcript of records

Contacts of two referees (they will be asked to provide letters after you are shortlisted)

Statement of purpose

Optional: documents of Turkish and/or Arabic proficiencies
NB. A drafted brochure containing details about the courses and faculty members is attached or you may view it at <http://medit.fsm.edu.tr/>. For more details regarding the application process and other administrative procedures or inquiries please contact Asst. Prof. Dr. Nagihan Haliloğlu, the vice-director, at nhaliloglu [at] fsm.edu.tr. The application deadline is on Wednesday (01 May 2013).