Festive wishes to all and we look forward to seeing you in 2013!
We are not responsible for any content contained herein, but have simply copied and pasted from a variety of sources. If you have any content for future digests, please contact us via the various options on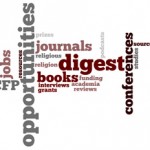 our 'contact' page.
A pdf summary document can now be download. This can be printed and circulated to colleagues or put up on a notice board.
In this issue:
Journals
Publications
Call for Papers
Conferences
Jobs
And don't forget, you can always get involved with the Religious Studies Project by writing one of our features essays or resources pages. Contact the editors for more information.
---
JOURNALS
---
Journal of Religion and Popular Culture
http://utpjournals.metapress.com/content/n52075627844/
Sociology of Religion – advance access
http://socrel.oxfordjournals.org/content/early/recent?papetoc
Material Religion vol 8, no. 4
http://www.ingentaconnect.com/content/berg/mar;jsessionid=1mw29oejvldk5.victoria
---
PUBLICATIONS
---
Brill's Series of Jesuit Studies
Description: Brill has founded a monograph Series of Jesuit Studies. Associated with the Journal of Jesuit Studies, SJS will target those areas of scholarship on Jesuit history in its  broader context that have been lamentably neglected but it will also invite contributions of important but hard to find a monograph …
Contact: robert.maryks@me.com
URL: https://www.facebook.com/JournalofJesuitStudies
Announcement ID: 199580
 http://www.h-net.org/announce/show.cgi?ID=199580
---
New Book Series with Palgrave Macmillan on History of Religion
Description: Announcing a new book series with Palgrave Macmillan – call for book proposals Histories of the Sacred and the Secular 1700 – 2000 reflects the awakened and expanding profile of the history of religion within the academy in recent years.
Intending to publish exciting new and high quality work
Contact: dsnash [at] brookes.ac.uk
Announcement ID: 199595
http://www.h-net.org/announce/show.cgi?ID=199595
---
CALLS FOR PAPERS
---
CFP: Le Moyne College Religion and Literature Forum entitled "The Return of the Text: A Conference on the Cultural Value of Close Reading" to be hosted by Le Moyne and Syracuse University
September 26-28, 2013.
Send 300-500 word proposals to:
Dr. Jennifer Gurley, Department of English, Le Moyne College (gurleyja [at] lemoyne.edu) and Dr. William Robert, Department of Religion, Syracuse University (wrobert [at] syr.edu)
Please label your file "LMRL: Last Name" and use that file name as the subject heading of your email.
Deadline for submission: March 1, 2013
Notification: April 1, 2013
Note: Participants will be invited to submit full-length essays for possible inclusion
---
CFP: 'CELESTIAL MAGIC'
22-23 June 2013
Venue: Bath Royal Literary and Scientific Institution, Bath, England
Keynote speakers
Prof. Peter Forshaw, Universitair Docent (Senior Lecturer/Assistant
Professor) for the History of Western Esotericism in the Early Modern Period at the Center for History of Hermetic Philosophy and Related Currents, University of Amsterdam.
Prof. Elliot R. Wolfson, Abraham Lieberman Professor of Hebrew and Judaic Studies, New York University.
Conference Chairs
Dr Nicholas Campion, University of Wales Trinity Saint David, n.campion@tsd.ac.uk Dr Liz Greene, University of Wales Trinity Saint David and the University of Bristol. l.greene@tsd.ac.uk
Conference Theme
Magic, loosely defined, is the attempt to engage with the world through the imagination or psyche, in order to obtain some form of knowledge, benefit or advantage. Celestial magic engages with the cosmos through stellar, planetary or celestial symbolism, influences or intelligences. This academic conference will explore the history, philosophy and practice of celestial magic in past or present societies.
Topics may include:
Astronomy and magic in literature
Astral magic in the ancient world
Anthropological theory and astral magic
The use of astrology by magical societies Astral divination and magic Magical theory as a rational for astrology
The conference organisers invite proposals for papers of 30 minutes which may deal with text, imagery, practice or theory. We welcome proposals on any time period or culture. The deadline for submissions is 31 December 2012.
Please include an abstract of c. 150 words and a biography of c 100 words, in the same document.
The Sophia Centre for the Study of Cosmology in Culture, School of Archaeology, History and Anthropology http://www.trinitysaintdavid.ac.uk/en/sophia/
---
CFP: Witchcraft, Magic and Popular Religion – XI Gustav Vasa seminar
Date: 2013-06-11
Description: The Eleventh annual Gustav Vasa seminar focuses on the themes of popular religion, witchcraft and magic. We invite papers to discuss these themes in multidisciplinary
perspectives, e.g. from the fields of history, anthropology, religious science and archaeology. .
Contact: jari.eilola [at] jyu.fi
URL: www.gustavvasaseminar2013.blogspot.fi/
Announcement ID: 199426
http://www.h-net.org/announce/show.cgi?ID=199426
---
CFP: Childhoods in South Asia: Contemporary and Historical Perspectives
Date: 2013-01-10
Description: CFP: South Asian Childhoods: Contemporary and Historical Perspectives This workshop aims to provide an  interdisciplinary platform for scholars studying diverse childhoods in South Asia. We also aim to enrich our   understandings of contemporary childrens lives through historical perspectives.
Contact: Zazie.Bowen@anu.edu.au
Announcement ID: 199514
http://www.h-net.org/announce/show.cgi?ID=199514
---
CONFERENCES
---
Christian Faith and the University: From the Reformation to  the 21st Century
Location: Quebec
Date: 2013-01-31
Description: Christian Faith and the University is a three-day conference (Sept. 26-28, 2013) on the historic relationship between Christianity and the academy from the Reformation to
the 21st century. Each panel will be composed of three presenters speaking from written texts on related themes
Contact: christianfaithandtheuniversity[at] gmail.com
URL: www.christianfaithandtheuniversity.ca
Announcement ID: 199248
http://www.h-net.org/announce/show.cgi?ID=199248
---
Zionism in the Twenty-First Century," Brandeis University, February 2013
Location: Massachusetts
Date: 2013-02-17
Description: Conference: "Zionism in the Twenty-First Century," Brandeis University, February 2013 Israel Studies and Jewish Studies in America February 17-18 (President's Day Weekend) Brandeis University, Waltham, MA Announcing an upcoming conference, "Zionism in the Twenty-First Century: Contemporary
Contact: scis [at] brandeis.edu
URL: www.brandeis.edu/israelcenter/
Announcement ID: 199559
http://www.h-net.org/announce/show.cgi?ID=199559
---
JOBS
---
Stanford University – Postdoctoral Fellowship: Literary Cultures of
Muslim South Asia, Stanford University
http://www.h-net.org/jobs/job_display.php?id=46101
Monash University – Israel and Middle East Studies
http://www.h-net.org/jobs/job_display.php?id=46065
University of Pennsylvania – Director, Herbert D. Katz Center for
Advanced Judaic Studies
http://www.h-net.org/jobs/job_display.php?id=46073
Franklin and Marshall College – Southeast or South Asian History
http://www.h-net.org/jobs/job_display.php?id=46086
Leiden University – Professor of premodern Chinese history, rank open
http://www.h-net.org/jobs/job_display.php?id=46070
Postgraduate scholarships and bursaries
Date: 2013-03-31
Description: The School of Historical Studies at the University of Leicester has a number of scholarships for postgraduate  research students currently advertised for autumn 2013 entry.
These can all be viewed at
 https://swww2.le.ac.uk/departments/historical/postgraduate/funding/scholarships
Contact: pk64 [at] le.ac.uk
URL: www2.le.ac.uk/departments/urbanhistory
Announcement ID: 199425