We are not responsible for any content contained herein, but have simply copied and pasted from a variety of sources. If you have any content for future digests, please contact us via the various options on our 'contact' page.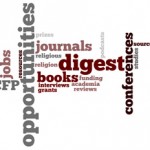 In this issue:
Journals

Books

Conferences

Call for papers

Jobs
---
JOURNALS
---
Journal of Religion & Society http://moses.creighton.edu/JRS/
Journal for the Scientific Study of Religion http://onlinelibrary.wiley.com/journal/10.1111/%28ISSN%291468-5906
---
BOOKS
---
The Study of Religion: A Reader
Routledge 2013
In this new collection the editors present a selection of key writings that reflect a broad range of voices on the nature and practice of the discipline, illustrating the spectrum of ideas that people throughout history have had when considering how to understand and study religion.
http://www.routledge.com/religion/articles/new_the_study_of_religion_a_reader/
---
CONFERENCES
---
Hold the date: Socrel 2014
The annual conference will be held 2 – 4 July at the lovely University of Sussex campus (preceded by a day especially for postgraduates and early career scholars on 1st).
 The theme is 'Religion and Crisis' and the conference is organised and hosted by Dr Paul-François Tremlett and Dr Marion Bowman from The Open University's Religious Studies Department
---
Grimm Girls: Picturing the 'Princess'
Otter Gallery, 23 November 2013 – 26 January 2014
This exhibition will feature the illustrations of six familiar and much-loved fairy-tales – 'Little Red Riding Hood', 'Cinderella', 'Snow White', 'Sleeping Beauty', 'Rapunzel' and 'Beauty and the Beast' – by Grimm, Perrault and other authors. As well as framed pictures, there will also be first edition books and other artefacts of various illustrators, among them Arthur Rackham, Charles Robinson, Mervyn Peake and Mabel Lucie Attwell. 'Grimm Girls: Picturing the "Princess"' is curated by Dr Anne Anderson, a Visiting Research Fellow at the University of Chichester, in association with the University's Department of English and Creative Writing and the Sussex Centre for Folklore, Fairy Tales and Fantasy.
One-day Symposium of leading fantasy and fairy-tale experts
Monday 25 November 2013, kindly sponsored by Scrivener.
Session 1, E124 (4 – 5.30 p.m.), £5/£3 concessions
Maria Nikolajeva, '"Iron is stronger than grief, but love is stronger than iron": Reading fairy-tale emotions through words and illustrations.'
Terri Windling, 'Into the Woods: One Writer-and-Artist's Journey into Fairy Tales'.
Session 2, Mitre lecture theatre, (5.45 – 7.30 p.m.), £5/£3 concessions
Jack Zipes, 'Reinvigorating the Fairy Tale: Radical Visions and Feminist Interpretations in Paintings, Sculptures, and Photography'.
Followed by round-table discussion with all three speakers.
Tickets available from the University's online store.
For more information e-mail scfffevents [at] chi.ac.uk.
About our sponsor:
Scrivener is a content-generation tool that enables users to outline and structure ideas, take notes, view research alongside writing and compose the constituent pieces of a text in isolation or in context. Visit http://www.literatureandlatte.com/scrivener.php for more information.
---
International Conference :  Compassion : The Bridge Between Buddhism and Islam
Organized by CRS International Center for Buddhist-Muslim Understanding, College of Religious Studies, (CRS) Mahidol University, Salaya Campus, Thailand
3-4 October 2013
Venue: College of Religious Studies, Mahidol University, Salaya Campus, Salaya, Thailand.
Contact: College of Religious Studies, Mahidol University,
Salaya, Phutthamonthol 4, Nakhorn Prathom 73170, Thailand.
Tel. (662) 800 – 2630 – 39 Fax. (662) 800 – 2659
Email: crwww [at] mahidol.ac.th
---
Workshop "Religious Transformations in Modern Southeast Asia" (Hanoi, October 2-5, 2013)
The research network "Dynamics of Religion in Southeast Asia" (DORISEA) and the  Vietnamese Institute of Culture and Art Studies (VICAS) hold a joint interdisciplinary workshop at the VICAS in Hanoi from October 3-5.
Information about the programme and the presenters can be found here: <http://www.dorisea.de/de/node/1384>.
In case you are interested in attending the workshop, please contact us via <dorisea [at] uni-goettingen.de>.
*WORKSHOP OUTLINE*
The entire region of Southeast Asia is engaged in an accelerated change in the political, economic, social, medial and ultimately religious spheres. As such, the region is marked by transformations in the concept of religion and in religions themselves. During the workshop, key areas of these transformations will be identified and theorized.
*WORKSHOP TOPICS*
/I. *Transformation of religion(s) in public spaces*/
Religions are becoming more visible. This is most evident is urban areas, for example through new or newly renovated temples and churches. There is a  noteworthy disposition towards monumental constructions, as seen in the mega churches and large Buddhist complexes. The changes in design and utilization of these spaces are aligned to processes articulated in urban areas: tourism, temple festivals, "re-spiritualization" (i.e. feng shui practices), and the revival of pilgrimage practices. Along with this is the transformation (and occasional commodification) of religious architecture and ritualism in the rubric of cultural heritage. One observable feature is the transformation (and sometimes commodification) of religious architecture and ritualism in cultural heritage. The booming real estate market is an indicator of the fundamental shift in economic structures in urban areas and accordingly has an effect on religious dynamics in public spaces.//
/II. *Religious transformation via mass media.*/
Mass media, radio, television and the internet have given religion a "new face"  and new media formats are forcing a shift in religious teachings. In the field of entertainment – TV soaps, blockbuster movies, even in talent shows, etc., —  religion assumes a direct or "disguised" role. One cannot separate the dynamics of religion changed by the media from the influence of secular powers such as state-funded education programs or in tourism marketing, which are also spread by the media, influence religious thought and perceptions and are embedded in history and identity constructions.
/III. *Religious transformation in rituals*/
Current forms of socio-economic differentiation have far-reaching implications not only on the religious needs of individual believers, but also on the socially determined dynamics of religious practice. The newly formed growing middle class is characterized by specific religious and aesthetic needs which are embedded in specific educational contexts and work and living situations. According to one thesis, the hardships of modernity are compensated through a market of religions and increasingly through an amount of spiritual offers that are usually articulated in rituals. Hence the rituals of traditional religion are adapted to current needs which result in increasing and new specifically constructed forms such as global yoga, wellness and meditation. As such, traditional living and work contexts that were once bound to religious and ritual implementation are now subject to profound changes. Beyond the factors of the middle class milieu one must investigate a pluralised socio-cultural milieu and the shift in the social and economic structures of ritual communities and their consequences on religious practice.
---
Queer Perspectives to Religion and Gender
Queer workshop at Barnard College in New York, November 20-21, 2013
Following the successful workshop on religion, gender and postcoloniality at SOAS, University of London in December last year, the project "Interdisciplinary Innovations in the Study of Religion and Gender: Postcolonial, Post‐secular and Queer Perspectives" is pleased to announce its second workshop. This meeting will explore queer perspectives to religion and gender. The meeting is organised by Janet Jakobsen and Elisabeth Castelli, with Ulrike Auga, from the Barnard Center for Research on Women in conjunction with the Barnard Department of Religion.
The workshop will bring together senior and junior scholars working in queer and religious studies for discussions of the contributions queer theory can make to the interdisciplinary study of religion and gender.  How has queer studies in religion shaped the field more generally? What epistemological contributions does a queer approach facilitate? What are the social and political implications of working at the intersections of these two fields.  The workshop will open with a public panel and discussion (November 20), followed by a day-long exchange of papers (November 21).
More information on the workshop, the 'Religion and Gender' project and upcoming events, please see: http://projectreligionandgender.org
---
CALLS FOR PAPERS
---
CFP: Michigan Sociological Association 2013 conference
Location: Michigan
Date: 2013-10-18
Description: The Michigan Sociological Association's annual conference will be held October 18-19 at Saginaw Valley State University. The conference theme this year will be Sociology and Social Justice: The Scholar as Activist. To submit a paper for presentation or attend the conference, please visit our website …
Contact: hinton[at]svsu.edu
URL: www.michigansociology.org/annual-meetings/svsu-2013/
Announcement ID: 206365
http://www.h-net.org/announce/show.cgi?ID=206365
---
CFP: Conference on Esoteric Religion
Location: New York
Date: 2014-01-15
Description: The Association for the Study of Esotericism (ASE) is seekingpaper and panel proposals for its fifth International NorthAmerican Conference on Esotericism to be held at ColgateUniversity, in Hamilton, New York, June 19-22, 2014. We are seeking proposals for papers exploring the manydimensions of Wes …
Contact: ase2014conference [at] gmail.com
URL: aseweb.org
Announcement ID: 206305
http://www.h-net.org/announce/show.cgi?ID=206305
---
CFP: The Cultures of Popular Culture
Date: 2013-10-01
Description: Biennial conference of the Royal Irish Academy Committee for Modern Languages, Literary and Cultural Studies Hosted by the School of Modern Languages, Queen's University Belfast, 13-14 December 2013 This conference intends to offer a forum for discussion between academics, teaching and researching i …
Contact: t.holmes [at] qub.ac.uk
URL: blogs.qub.ac.uk/popularculture
Announcement ID: 206569
http://www.h-net.org/announce/show.cgi?ID=206569
---
Chapters Wanted: Television and Race, Ethnicity and/or Religion
Date: 2013-10-01
Description: CALL FOR CHAPTERS. We are looking for chapters on a book about television's influence in our lives. Specifically, we are seeking completed chapters on television's handling of race, religion and/or ethnicity. Examples of potential chapters include: portrayals of race in contemporary television, the      …
Contact: kathleen.ryan [at] colorado.edu
Announcement ID: 206582
http://www.h-net.org/announce/show.cgi?ID=206582
---
CFP: Fairy Tales at PCA/ACA in Chicago (April 16-19, 2014)
Location: Illinois
Date: 2013-11-01
Description: The Fairy Tales Area of the Popular Culture  Association invites submissions on any topic involving fairy tales for the 2014 conference in Chicago April 16-19. While our interests are broad and inclusive, we are particularly interested in papers that discuss fairy tales in contemporary popular cultur …
Contact: rnicks [at] utk.edu
Announcement ID: 206309
http://www.h-net.org/announce/show.cgi?ID=206309
---
CFP: Jewish Life and Culture
Location: Connecticut
Date: 2013-11-01
Description: The Second Joint Conference of The Association for the Advancement of Baltic Studies (AABS) and The Society for the Advancement of Scandinavian Study (SASS)solicits papers on Jewish Life and Culture. The conference will be held at Yale  University, March 13-15, 2014. Submissions are due November 1,  2 …
Contact: ellen [at] ellencassedy.com
URL: www.yale.edu/macmillan/balticstudies/ybss/proposals.html
Announcement ID: 206228
http://www.h-net.org/announce/show.cgi?ID=206228
---
CFP: New Antiquities
September 18, 2013 · by dmb93 · in Call for Papers. ·
NEW ANTIQUITIES: TRANSFORMATIONS OF THE PAST IN THE NEW AGE AND BEYOND
The twentieth century witnessed a surge of fascination with the religious culture of the ancient Mediterranean, whose allure was appropriated in innovative ways by various actors and movements ranging from Rudolf Steiner to Goddess-cult(ure)s, from Neo-Gnostics in Brazil to the Russian New Age. In these diverse interpretations and productive misunderstandings of antiquity, ancient gods, philosophers, religious specialists, sacred institutions, practices, and artifacts were invoked, employed, and even invented in order to legitimize new developments in religious life. Focusing on the contemporary period (from the 1960s to the present day), our goal is to identify these appropriations and changes of ancient religious life. We seek papers that address transformations of the past in the literature and cultural discourse of the New Age and beyond, extending into movements such as Neo-Paganism and Neo-Gnosticism. Join us for a workshop in Berlin, from 26–28 June 2014!
 Selected papers from the workshop will be published in the peer-reviewed Brill series,
Metaforms: Studies in the Reception of Classical Antiquity.
Participants will need to provide their own funding.
Deadline for the submission of abstracts: 1 December 2013.
Contact info:
Please send abstracts together with a CV (both no more than 500 words) to newantiquities [at] yahoo.de; further inquiries can be directed to the co-organizers of the workshop:
---
Announcement about The Aarhus Old Norse Mythology Conference at Harvard this fall:
"Old Norse Mythology in its Comparative Contexts"
Keynote Lecture, Manuscript Exhibit & Reception, Wednesday, October 30 Conference, Thursday, October 31 and Friday, November 1, 2013
 For information, including a list of speakers, titles and abstracts, and information on registering, please see the following website: http://www.fas.harvard.edu/~folkmyth/Folk_%26_Myth/Old_Norse_Conference.html
 Speakers and their Paper Titles and Abstracts, as of September 5, 2013
---
CFP: Association for the Study of Esotericism Fifth International Conference
Call for Papers: Esoteric Practices: Theories, Representations, and Methods June 19-22, 2014
The Association for the Study of Esotericism (ASE) is seeking paper and panel proposals for its fifth International North American Conference on Esotericism to be held at Colgate University, in Hamilton, New York.
We are seeking proposals for papers exploring the many dimensions of Western esoteric practices, including theories, representations and methods of practice viewed from cultural, practical, religious and aesthetic fields of inquiry. We encourage papers that address the conference theme in terms of diverse types of representation, including arts and literature, as well as methods that reflect specific theories of esotericism, either historically or in a contemporary context. We invite proposals on magic, alchemy, astrology, ritual practice, mysticism, spiritualism, occultism, hermeticism, neo-paganism, contemporary esoteric movements and teachers, Asian influences on Western traditions, and other relevant topics. We are also interested in panels specifically on mysticism, contemplative practice, and other topics related to the conference theme. ASE regards esotericism as an interdisciplinary field of research and we invite scholars from all disciplines to share their research and writings in support of a cross-fertilization of perspectives. We welcome scholars from a wide range of areas, including anthropology, American studies, art history, history, intellectual history, religious studies, literature, philosophy, psychology, medieval studies, sociology-the full range of academic disciplines and fields.
 Our deadline for panel or paper proposal submission is January 15th 2014.
 If you wish to submit a paper proposal or a thematically focused panel proposal (with three presenters and short descriptions included) for review and possible presentation at the conference, please send it by regular email to ASE2014Conference [at] gmail.com<mailto:ASE2014Conference[at] gmail.com>
 No attachments, please: simply copy and paste your abstract into plain text email. Individual abstracts should be limited to one or two paragraphs, and must indicate academic affiliation and/or other academic qualifications. Independent scholars are welcome to submit proposals. Please note that our previous conference was at maximum capacity, so it is best to submit your proposal sooner rather than later. We hope to post a preliminary list of accepted proposals early in 2014. Possible venues for the publication of conference papers include the book series Studies in Esotericism (this will be the fourth volume in the series).
For more information on the ASE, see our website at www.aseweb.org<http://www.facebook.com/l.php?u=http%3A%2F%2Fwww.aseweb.org&h=WAQEZdJxSAQG63V_OIqk1YaoFjNcAbmMC9f0vFPlb2z5mrQ&s=1> An additional announcement will be forthcoming on the 2014 ASE conference, with information on location, hotels, and conference registration.
---
CFP: Ruler Cult Panel at the 8th Celtic Conference in Classics, Edinburgh, 25-28 June 2014
Meet the New Gods, Same as the Old Gods? Formulary, Ritual and Status in Hellenistic Ruler Cult
Organisers: Stefano G. Caneva, J.M. (Mat) Carbon (University of Liège)
Contact: s.caneva [at] ulg.ac.be, jmcarbon [at] ulg.ac.be
Deadline for contributions: October 31st.
Despite recent and widespread interest in Greek hero and ruler cult, evaluating the processes that lead to the bestowal of cultic honours on Hellenistic sovereigns still remains a controversial matter. Political readings of cultic honours within the framework of contemporary international diplomacy and euergetic discourse have picked up on polarities widely discussed by previous bibliography, such as 'dynastic vs. civic', 'living vs. posthumous', etc. Yet the main focus is still limited to a 'top-down' perspective, which leaves aside the fascinating dialectics between 'private' and 'public', or to perhaps phrase this more accurately, between 'institutional' and 'non-institutional' actors. As useful as it is, attention centered on the occasional political purposes for founding new cults risks disregarding processes of longue durée that involve the renegotiation of perceived boundaries between the divine and the human spheres in religious practice. In this regard, continuity and ruptures between pre-Hellenistic and Hellenistic times still stand out and constitute a primary field for research. Finally, scholarly attempts at the systematisation of the religious status conferred upon honorands have tended to generalise the field of application of some formulae well beyond the contexts in which they appear (e.g. isotheoi timai, in fact an extremely rare phrase).
There is therefore a risk of simplifying the variety of multifaceted evidence. Only by zooming in on the inner elements and functions of cult practice as well as on the vocabulary employed by cities and worshippers can we begin to envisage the status of rulers as gods and heroes. Considering the diversity inherent in Greek communities and in Greek polytheism itself, the relevant ritual terminology and praxis were inevitably quite varied, a fact which has been underplayed and which should urge caution against overly generalising theories. Indeed, rulers and cities experimented together, developing different honorific registers and forms of cult which were new yet still traditional.
Accordingly, the panel proposes to explore a series of practical starting-points, for the period running roughly from the fourth to the first century BC. Papers are invited to examine the following topics, from a philological and/or an archaeological standpoint, *by using concrete case-studies*:
-the specific titulature of rulers, as kings, saviours, heroes, gods, etc.
-tangible precedents for ruler cult, and also historical developments;
-comparison with other processes of heroisation or divinisation for prominent individuals;
-the distinction between living and funerary cult, in relation to the wider heros-theos dialectic in the Greek world;
-formulaic invocations for rulers in 'institutional' and 'non-institutional' dedications;
-the vocabulary of honours (timai) for rulers and its relationship to cult;
-the integration (or not) of ruler cult within an existing sanctuary or civic pantheon, and the political and social networks networks involved;
-rituals such as festivals and sacrifice that were performed in honour of rulers and their normative characteristics (or not).
These heuristic categories will help to establish a more careful and comprehensive assessment of the heroic and divine status of Hellenistic rulers, and in turn lead to a fruitful reevaluation of the place of ruler cult in Greek religion as a whole.
Papers offering comparisons between different case studies and geographical areas are particularly welcome. Contributors will have 30-35 minutes plus discussion (a total of 50 minutes) to present their findings and perspectives. The languages of the Celtic Conference in Classics are English and French.
Please send to both addresses above an abstract of no more than 2 pages along with a cv by October 31st. Submissions will be evaluated by November 15th. Please also note that the Celtic Conference is self-funding and all speakers must arrange and bear the cost of their own travel and accommodation.
---
CFP: The International Association for Comparative Mythology – 8th Annual Conference
Fighting Dragons and Monsters: Heroic Mythology
CALL FOR PAPERS
We are happy to announce that the 8th Annual Conference of the International Association for Comparative Mythology is to be held at the Institute of Archaeology and Ethnography of the National Academy of Sciences of the Republic of Armenia (Yerevan, Armenia) from May 24 to May 26, 2014. All members are warmly invited to give a paper and to participate in the discussions.
Our topic (as well as the conference title) this year will be:
"Fighting Dragons and Monsters: Heroic Mythology"
The main focus this time will be on the Indo–European, Ancient Near Eastern, and the Caucasus mythology; however, papers about mythology of other regions of the world that conform to the conference topic are also welcome.
A list of prospective talks will be published on our website. Please take note of the following:
TITLES
Please send us the title of your paper as soon as possible. That will substantially facilitate planning.
ABSTRACTS
By January 15, 2014, please send, if you intend to participate, a short (300 words or less) abstract of your talk to this address: iacm.admin@gmail.com
The abstracts will be reviewed by a selection committee; the selected abstracts will be published on our website (http://www.compmyth.org)
PAPER LENGTH The expected paper length is 20 minutes plus 10 minutes discussion.
The language of the conference is English.
Conference fee for the participants from North America, Australia, the EU, and Northeast Asia is $50, which will cover the conference dinner and reception. Students from the aforementioned countries and participants from other regions can participate for a reduced fee – $10. For the payment options please see below.
Also, those of you who are not yet official members of IACM, please consider joining the association! The yearly fee is $35 (it is $10 for students and members from countries outside North America, Australia, the EU, and Northeast Asia).
Looking forward to seeing you in Yerevan!
Yours, 8th Conference Organizing Committee, IACM
Payment options:
1. By check or money order made out to International Association for Comparative Mythology.
IACM, Attn. Nataliya Yanchevskaya, Harvard University, Department of South Asian Studies, 1 Bow Street, Cambridge MA 02138
However, this will do only for checks in US $, issued by an American bank. Checks in other currencies will incur hefty exchange fees, so please avoid this: your contribution will entirely be swallowed by bank fees here. Instead, please use PayPal (see below).
2. By PayPal.
Due to bank fees, it is much better and easier to use PayPal, now available for you at our website. For the conference fees please follow the link below and use the IACM 2014 Conference Fee button:
http://www.compmyth.org/action.php?conf07
Membership fee can be paid here:
http://www.compmyth.org/action.php?membership
You can directly deposit your amount, without fees for you, and we lose just a nominal amount on this side. In most countries a variety of credit card options or a direct deposit from your bank account are available for payment. Please select your country and wait while your browser refreshes. Then, enter the amount, your personal data, etc. (This is a secure site).
3. Payment in cash can be made onsite, before the beginning of the conference.
---
CFP: 6th Israeli Conference for the Study of Contemporary Religion and Spirituality, which will be organized by the Program in Religious Studies at Tel Aviv University, 23 April 2014.
This conference will continue the tradition which was formed at the University of Haifa during 2009-2012, and last year at Tel Aviv University. This event can be a good opportunity for researchers working outside of Israel to learn more about the country's bustling New-Age 'scene' and about development in the research on contemporary spirituality in Israel.
The conference's guest of honor and keynote speaker will be Prof. Peter Berger (University of Boston, USA). The conference's CFP and paper/symposium proposal forms can be downloaded through this link: http://humanities.tau.ac.il/religious_studies_eng/index.php/conference/call
Please feel free to send this to any relevant address in your private e-mail lists. We will of course be very happy to receive your own proposals by November 15 2013, addressed to Mr. Shai feraro (Conference Coordinator), spirituality.tel.aviv [at] gmail.com
---
JOBS
---
Yale ISM Fellows in Sacred Music, Religion and the Arts
The Yale Institute of Sacred Music is now accepting ISM Fellows applications for the 2014-2015 academic year.  All scholars whose work intersects with the sacred and the arts are invited to apply.  This residential scholarship carries a stipend of up to $52,000, and housing in New Haven is provided.  Fellows will have access to Yale's vast resources, and the fellowship offers the opportunity to teach one course.  See http://www.yale.edu/ism/fellows/ for detailed information about the fellowship.  Inquiries can be addressed to Glen Segger at glen.segger [at] yale.edu.
---
Grinnell College – Assistant Professor, Gender and Religion in Asia <http://www.h-net.org/jobs/job_display.php?id=47336>
Nanyang Technological University – Lecturer or Senior Lecturer – History and Intellectual History (Pre-Modern China) <http://www.h-net.org/jobs/job_display.php?id=47287>
Norwich University – Assistant Professor, History, East Asia <http://www.h-net.org/jobs/job_display.php?id=47170>
Syracuse University – Assistant Professor – South Asian History <http://www.h-net.org/jobs/job_display.php?id=47289>
University of Richmond – Assistant/Associate Professor of Leadership Studies <http://www.h-net.org/jobs/job_display.php?id=47326>
Whitman College – Assistant Professor of Art History & Visual Culture Studies <http://www.h-net.org/jobs/job_display.php?id=47369>
Bard College – Assistant Professor, Islamic Studies <http://www.h-net.org/jobs/job_display.php?id=47345>
Buddhistdoor.com – Editorial Chief Executive <http://www.h-net.org/jobs/job_display.php?id=47325>
Carthage College – Scholar of Islam <http://www.h-net.org/jobs/job_display.php?id=47344>
Grinnell College – Assistant Professor, Gender and Religion in Asia <http://www.h-net.org/jobs/job_display.php?id=47336>
Lafayette College – Open rank, Jewish Studies <http://www.h-net.org/jobs/job_display.php?id=47288>
 San Francisco State University – John & Marcia Goldman Chair in American Jewish Studies <http://www.h-net.org/jobs/job_display.php?id=47301>
Trinity College – America in the World <http://www.h-net.org/jobs/job_display.php?id=47353>
Washington University in St. Louis – Postdoctoral Research Associate in Religion and Politics <http://www.h-net.org/jobs/job_display.php?id=47362>
 Carthage College – Scholar of Islam <http://www.h-net.org/jobs/job_display.php?id=47344>
 Gettysburg College – Islamic World <http://www.h-net.org/jobs/job_display.php?id=47348>
 University of Nevada – Reno – Assistant Professor, Digital History <http://www.h-net.org/jobs/job_display.php?id=47316>