We are not responsible for any content contained herein, but have simply copied and pasted from a variety of sources. If you have any content for future digests, please contact us via the various options on our 'contact' page.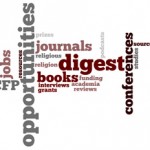 In this issue:
Journals

Books

Conferences

Call for papers

Jobs

Fellowships
---
JOURNALS
---
Journal of Hindu Studies, advance notice http://jhs.oxfordjournals.org/content/early/recent?papetoc
Material Religion: The Journal of Objects, Art and Belief
http://www.ingentaconnect.com/content/bloomsbury/mar;jsessionid=t27sds922n0b.victoria
Journal for the Cognitive Science of Religion Volume 1, Issue 1 (2013). For the full table of contents: https://www.equinoxpub.com/journals/index.php/JCSR/issue/current
---
BOOKS
---
Apophatic Elements in the Theory and Practice of Psychoanalysis Pseudo-Dionysius and C.G. Jung
David Henderson
How can the psychotherapist think about not knowing? Is psychoanalysis a contemplative practice? This book explores the possibility that there are resources in philosophy and theology which can help psychoanalysts and psychotherapists think more clearly about the unknown and the unknowable
http://routledge-ny.com/books/details/9780415857840/
---
Post-Islamism
The Many Faces of Political Islam
Edited by Asef Bayat
The essays of Post-Islamism bring together young and established scholars and activists from different parts of the Muslim World and the West to discuss their research on the changing discourses and practices of Islamist movements and Islamic states largely in the Muslim majority countries.
Paperback | 368 pages
£22.99 | 1 August 2013 | 978-0-19-976607-9
http://ukcatalogue.oup.com/product/9780199766079.do#.UjIi3z_g8gI
---
New Book Series in East Asian Ethics, Politics, & Philosophy of Law
Description: The Center for East Asian and Comparative Philosophy (CEACOP) at City University of Hong Kong and Rowman and Littlefield International are announcing a new monograph series entitled the CEACOP Series in East Asian Comparative Ethics, Politics, and Philosophy of Law. This series, edited by Philip J.  …
Contact: ceacop [at] cityu.edu.hk
URL:  www6.cityu.edu.hk/ceacop/CEACOP_series.html
Announcement ID: 206265
http://www.h-net.org/announce/show.cgi?ID=206265
---
CONFERENCES
---
INDIA: Treasures of the Deccan (A four part lecture series on the regions most spectacular monuments and arts)Dates: 2, 9, 16 and 23 October, 2013. Time: 7.00-8.15pm. Venue: Brunei Gallery Lecture Theatre, SOAS, Thornhaugh Street, Russell
Description: As a long-term supporter of South Asian art and culture, the Bagri Foundation is pleased to announce this four part lecture series on the monuments and arts of the Deccan, one of Indias most mysterious and unknown regions. A cultural  melting pot, the Deccan lies on the great plateau of south-central …
Contact: events@bagrifoundation.org
URL: www.bagrifoundation.org/upcoming.pdf
Announcement ID: 206451
http://www.h-net.org/announce/show.cgi?ID=206451
---
 BSA Postgraduate / Early Careers Researchers Special One Day Event 'Writing & Publishing a Qualitative Article'
Tuesday 8 October 2013, 10.30am – 4.30pm
BSA Meeting Room, Imperial Wharf, London SW6 2PY
An interactive workshop, facilitated by Professor Nick Fox
http://www.shef.ac.uk/scharr/sections/ph/honorary/nick_fox
Professor Fox has published widely in sociology journals.
His research interests include: Embodiment and Identity; Health Technologies; Creativity and Health;Sexuality
'Getting Published'
The Structure of the Qualitative Paper, presentation by Prof Nick Fox, followed by Q&A.
Group work on participants' ideas for a qualitative paper.
Where to publish qualitative research papers?
Writing for publication, presentation by Prof Nick Fox, followed by Q&A.
BSA members: £10, Non-members: £15 – to register please go to:
http://portal.britsoc.co.uk/public/event/eventBooking.aspx?id=EVT10292
---
University of Edinburgh – Gifford Lecture
Baroness Onora O'Neill in memory of Professor Susan Manning on 28 October 2013 and a Gifford Lecture series to be given by Rowan Williams, Lord Williams of Oystermouth between 4 and 14 November 2013.Tickets may be booked via the Gifford webpages at http://www.ed.ac.uk/schools-departments/humanities-soc-sci/news-events/lectures/gifford-lectures
---
Sacred Spaces in Modern Britain (30 November 2013, 10.00-18.00)
The Gallery, 70-75 Cowcross Street, London EC1M 6EJ
One-day C20 Society/Docomomo symposium exploring a wide range of architects and projects, from churches and cathedrals to monasteries and chapels. Speakers include Louise Campbell, Adrian Forty, Judi Loach, Niall McLaughlin, and Alan Powers.
The twentieth century saw the creation of an enormous range of innovative, traditional, and experimental sacred architecture in Britain. By considering projects and structures across denominations, site purposes and re-use, and the needs and hopes of diverse communities, this event seeks to establish new understanding regarding Britain's modern religious architectural landscapes.
For more information and registration, visit: http://c20.datawareonline.co.uk/Default.aspx?tabid=62&EventId=273
---
CALLS FOR PAPERS
---
Call for Editors: Faithology.com
Description: Faithology is an online database of information on the world's religions. We are dedicated to providing a comprehensive educational resource for students, educators and people of all backgrounds who seek a greater level of knowledge, awareness and understanding about religion. To ensure the neutrali …
Contact: jobs@faithology.com
URL: www.faithology.com
Announcement ID: 206382
http://www.h-net.org/announce/show.cgi?ID=206382
---
HARRY POTTER STUDIES
35th Annual Conference of the Southwest Popular/American Culture Association
Feb. 19-22, 2014
Hyatt Regency Hotel & Conference Center
Albuquerque, New Mexico
SWPACA invites scholars to submit papers to the vibrant and diverse Harry Potter Studies Area of the Southwest PCA/ACA conference (with its 2014 theme, "Popular and American Culture Studies: Yesterday, Today and Tomorrow"). The Harry Potter Studies Area is an interdisciplinary/cross-disciplinary field that focuses on both the novel and filmic versions of J.K. Rowling's work. Papers may address the work as a whole, specific characters, themes, relationships, social and/or cultural implications, individual texts within the series, etc.
Paper and/or panel proposals are welcomed. Any and all types of scholars, including independent scholars, graduate students, non-tenured, tenure-track tenured and emeritus faculty are encouraged to submit. The Harry Potter Studies Area aims to emphasize a diversity of scholarship opportunities and is open to innovation in approach to research about the Potterverse. Networking among Potter scholars with an eye toward post-conference collaboration and publication is a key goal of the Harry Potter Studies Area.
Papers from the Harry Potter Studies Area presented at the 2012 conference were gathered for a published edited volume in 2013. We hope to repeat that performance in 2014!
Papers submitted to the Harry Potter Studies Area are eligible for the SWPACA Travel Fellowships and the Richard Tuerk "Out of This World" Paper Award for Science Fiction and Fantasy. Dual submissions to the Area and the awards are highly encouraged.  For application information, seehttp://southwestpca.org/conference/graduate-student-awards/
For individual paper proposals, please submit an abstract of no more than 300 words to the official SWPACA database at http://conference2014.southwestpca.org/. Please also include a biographical note about each author in lieu of a full CV.
For panel proposals, please feel free to send an initial query email, or to propose the panel directly. Please include all of the information requested for an individual paper proposal for each member of the panel, as well as a working title for the panel and an additional description of no more than 300 words explaining the purpose/theme of the panel.
Please submit all questions to Dr. Christopher Bell (cbell3 [at] uccs.edu), chair of the Harry Potter Studies Area.  All proposals must be submitted to the database by November 1, 2013. Proposals sent to the chair via email will be returned and you will be asked to submit via the database. Information on the SWPACA and the conference can be accessed at http://southwestpca.org/.
---
Gujarat Studies Association Conference
Date: 19-20 Feburary 2014
Venue: Four Points by Sheraton, Ahmedabad, Gujarat, India
Keynote Speaker: Dr. Michele Hardy (University of Calgary)
Abstract Submission Deadline Extended to 7 October 2013. The Call for Papers and Abstract Submission Form can be downloaded from http://www.gujaratstudies.org/index_files/Page2702.htm
 Registration is now open. Forms can be downloaded from http://www.gujaratstudies.org/index_files/Page2692.htm  Please note, Registration closes on 9 December 2013.
---
Updated CFP: 4th Derrida Today Conference, NYC, May 2014
Location: New York
Date: 2013-10-01
Description: CFP for 4th Derrida Today Conference Venue: Fordham University, Lincoln Centre, New York City, USA. Date: 4pm 28th May-6pm 31st May, 2014 Keynotes: Karen Barad (University of California at Santa Cruz, USA), Elizabeth Grosz (Duke University, USA), Martin Hgglund (Yale University, USA), and Michael Na …
Contact: derridatodayconference@gmail.com
URL: derridatoday.mq.edu.au
Announcement ID: 206429
http://www.h-net.org/announce/show.cgi?ID=206429
---
10th Conference on Current Pagan Studies will be taking place in Claremont, CA on Feb. 8&9, 2014. We have extended the deadline for the CFP until September 15, 2013.
Relationships With The World
What is our relationship as contemporary pagans with the rest of the world at this point in history? What is the nature of our relationship with ourselves? With others? With the Divine? Whom do we reach out to? Whom do we support? What kind of communities are we building? As we ask for acceptance, whom are we accepting? Whom do we reject? Whom do we love? Who do we make the enemy?
These questions have been running through our minds as we prepare for the 10th Conference on Current Pagan Studies. As usual, taking a very broad stance, we thought we might take a look at how we are living, loving, creating, singing, building, dancing, running, growing in this world.
This year we are encouraging proposals for academic panels. Please contact us early if you would like to organize a panel. We are looking for papers from all disciplines.  A community needs artists, teachers, scientists, healers, historians, philosophers, educators, thinkers, activists, etc.
As usual, we are using Pagan in its most inclusive form, covering pagans, wiccans, witches and the numerous hybrids that have sprung up as well as any indigenous groups that feel akin to or want to be in conversation with Pagans.
Abstracts should be no longer than 300 words and are due by September 15, 2013. Go to our website www.paganconference.com for advice on presenting papers. Please email abstracts to pagan_conference [at] yahoo.com
---
CFP: The Changing Face of Missionary Education, 3-4 July, 2014
Date: 2013-10-15
Description: Date: 3-4 July, 2014 Venue: Cluster of Excellence Religion and Politics, WWWU Mnster, Germany The modern missionary movement was the predominant way by which Indigenous and non-European groups (such as emancipated slaves) were exposed to European forms of knowledge through providing formal and infor …
Contact: felicity.jensz@uni-muenster.de
Announcement ID: 206245
http://www.h-net.org/announce/show.cgi?ID=206245
---
CFP: Tarot area Popular Culture Assoc/American Culture Assoc. conference 2014
Location: Illinois
Date: 2013-11-01
Description: I am looking for papers about all aspects of Tarot for the Tarot area of the Popular Culture Association/American Culture Association (PCA/ACA) conference in Chicago 16-19 April 2014. Possible topics may include, but are not limited to: Tarot and art history Tarot and literature Tarot artists, write …
Contact: augeremily@gmail.com
URL: pcaaca.org/
Announcement ID: 206241
http://www.h-net.org/announce/show.cgi?ID=206241
---
CFP: XII. International Workshop
Religion and Civil Society:
BETWEEN FUNDAMENTALISM AND SECULARIZATION
November 20 – 25, 2013, Yalta, Livadia (Crimea, Ukraine)
Organizers: Western Michigan University (USA) and TAURIDA NATIONAL V.I.Vernadsky UNIVERSITY (Ukraine), NETWORK OF CULTURAL EXCHANGE AND INTERETHNIC TRUST (Ukraine)
To participate in the Workshop, please send your application form no later than 15 October, 2013 on the following address:
nce@mail.ru, tsenyushkina@yandex.com
More information about the workshop is on the web-site: http://nce.sevhost.net and on the Facebook page of the Workshop: http://www.facebook.com/ReligionandCivilSociety
---
"Nature Spirits: Continuity and Change"
Conference of Belief Narrative Network of ISFNR
Shota Meskhia State Teaching University of Zugdidi, October 1-4, 2014, Zugdidi, Georgia.
Ministry of Education and Science of Georgia Shota
Rustaveli National Science Foundation
It is our great pleasure to invite you to attend the conference of Belief Narrative Network at the ISFNR "Nature Spirits: Continuity and Change" in Zugdidi, October 1-4, 2014, Zugdidi, Georgia.The conference will be hosted and organized by Shota Meskhia State Teaching University of Zugdidi with the support of Ministry of Education and Science of Georgia and Shota Rustaveli National Science Foundation,and organized together with the Belief Narrative Network at the ISFNR.
Nature spirits were among the very first topics of folk narrative research. Since the romantic era, these belief traditions and their study have undergone remarkable changes. In the light of contemporary folklore research, it is time to update our scholarly views on the supernatural in the natural and to problematize the whole concept of nature spirit. While this classical category is practical in indexes, it can be alien to vernacular interpretations. The BNN conference "Nature Spirits: Continuity and Change" invites researchers to discuss historical and contemporary views on spirits in the natural environment both as objects of study and features of living belief traditions. The aim of the conference is to form an overall picture of beings encountered in or associated with certain natural environments in belief tradition, and to discuss related theoretical, methodological and conceptual questions. We welcome academic presentations on nature-related spirits and powers, their places in the landscape and the vernacular discourses they inspire. We encourage comparisons between beings, places and times, between diverse genres and interpretations in emic and etic perspectives, as well as between research traditions and concepts. We also look forward to theoretical discussions concerning the topic of nature spirits. They can include – but need not be restricted to – the modalities of belief, the role of genre, the concept of belief narrative, or the construction of the categories of natural, supernatural or non-human in diverse discourses.
Looking forward to seeing you in Zugdidi at the conference of Belief Narrative Network of ISFNR "Nature Spirits: Continuity and Change"
 Organizers of the Conference:The Belief Narrative Network (BNN) is a voluntary association and forms part at the ISFNR. The members of BNN are working on belief narrative.
The International Society for Folk Narrative Research, (Belief Narrative Network Committee) (ISFNR www.isfnr.org) is a scholarly and professional organization of international specialists in the areas of folk narrative, popular literature, folklore and related fields. According to its statutes the Society's main goal is "to develop scholarly work in the field of folk narrative research and to stimulate contacts and the exchange of views among its members". Acknowledging development in the field, the goal has broadened in recent years to covering all aspects of narrative as representing the pivotal category of human communication.
Shota Meskhia State Teaching University of Zugdidi is one of the important higher education institution in the region which provides the European Higher Education not only for Georgian student also for the student from Abkhazia. There are three faculties in Teaching University: Business and Law, Health, Humanitarian. As a Teaching university it provides Bachelor, Master and VET programs. In spite of having not PhD programs Teaching University is mainly interested to develop research work within professors and students. Teaching University is actively involved in International Programs (Erasmus Mundus and Tempus) to enhance the possibility of academic works work the scholars.
Ministry of Education and Science of Georgia aims at establishing modern and innovative educational and scientific environment in close cooperation with civil society. The Ministry advocates freedom of choice, fair competition, equal opportunities, civil integrity, and respect for cultural identity. The Ministry promotes acquisition and development of knowledge and skills necessary for social success and self-realization.
Shota Rustaveli National Science Foundation promotes: implementation of fundamental, applied and innovative research in a competitive environment, development of knowledge-based society, reinforcement of links between science and education, integration of Georgia into international research area and popularization of science. In cooperation with scientific community, state and private entities Shota Rustaveli National Science Foundation performs its activities transparently and impartially.
Deadline for Abstracts Submission December 31st, 2013
---
The Humanitarian Question: Religion, Emotions and Humanitarianism in the Modern Age
Date: 2013-11-01
Description: Kte Hamburger Kolleg / Centre for Global Cooperation Research (Duisburg) and the Institute for Advanced Study in the Humanities (Essen) will host the interdisciplinary Conference  "The Humanitarian Question. Religion, Emotions and Humanitarianism in the Modern Age". Humanitarianism has become a major …
Contact: Unrau [at] gcr21.uni-due.de
URL: www.gcr21.org
Announcement ID: 206295
http://www.h-net.org/announce/show.cgi?ID=206295
---
JOBS
---
Grinnell College, Department of Religious Studies
Assistant Professor, Gender and Religion in Asia
https://www.h-net.org/jobs/job_display.php?id=47336
Centre for History and Economics – Postdoctoral Research Fellowship in Southeast Asian Studies <http://www.h-net.org/jobs/job_display.php?id=47238>
Goethe University Frankfurt am Main – Ph.D, Post-Doc Positions
<http://www.h-net.org/jobs/job_display.php?id=47240>
Idaho State University – Assistant Professor, Transnational History
<http://www.h-net.org/jobs/job_display.php?id=47284>
Northwestern University – Assistant/Associate Professor, Modern Chinese Literature and Culture
<http://www.h-net.org/jobs/job_display.php?id=47235>
Northwestern University – Assistant Professor, Japanese Literature
<http://www.h-net.org/jobs/job_display.php?id=47236>
University of Sydney – LECTURER IN ASIAN AND BUDDHIST STUDIES
<http://www.h-net.org/jobs/job_display.php?id=47225>
University of Tasmania – Professor and Director, Asia Institute Tasmania
<http://www.h-net.org/jobs/job_display.php?id=47254>
NYU Abu Dhabi – NYU Abu Dhabi seeks to appoint an innovative and accomplished professor with expertise in the art, architecture, and visual culture of the Islamic world, any sub-specialization or period. <http://www.h-net.org/jobs/job_display.php?id=47271>
San Francisco State University – Assistant Professor, Epistemology or Philosophy of Language
<http://www.h-net.org/jobs/job_display.php?id=47237>
Assistant Professor Position in Sociology of Religion at Purdue University
The Department of Sociology at Purdue University invites applications for an Assistant Professor position beginning Fall 2014. http://www.cla.purdue.edu/sociology/documents/asst_religion2013.pdf
---
FELLOWSHIPS
---
The Department of History and Philosophy at Montana State University
Location: Montana
Date: 2013-12-16
Description: The Department of History and Philosophy at Montana State University, Bozeman invites applications for the 2014-2015 Wallace Stegner Distinguished Chair. We encourage applicants — senior faculty and public intellectuals — working in the broad spirit of Stegners passion for the history of Western l …
Contact: robcampbell@montana.edu; stegner@montana.edu
URL: www.montana.edu/stegnerchair
Announcement ID: 206277