We are not responsible for any content contained herein, but have simply copied and pasted from a variety of sources. If you have any content for future digests, please contact us via the various options on our 'contact' page.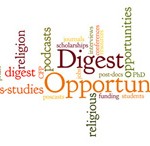 In this issue:
Seeking Your Help

Amazon

Journals

Books

Conferences

Call for papers

Jobs
---
SEEKING YOUR HELP
---
Given that the RSP has been running for nearly 2 years now, and in light of the website redesign, David and Chris thought it was about time to have another major publicity push. The email at the link below has already been circulated around the DOLMEN, BASR, and NSRN lists. If you are a member of any other vaguely relevant mailing list – particularly of academic associations – please considering copying it and circulating among friends, colleagues, and interested parties.
 Here's the link: https://www.religiousstudiesproject.com/october-2013-publicity/
---
AMAZON
---
You can help to financially support the RSP simply by shopping on Amazon – and at no additional cost to you!
The Religious Studies Project is a participant in the Amazon EU Associates Programme, an affiliate advertising programme designed to provide a means for sites to earn advertising fees by advertising and linking to Amazon.co.uk. We are also a participant in the Amazon Services LLC Associates Program, an affiliate advertising program designed to provide a means for sites to earn advertising fees by advertising and linking to Amazon.com.
http://www.amazon.co.uk/ref=as_li_tf_mfw?&linkCode=wey&tag=therelistudpr-21
http://www.amazon.com/ref=as_li_tf_mfw?&linkCode=wey&tag=therelistudpr-20
If you click through to Amazon.co.uk or Amazon.com through these links, and buy ANY product during your visit, the RSP will earn referral fees. There will be no additional cost. Why not add a shortcut to your bookmarks bar and use these links every time you shop?
---
JOURNALS
---
Sociology of Religion, advance access http://socrel.oxfordjournals.org/content/early/recent?papetoc
Journal of Contemporary Religion, vol 28, no. 3 http://www.ingentaconnect.com/content/routledg/cjcr/2013/00000028/00000003/art00001
The Journal of the Anthropology of the Contemporary Middle East and Central Eurasia (ACME). http://www.st-andrews.ac.uk/anthropologyiran/acme/docs/ACME1.pdf
Journal of Religion and Popular Culture Volume 25, Number 2 /2013
The Biblical Archaeology Society is pleased to announce the publication the November/December 2013 issue of Biblical Archaeology Review (Volume 39, Number 6) www.biblicalarchaeology.org/magazine
---
BOOKS
---
Feeding the Dead: Ancestor Worship in Ancient India
Matthew R. Sayers
Oxford University Press
http://ukcatalogue.oup.com/product/9780199917471.do#.Ulb6HBDg8gI
---
Tolkien
The Forest and the City
Helen Conrad-O'Briain & Gerard Hynes, editors
Despite the association of J.R.R. Tolkien with the natural world, Middle-earth as landscape and built environment has been relatively neglected. Tolkien: the forest and the city presents new work by some of the finest scholars in Tolkien studies, as well as research from a number of emerging scholars, addressing this neglect.
Drawing on a wide variety of critical approaches, from philology to ecocriticism, in a clear, approachable style, this collection explores the interaction of culture and nature that imbues Tolkien's secondary world with the immediacy of our own.
Tolkien: the forest and the city is one of the rare books on Tolkien that manages to be both serious and accessible, avoiding the twin plagues of Tolkien criticism – defensively eulogistic fandom, and defensively arcane academicism. Essays by world experts on the subject, such as Tom Shippey and Verlyn Flieger are supported by innovative younger scholars, such as Jane Carroll and Dimitra Fimi, and between them they have produced a fine volume on the interface between nature and culture in his books. Although Tolkien's work has been widely appropriated by ecocritics, this volume, by exploring a remarkable range of Tolkien's cultural reference from the Arts and Crafts movement to the Spanish Civil War, from landscapes to food, and from deforestation to Dante, demonstrates the complexity of his intellectual positions. This is an engaging, lively, and in many ways groundbreaking contribution to Tolkien scholarship.' Peter Hunt, emeritus professor of English and Children's Literature, Cardiff University and editor of J.R.R. Tolkien: a new casebook (2013).
Helen Conrad-O'Briain lectures in Old English, Old Norse, palaeography and Tolkien at the School of English, Trinity College Dublin. She has co-edited The ghost story from the middle ages to the twentieth century (Dublin, 2010) and has published on M.R. James, Virgil incunabulae and early insular Latin.
Gerard Hynes is a Ph.D. candidate writing on Tolkien's theology of creation at Trinity College Dublin. He has taught on the Tolkien course offered as part of Trinity College's M.Phil. in popular literature and children's literature. He has published on Tolkien and geology in Tolkien Studies (2012). In September 2012 he co-organized the conference 'Tolkien: the forest and the city' with Helen Conrad-O'Briain.
Hardback. 200pp. November 2013
ISBN: 978-1-84682-429-6
Retail Price: €60.00
http://www.fourcourtspress.ie/product.php?intProductID=1175
---
CONFERENCES
---
9th International Congress on the Archaeology of the Ancient Near East (ICAANE) – in Basel (June 9-13, 2014), here an update on our progress.
Workshops: The fourteen workshops have been selected. For a complete list see:
<http://9icaane.unibas.ch/workshops.html>
For any questions concerning the topics of and participation in the workshops please contact the organizers of the respective workshop.
Papers
–           Please do not send any more proposals (the deadline has been over for some time now).
–           At the moment the Basel Organizing Committee is evaluating about 500 papers. This process will take until mid-November.
---
---
CALLS FOR PAPERS
---
CFP for open access journals Social Sciences Directory and Humanities Directory
Description: Social Sciences Directory and Humanities Directory  have fully independent editorial boards and we conduct full peer review of articles. We welcome submissions of research papers, theses, reviews, essays, presentations and conference proceedings. We are registered with ISSN and CrossRef; indexed  with …
Contact: dan.scott [at] socialsciencesdirectory.com
URL: www.socialsciencesdirectory.com
Announcement ID: 207123
http://www.h-net.org/announce/show.cgi?ID=207123
---
CFP: Christian-Islamic Interactions: Mobility, Connection,  Transformation (1450-1800)
Date: 2013-10-30
Description: The FIRB research project "Beyond the Holy War" is  inviting scholars to submit papers for a three-session  international workshop titled "Christian-Islamic Interactions: Mobility, Connection, Transformation (1450-1800)", which will take place at the Scuola Normale Superiore, Pisa (Italy), on  10-11 Fe …
Contact: g.marcocci [at] sns.it
Announcement ID: 20709
http://www.h-net.org/announce/show.cgi?ID=207093
---
CFP: Visions of Enchantment – Occultism, Spirituality &  Visual Culture (University of Cambridge, 17-18 March 2014)
Date: 2013-10-31
Description: This two-day conference seeks to investigate the formative role that occultism and magic have played in Western and non-Western visual and material culture. It aims to present original research in this field as well as to establish a productive dialogue between academics with a particular research i …
Contact: dcjz2@[at] cam.ac.uk
URL: www.visionsofenchantment.com/
Announcement ID: 207278
http://www.h-net.org/announce/show.cgi?ID=207278
---
CFP: Beasts, Monsters, and the Fantastic in the Religious Imagination: an Interdisciplinary Graduate Conference at Brown University
Location: Rhode Island
Date: 2013-11-01
Description: Beasts and monsters populate the religious imagination. From ancient cosmogonies and classic fairy tales to modern horror films and contemporary apocalyptic narratives, depictions of the strange and fantastic shape and challenge the categories by which human beings order their experience. Encounters …
URL:
www.brown.edu/academics/religious-studies/node/215/graduate-student-conference
Announcement ID: 207157
http://www.h-net.org/announce/show.cgi?ID=207157
---
CFP: hey Who Gathered Much: Artists, Audiences, and Collectors of Biblical Imagery
Location: New York
Date: 2013-11-29
Description: Symposium: January 17, 2014 Organized in conjunction with Sacred Visions: Nineteenth-Century Biblical Art from the Dahesh Museum Collection, on view at the Museum of Biblical Art (MOBIA) from October 17, 2013, to February 16, 2014, this symposium will interrogate the intersection of two dramatic shi      …
Announcement ID: 207082
http://www.h-net.org/announce/show.cgi?ID=207082
---
CFP: Sharīʿa responsibility; conditions and conflicts; Call for papers 2nd Contemporary fiqhi issues workshop  (Al-Mahdi Institute, Birmingham, UK)
Date: 2014-01-01
Description: Shari'a responsibility; conditions and conflicts Call  for papers The 2nd AMI Contemporary fiqhi Issue workshop series April 3rd-5th 2014, Al-Mahdi Institute Birmingham, U.K. The  dominant fiqhi reading of Sharīʿa perceives a system of orthopraxic precepts (aḥkām) in the knowledge …
Contact: alireza [at] almahdi.edu
URL:
http:/www.almahdi.edu/forthcoming-conditions-of-becoming-endowed-with-responsibility-talkif
Announcement ID: 207147
http://www.h-net.org/announce/show.cgi?ID=207147
---
CFP: Myth and Fairy Tales Conference Area CFP
Location: New Mexico
Date: 2014-02-19
Description: Myth and Fairy Tale Conference Area Call for Papers  Abstract/Proposals Due: 1 November 2013 Southwest  Popular/American Culture Associations 35th Annual Conference Albuquerque, NM February 19-22, 2014 General information and online registration Panels now forming on topics related to all areas of myt …
Contact: 5053664445
URL:
southwestpca.org/wp-content/uploads/2013/07/Myth-and-Fairy-Tales-CFP-revised.pdf
Announcement ID: 207089
http://www.h-net.org/announce/show.cgi?ID=207089
---
CFP: Gender, Religion and the Atlantic World
Newcastle University
May 15, 2014
The relationship between religious experience and gender remains underexplored in academic scholarship. While it is largely held that the 'victims' of religion, in all its manifestations, are female, and the 'perpetrators' male, the reality is clearly less straightforward. This assumption does, however, beg further investigation into the dynamics attendant upon religious experience and/or practice, and gender.
Religion, generally, as a mode of identity production, is currently understudied in postcolonial studies (not least in its intersection with gender), and is richly varied in its manifestations in the formerly colonised – and colonising – Atlantic World. This symposium seeks to address this critical lacuna.
In 1937, Jamaican feminist journalist, poet and playwright Una Marson argued that religion appealed more to women than to men; at the same time, a male colleague lamented that Jamaican manhood was "not progressing as it should." This symposium will ask: is there is a connection between a perceived 'crisis of masculinity,' 'feminisation of culture,' and religion? What is the nature of the intersection between religious practice and gender identification? Furthermore, this symposium hopes to explore how religion has been and continues to be used in processes of masculinisation and feminisation, and in discourses of intimacy, sexuality and affectivity, which have gained critical currency in recent postcolonial scholarship.
The dynamic between men and women, gender and sexuality, is often fluid and unstable in religious expression. Often, praxis and doctrine are not equally aligned. This symposium will explore the religiosity of everyday public and private life by re-evaluating the role religion (in all its forms, canonical or otherwise) has in cultural discourses of the once-colonised world, particularly highlighting its role in gender identity production. It will encourage researchers from all disciplines and levels to discuss questions raised by their own research in an informal atmosphere, suggest best practices and foster networks of communication for further research.
Researchers are invited to present papers, not to exceed 20 minutes, on (but not limited to) the following topics:
–          Masculinity and/or femininity and religion
–          Religion and postcoloniality
–          Religious syncretism
–          Evolution of religious doctrine
–          'Cult' vs. 'Religion'
–          Histories of particular religious practices
–          Afro-religions/religious practices
–          Religion and gender(ed) identity
–          Religious affiliation and sexual expression
–          Queer religiosity/ies.
Please send short abstracts of no more than 250 words, plus a short bio of no more than 100 words to Janelle Rodriques at j.rodriques [at] newcastle.ac.uk by February 17, 2014.
---
CFP: Religion and Food
Conference website: www.abo.fi/donnersymposium/
The relationship between food and religion is a lived activity formed by the dynamics of both tradition and adaption. Religious commitments to food are influenced by several different factors, ranging from personal spirituality and experiences to social patterns of belonging as well as ethical, political and doctrinal convictions related to food and eating.
Today, this topic is receiving increasing scholarly attention and has become a relevant focus to a broad spectrum of researchers working with different religious traditions and contemporary spiritualities. The conference seeks to address the question of why and how persons of various religious and spiritual liaisons seem to engage in food and eating with a growing zeal today from a variety of different theoretical and methodological angles. Proposals are welcome on the interconnectedness of religion, food, and the following themes
·         Folkways/foodways and vernacular practices;
·         Tradition, memory, and nostalgia;
·         Boundaries, identity, and control;
·         Symbolism, authenticity, and fluidity;
·         Consumption and abstention;
·         Ethics and environmentalism;
·         The global, local, and glocal.
Keynote speakers:
Dr. Benjamin Zeller, Lake Forest College, Chicago
Prof. Gunnar af Hällström, Åbo Akademi University
Prof. Patricia Lysaght, University College London
Application:
Please send an abstract of approximately 200 words to the Donner Institute no later than January 31, 2014. At the conference, 20 minutes will be reserved for your lecture followed by 10 minutes for discussion.
Publication:
Selected papers from the conference will be published in volume 26 of the Donner Institute series Scripta Instituti Donneriani Aboensis. We hope that you will keep this publication option in mind while preparing your paper for the conference and kindly invite you to submit your article for peer-review after the conference.
Detailed guidelines for submitting papers will be sent to all participants upon acceptance of their papers for the conference. The publication series Scripta, initiated in 1967, is peer-reviewed and will be available as an open access publication in the Internet as well as in printed form.
Further information about the publication series:http://www.abo.fi/forskning/script
Registration
The registration fee is 200 €. The fee should be paid by April 30, 2014.
Account number: Nordea FI12 2057 1800 0200 55; BIC CODE: NDEAFIHH
Name of the account holder: Stiftelsen för Åbo Akademi (Foundation ofÅbo Akademi University)
The registration fee includes lunches and coffee during the conferenceas well as an excursion and a banquet organised in connection with the symposium. Please indicate in your registration whether you wish to participate in the excursion and the banquet. Please also indicate if you have special dietary needs. The registration fee does not include accommodation.
---
CFP: Religious Genderings:
The Socio-Spiritual [Dis-]Empowerment of Women and Men
Department of Religious Studies
Chapman University
Orange, California
February 27-28, 2014
This interdisciplinary conference will focus on religion as a powerful force in shaping our conceptions of gender, a force which can be simultaneously liberative and oppressive, its institutions more often than not mirroring but also reinforcing patriarchal social structures and oppressive definitions of gender and sexuality even as its teachings may call for equality and/or androgyny in the pursuit of spiritual transformation and for compassionate individual action.  The religious traditions of the world have had to begin to confront their complicity in often violent oppression of women in the twentieth century.  This has included self-critique but also the recovery of women's voices and exemplary figures from the past as well as re-readings of scriptural traditions, reinvention of rituals and practices, and re-envisioning of institutions, leadership and teachings.  This process is by no means complete.   The twenty-first century brings the additional but related challenge of confronting religious attitudes toward sexuality, magnified for LGBT individuals.
Studies of the relationship between religion and gender have often fallen into bifurcated camps, some focusing on religion as a source of empowerment, others seeing it as a source of repression and control.
Social critiques and movements of liberation are also often portrayed as wholly separate from spirituality and the oppression and/or empowerment of women as separate from that of men.  This conference is designed to call these sharp contrasts into question, with presenters
challenged to address religious genderings in a more holistic and comprehensive way, one that takes into account their impact on both men and women, the effects of shifting notions of identity in the context of globalization, and the intersection of constructions of gender with attitudes toward sexuality.
The Department of Religious Studies at Chapman University invites scholars working in the area of religion, gender and sexuality from a variety of religious perspectives, including but not limited to Judaism, Christianity, Islam, Buddhism and Hinduism, and with diverse academic disciplinary training to submit proposals for papers for presentation and consideration for subsequent publication.  Proposals should include contact information, a title, and an abstract of 300 words, sent to Prof. Nancy M. Martin via e-mail at nmartin@chapman.edu<mailto:nmartin@chapman.edu> or mailed to her at the Department of Religious Studies, Chapman University, 1 University Drive, Orange, California 92866.  The deadline for proposals is November 15, 2013.
---
We have the pleasure to introduce Anathema, the first scientific blog entirely devoted to the study of Greek religion in the Hellenistic period.
Hosted by the platform Hypothèses.org, this blog aims at enhancing contact and exchange between diverse scientific activities and is open to the participation of all interested scholars on related subjects. You are all warmly invited to browse the first published posts, to comment and to actively participate with your own posts at the following link:
http://anathema.hypotheses.org/
Those who wish to contribute with their posts can contact us at s.paul@ulg.ac.be  or ste.caneva@gmail.com.
The call for posts includes the following themes:
– Announcement of scientific events and publications on relevant topics
– Reviews of conferences and publications (monographs or papers)
– Announcement of ongoing research projects
– Posts on methodological matters and ongoing researches from scholars wishing to submit their reflections to the scientific community
Posts are published in the following languages:
English – French – German – Italian
Authors are personally responsible for their posts. All published material is protected by copyright.
---
CFP 'Haunted Landscapes: Nature, Super-Nature and the Environment' One Day Symposium hosted by Falmouth University and the Association for the Study of Literature and Environment, UK and Ireland.
Keynote Speaker: Professor Ronald Hutton (Bristol University) On March 8th 2014 Falmouth University and ASLE UKI will be holding a one day symposium on the subject of 'haunted landscapes'. From places and spaces haunted by spectres, memory or history to conceptions of landscape as palimpsest, holy wells and ancient sites, literature, art and film have always explored concepts of the supernatural and the landscape and environment. Landscapes can be haunted by echoes and memories of colonization, violence done and irrevocable acts committed. Places may be marked indelibly by the past and by the people who populated and shaped the environment in many different ways. Layers of memory and action can be embedded in the landscape alongside the layering of history in stone. Encounters with the landscape reverberate through the ages and through the rocks, trees, hills and streams that are still present today. Ghosts can shade the atmosphere of a place and some things never leave. The environment bears witness to the super-natural and that which seems paranormal may eventually become a natural part of the environment.
Papers examining any aspect of the super-natural and the environment are welcomed from all disciplines. Subjects can include (but are not bound by):
Ghosts and the landscape
The Weird and the land
The idea of 'super' in the super-natural Landscape and memory Landscape as palimpsest Haunted places Actions and emotions embedded in the landscape The past echoing back through the landscape The landscape and the Uncanny Nature and haunting Animals, super-nature and the environment Death, life and rebirth and the environment Abstracts of 300-500 are to be submitted by December 8th to:
ruth.heholt falmouth.ac.uk and niamh.downing falmouth.ac.uk.
---
JOBS
---
Stanford University – 2014-15 Postdoctoral Fellowship in Literary Cultures of Muslim South Asia
<http://www.h-net.org/jobs/job_display.php?id=47619>
University of Iowa – ASIAN STUDIES ENDOWED CHAIR
<http://www.h-net.org/jobs/job_display.php?id=47594>
Ruhr-University Bochum – Indexer Index Buddhicus / Classified Buddhist Studies Bibliography
<http://www.h-net.org/jobs/job_display.php?id=47673>
University of British Columbia – Public Policy / Asia at Assistant Professor level
<http://www.h-net.org/jobs/job_display.php?id=47648>
University of Kansas – Assistant Professor PreModern China/China's Borderlands
<http://www.h-net.org/jobs/job_display.php?id=47610>
University of Kentucky – Assistant Professor of Japanese
<http://www.h-net.org/jobs/job_display.php?id=47621>
University of Tennessee – Martin – Assistant Professor, Asian History
<http://www.h-net.org/jobs/job_display.php?id=47631>
Xavier University – Assistant Professor, Asian History
<http://www.h-net.org/jobs/job_display.php?id=47633>
Victoria University of New Zealand – Lecturer in Religious Studies
<http://www.h-net.org/jobs/job_display.php?id=47647>
Cornell University, Department of Near Eastern Studies and the Jewish Studies Program invite applications for a two-year post-doctoral fellowship in Rabbinic Judaism. The area of specialization is open, but preference will be given to candidates with a demonstrated interest in engaging broadly with Jewish studies as part of interdisciplinary humanities. The position entails teaching two courses per year (one each semester).  One course will be at the introductory level, and the other an advanced seminar.  A Ph.D. by June 30, 2014 is required and experience in teaching strongly encouraged. Salary is $57,500 per academic year. Interviews will take place at the AAR meeting in November; those who will not be attending  the meeting should indicate this in the application letter
Send letter of application, curriculum vitae, proposed course descriptions, and two reference letters by November 8, 2013 to: Search Committee, Department of Near Eastern Studies, 409 White Hall
Cornell University, Ithaca, NY 14853 or by email to jlg58@cornell.edu.
Cornell University is an equal opportunity, affirmative action employer and educator.  Women and minority candidates are encouraged  to apply.